Seven Interviews With Woody Allen
Woody Allen was born in Brooklyn, where he listened to his mother and practiced his clarinet. He went to Midwood High School and NYU for a while. He quit school to write gags for people like Jack Paar. Then began working as a comedian in small New York nightclubs like the Blue Angel.

"If you remember," Woody says, "there was that whole rush of comedians in the Sixties. Mike Nichols and Elaine May, Shelley Berman, Mort Sahl. Bill Cosby and I were on the tail end of it. Just like a lot of folk musicians, we got our start in small clubs that just don't exist anymore, which is maybe why there aren't that many young comedians any more either."

Woody wrote a film script entitled, What's New Pussycat?, Charles Feldman, a producer, liked the title and bought it. Warren Beatty was supposed to play the role of the playboy who is irresistible to women, Instead Peter O'Toole wound up doing it.

"I don't like that movie at all," Woody says, "it was not a good experience for me. Six months in Paris waiting around for Charlie Feldman to decide where to send us next. I think he really wanted Rock Hudson for the lead." "But Peter O'Toole is such a good actor," someone says, "He has such amazing eyes."

"They put drops in them before each shot," Woody says, "And then they shine a baby spot in them form on top of the camera. Sam Speigel has him fix his nose for Lawrence of Arabia. Never trust a man who's had his nose fixed."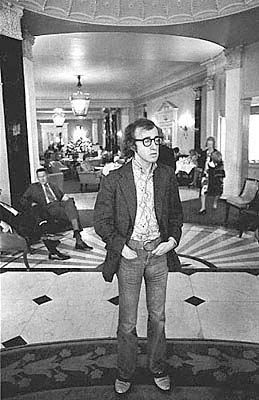 INTERVIEW THREE: "Seriously, Mr. Allen, how do you get your ideas?" "I have a Negro gentleman in my apartment. In my closet. And whenever I need an idea, he gives me one." "And do you pay him?" "Well, I sing the a blues for him now and then." "And that's sufficient?" "He seems happy." "So you... you keep a colored man in your closet to give you ideas... who you don't pay... is there no organization in the United States to protect him?" "None at all, Every American has one."

What's New, Pussycat? was followed by What's Up, Tiger Lily? Which began its life as a Japanese spy thriller and ended up as an adventure into Broadway Jewish surrealism with dialogue dubbed by Woody and friends and music by the Lovin' Spoonful. "All we did," Woody says, "was put five people in a room and keep them there improvising as the film ran. It was a nuisance but OK. We still haven't seen any money from it though."

"We got a lawsuit comin' up on it," Charlie says, "Everything we do seems to end up in court."

All afternoon, Woody has been asking about a jazz club on Oxford Street where a musicians' benefit is to be held. Woody is an absolute freak on Dixieland, "The real stuff, not what the Dukes of Dixieland play but King Oliver, Jelly Roll Morton. George Lewis is without a doubt the greatest clarinet player that ever lived. Black, illiterate, untaught, the man was just a genius..."

But there's a screening Woody is supposed to attend and he has to eat dinner somewhere and as Charlie and the press lady gather their things to go, Woody is a little confused. "You're gonna practice your clarinet, right?", Charlie says. "Right," Woody nods, "Should I eat now or later?" Back and forth. Woody's worn out. But he wants to go dig some music. Maybe they can catch dinner after the screening. But Charlie's got to pick up his wife. "Pick me up quarter to eight," Woody says finally, "And if I eat before, I eat, right?"
First published in "Rolling Stone", September 30, 1971

This article is reproduced here with the kind permission of the author. Robert B. Greenfield has recently published a book, "Dark Star: an Oral Biography of Jerry Garcia". He is currently working on another about Timothy Leary and is involved in several theatre and film projects.

Philm Freax | Friends | Phil Franks | Guestbook | Links | What's New