Bradley Simmons
Percussionist/Educator 1209 Sedgefield St., Durham, NC
bradleys@duke.edu
(919) 724-9134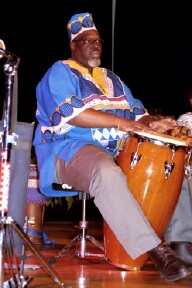 Bradley Simmons, a native of New York City, began playing Afro-Cuban and African percussion when he was 9 years old. From that point on and through his teenage years, he traveled throughout the City seeking out percussion teachers from Haiti, Cuba and Africa in an effort to enhance his understanding of these rhythmic forms, styles and techniques. Bradley soon became a consistent and sought after Conguero and shekere player for community and religious events including weekend long Bembes, weddings and many other cultural events. Bradley not only developed as a percussionist; he became a knowledge base for that which had preceded him, by the transfer of knowledge through the Afro-Cuban and African oral traditions.
Throughout these developmental stages, Bradley sought out Afro-Cuban and African percussion in it's true form; never deviating from the traditional ways in which the rhythms and instruments are presented and played. This basic tenant flows through his work today.
Bradley was soon very busy doing on-Broadway plays including: "Timbuktu" with Eartha Kitt and Melba Moore; Billy Wilson's version of "Guys and Dolls" starring Robert Guillume; and "Reggae" with Calvin Lockhart and Philip Michael Thomas. Bradley performed in the following plays off-Broadway: "Night Club Confidential"; Vennette Carroll's "Never Jam Today" and the "Ups and Downs of Theophilous Maitland".
Bradley performed in nightclubs with Eartha Kitt, Gregory and Maurice Hines, Miles Jaye and Oba Babatunde. He has recorded and played with The Fatback Band and with drummer Norman Connors. Bradley has also appeared on Television including the Mike Douglas Show and the Cerebral Palsy Telethon. In 1990 and 1996, Bradley directed his own show at the National Black Arts Festival in Atlanta and in Durham, NC, respectively, called "Cultural Journey: The Elements of Percussion".
Bradley is the former Music Director of the Chuck Davis African-American Dance Ensemble of Durham, NC and has taught throughout the United States; including at the Larocque Bey School of Dance and the Gloria Jackson School of Dance in NYC. He has taught percussion classes and drum clinics at universities such as, The Berkeley School of Music, Boston MA; Texas Southern, Houston, TX; Wichita State University, Wichita, KS and North Carolina State University, Raleigh, NC.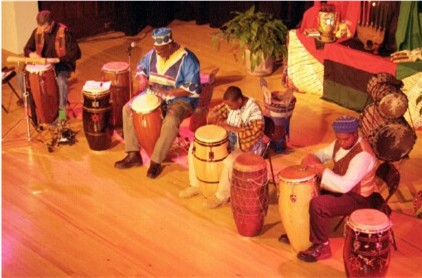 Currently, Bradley is a Musical Director at Duke University in Durham, NC, where he teaches West African Music and History. His classes focus on djembe, songba, djun-djun and kenkeni. He also teaches Afro-Cuban percussion classes off campus. He is the leader of the percussion ensemble, Elements of Percussion that tours locally and nationally.