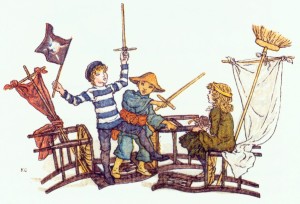 And ibiblio has resources to assist you in your piratical practice:
Bret Harte's Queen of Pirate Isle I first knew her as the Queen of the Pirate Isle. To the best of my recollection she had no reasonable right to that title. She was only nine years old, inclined to plumpness and good humour, deprecated violence and had never been to sea. Need it be added that she did not live in an island and that her name was "Polly."
Roger McGuinn sings Henry Martin
Oh no! Oh no! cried Henry Martin,
That thing it never could be,
For I am turned robber all on the salt sea
Salt sea, salt sea.
For to maintain my brothers and me.
Maturin Murray Ballou's Fanny Campbell, The Female Pirate Captain: A Tale of The Revolution Some fears were entertained by Fanny and her family, touching the captures she had made, inasmuch as, strictly speaking, she had laid herself liable to the charge of piracy, and Fanny, in the eyes of the law, was actually a Female Pirate Captain.
A Project Gutenberg Bookshelf – Pirates, Buccaneers, Corsairs, etc. Amongst which are Thrilling Narratives of Mutiny, Murder and Piracy A weird series of tales of shipwreck and disaster, from the earliest part of the century to the present time, with accounts of providential escapes and heart-rending fatalities.