The University History Project
Anti-War March on
Chapel Hill's Franklin Street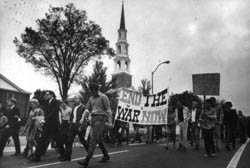 Barbara Hulka, interviewed by the Southern Oral History Program as part of the University History project, joined the faculty of the Department of Epidemiology at the University of North Carolina at Chapel Hill in 1967. She had attended medical school in the late 1950s and early 1960s, when very few women were advised to choose careers in medicine, but Dr. Hulka was too busy investigating the causes of cancer to worry about what her male peers thought about a female doctor.
Whether she would admit it or not, however, Dr. Barbara Hulka is a pioneer. She is at the forefront of breast cancer research in the United States and is an internationally recognized leader in reproductive science as a top advisor to the World Health Organization. She is also a Kenan professor, and during a recent interview she spoke about what this award has meant to her: "I very much appreciated the Kenan Professorship. I feel it is a real recognition as an award, but mostly I think it's how you feel about it personally. So often, you can go around the world and people recognize you, but it's hard to be recognized in your own home, in your own place. Receiving the Kenan Professorship has made me feel very good in my own place."
Bill Friday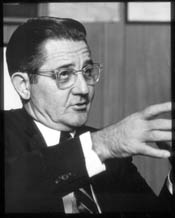 Funding from the William R. Kenan, Jr. Charitable Trust has allowed the SOHP to document the life histories and career trajectories of more than 300 UNC-CH staff, alumni, and faculty in departments ranging from Classics to Pediatrics. In addition to Hulka, interviewees have included William E. Leuchtenburg (History), James Pruett (Music), Joseph W. Straley (Physics & Astronomy), Judson J. Van Wyk (Pediatrics), James H. Scatliff (Radiology), Kenneth J. Reckford (Classics), Edward G. Holley (Information and Library Science), Joe W. Grisham (Pathology & Laboratory Medicine), and James L. Peacock III (Anthropology).

The oral histories collected through the University History project are archived in the Southern Historical Collection, where they will serve as a vital resource for future histories of UNC-CH and its role in the history of higher education in North Carolina and the nation.