SOHP Home > Scholarship > Kathy Walbert


Kathryn Walbert: SOHP Associate
Kathy Walbert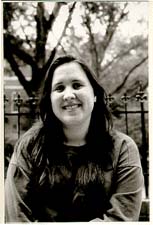 Dr. Kathy Walbert, who recently received her Ph.D. in the Dept. of History at UNC-CH, has been affiliated with the SOHP since 1992. In her dissertation, she focused on female teachers in the mid-19th century South; in her master's thesis, she described the experiences of women who played industrial league basketball in Southern textile mills from the 1930s through the 1950s, drawing upon interviews with former players. As an SOHP staff member, Walbert developed an exhibit for the university's Bicentennial Celebration, led a project on the oral history of UNC-CH, conducted numerous interviews, and provided dozens of oral history workshops to university classes, public schools, and community groups. She is currently teaching in the Dept. of History and serving as Project Coordinator for the June 2001 Teachers' Institute, which is co-sponsored by the SOHP and the North Carolina Humanities Council.


Oral History Presentations and Workshops

"Teaching with Oral History," part of a panel entitled "How Should We Teach Educational History?" History of Education Society Annual Meeting, October 1999.

Oral History Methodology Workshop, Southern Oral History Organization, Spring 1995.

Oral history workshop presentations to 11th grade social studies classes at Chapel Hill High School and East Chapel Hill High School, 1996-1999.

Oral history workshop presented to 7th through 9th graders in the Talent Identification Program, Duke University, 1995.

Oral history methodology guest lectures presented to graduate and undergraduates in the following departments:
Department of English, UNC-CH
School of Journalism, UNC-CH
Department of History, UNC-CH
School of Law, UNC-CH
Department of History, Duke Univ.
Communications Studies, UNC-CH
Consultant and Interviewer, Anson County Community College, "Life Review in a Correctional Setting: A Collaborative Oral History Project," 1998.

Oral history workshops presented to the following groups:
Carol Woods Retirement Community, Chapel Hill, NC, 1998.
Cary Historical Society, Cary, NC, 1998.
Inmates at Brown Creek Correctional Facility, Anson County, NC, 1996.
Anson County residents, 1996
Center for Documentary Studies staff, Duke University, 1995.
Residents and staff, Methodist Retirement Community, Durham, NC, 1994.
Occoneechee Mountain Park Committee, Hillsborough, NC 1994.