The 45th Infantry Division in World War II: An Unofficial Guide to Resources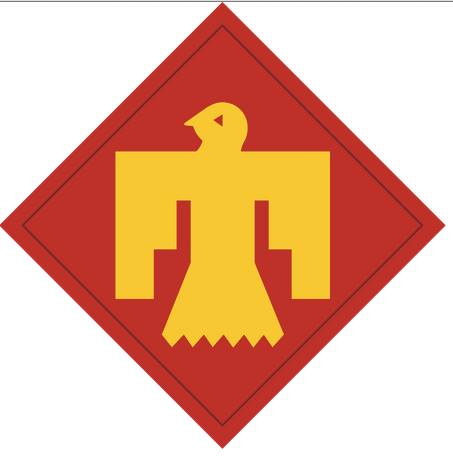 Introduction
The 45th Infantry Division in World War II: An Unofficial Guide to Resources
is a continually updated and indexed guide with links to the growing number of sites, groups, and resources about the 45th Infantry Division in WWII.
We encourage cooperation among all 45th related groups.
We will avoid duplicating existing efforts by linking to resources at other sites and limiting uploads to this site to items that are not available elsewhere.
At no charge we will host permanent sites for veterans and families who wish to have share stories, photos, and images of artifacts on a personal page. (Click to view an example of an individual 45th veteran's story on Ibiblio.)
---
As are all services from non-profit Ibiblio, ours are free and open to the public.

Web site work is done by unpaid volunteers who cover our own expenses. No revenue is generated from this site.

---
Personal Pages

PowerPoint Presentations
(to be added)
Publications

Units and Unit Associations
---
Hel
ping Other Families
327th Guards Heavy Self-Propelled Artillery Regiment, 13th Army, 1st Ukrainian Front, Soviet Armed Forces
Permission and acknowledgements:



While almost all items on this site are in the public domain, please contact the administrators for instructions on how to acknowledge the source. Many volunteer researchers at their own expense obtained many of these public domain items from sources such as the National Archives.

All items not in the public domain

2015 - 2019


The 45th Infantry Division in World War II: An Unofficial Guide to Resources

Administrators:

Leonard H. Cizewski

&

Judy Erwin Branham




Last Major Update: Janaury 14, 2019


Minor Revision: February 9, 2018


Posted: November 12, 2015




Last Reviewed: