Gaither Carlton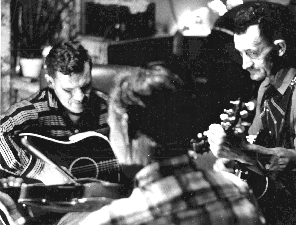 Raised in Watauga County, NC, Gaither Carlton learned fiddle and banjo within his family circle as well as in the company of the Hopkins Brothers and G. B. Grayson. He appears on the Folkways albums Old Time Music at Clarence Ashleys (FA 2355 and 2359) and Friends of Old Time Music (FA 2390), and on Countrys More Clawhammer Banjo (717), as well as with his son-in-law Doc Watson on The Doc Watson Family (Folkways FTS 31021, XTRA 1082). Carlton died in Deep Gap, NC in June, 1973.
A sample of Gaither Carlton's music:
Pretty Saro (from FT 101, 263850 bytes)
Lovin' Emmer (from FT 101, 399141 bytes)

Click below for Southern Folklife Collection Holdings on the following artists.
---

Return to Doc Watson Home Page.