Doc Watson--American Folk Music Legend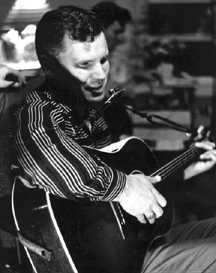 "Discovered" in the heat of the sixties folk revival, Doc Watson is a legendary performer who blends his traditional Appalachian folk music roots with blues, country, gospel, and bluegrass to create his unique style and expansive repertoire. Blind from infancy, Doc has spent his lifetime making music and is considered by fans everywhere one of the world's most accomplished flat-pickers.
Doc was born Arthel L. Watson in Deep Gap , NC (Watauga County) on March 23 , 1923 into a family with a rich musical tradition. His mother, Annie Watson, sung many traditional secular as well as religious songs, and his father, General Watson, played the banjo. Doc's early instrumental experience was with harmonica and a homemade banjo, but at age thirteen he taught himself the chords to "When the Roses Bloom in Dixieland" on a borrowed guitar. As the story goes, Doc's father was so pleased that Doc had been able to teach himself these chords in one day, that he helped Doc buy his own guitar the very next Saturday.
Armed with his new $12 Stella guitar, Doc began playing both traditional family tunes as well as new material he learned from records and the radio. For a time, Doc played mostly with musical neighbors and family, among them fiddler Gaither Carlton , who became his father-in-law when Doc married Rosa Lee Carlton in 1947. Gaither Carlton was a fine old time fiddler who shared with Doc many traditional tunes of the mountain region where he was raised.
Although Doc continued playing and singing with greater and greater skill, it wasn't until 1953 at age thirty that he met Jack Williams, a local swing band piano player, and began to play gigs for money. Doc played rocking western swing/rockabilly with Williams' band for seven years, during which time he switched to electric guitar. Because the band didn't have a fiddle player, Doc, at Williams' request, picked out tunes for square dance numbers on his electric guitar, thus developing what would become his trademark acoustic picking style.
During the years that he toured Tennessee and North Carolina with Williams' band, however, Doc continued to play traditional music with his family and with his banjo playing neighbor, Clarence "Tom" Ashley. In 1960, spurred by the growing folk revival, Ralph Rinzler and Eugene Earle came south to record Tom Ashley and heard Doc Watson's banjo picking in the process. Rinzler and Earle quickly decided to record the two together, and these sessions resulted in Old-Time Music at Clarence Ashley's.
Sample the recordings of Doc and "Tom" Ashley (677925 bytes):
By 1961, Rinzler was able to convince Doc to leave his electric guitar behind and join Ashley, Clint Howard and Fred Price in New York City for a Friends of Old-Time Music concert, and one year later Doc performed alone for the first time at Gerde's Folk City in Greenwich Village. For the next several years, Doc made the folk music circuit, playing concerts and hootenannies all over the country and appearing at the 1963 Newport Folk Festival and with Bill Monroe that same year at New York's Town Hall.
Although the folk revival had begun to die down by the mid-sixties, and with it some of the enthusiasm for "traditional" performers, Doc's son Merle (named for country great Merle Travis) provided him with the musical and emotional companionship that he needed to continue touring. With Merle playing backup guitar and serving as manager and driver, the father-son team performed frequently, often spending up to three hundred nights a year on the road, and consequently expanding their audience nationwide.
Doc has recorded dozens of albums in his long career and, although he stopped performing briefly after Merle died in a tractor accident in 1985, he does continue to tour in the winter and play festivals in the summertime. For the last six years, Doc has hosted the yearly Merle Watson Memorial Festival in Wilkesboro, NC on the last weekend of April.
Doc and Merle perform Blue Railroad Train (from FC5581, 365318 bytes):
---
---
About the Original Authors
---
---
Back to Home