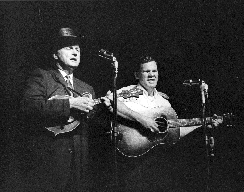 Bill Monroe
Known by fans as the Father of Bluegrass Music, Bill Monroe developed the foundation for his musical success among his music loving family and neighbors in his hometown of Rosine, Kentucky. Monroe began his public career on mandolin as part of a trio with his brothers Birch and Charlie. Later he performed in a duet with Charlie, and in 1938 he formed his own band, The Blue Grass Boys. By the 1940s, Monroe had developed the sound that would soon be known as bluegrass music: mandolin, guitar, banjo, fiddle and bass engaged in loud, fast-paced music making which featured high tenor singing and driving instumental solos. Over the course of the last fifty years, many talented musicians have been part of the Blue Grass Boys, and Bill Monroes hot mandolin playing continues to inspire bluegrass fans and musicians everywhere.
---
Southern Folklife Collection Holdings on Bill Monroe
---

Return to Doc Watson Home Page.