Raising Hell since 1973
"Combines hard-hitting investigative reporting
with personal profiles to unveil
the power and warmth that is the South."
--Harper's

About Southern Exposure

The Institute for Southern Studies

Subscription/Membership Information

SE Library

SE Index

Get inspired! Quotes from Southern Activists

Other Sites of Interest
---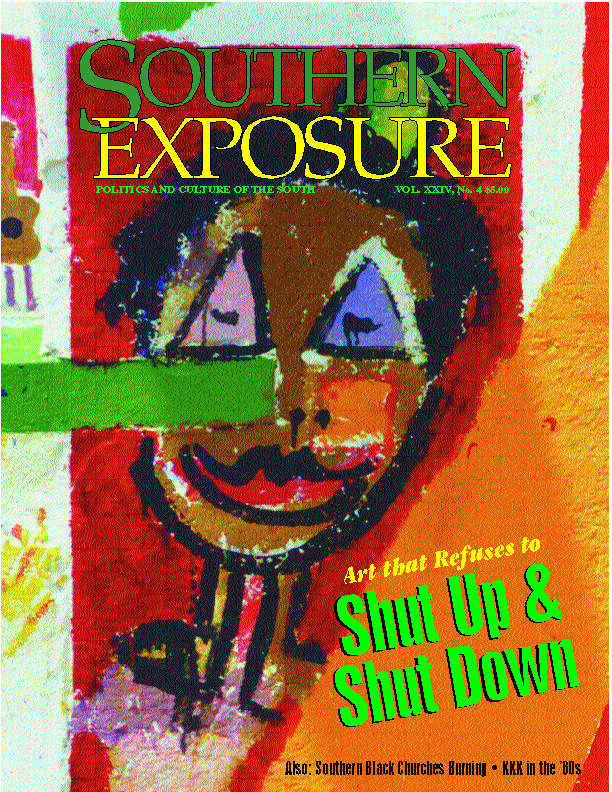 Winter 1996: Art That Refuses to Shut Up and Shut Down

This winter's issue pursues some of the loose ends left dangling by the mainstream media and its sound-byte attention span. Donald Wildmon and the Helms attack on the NEA haven't been headline news in nearly seven years. But Pat Arnow finds that artists across the region are fighting a rearguard action in the censorship battles that started in 1989 and '90. Ron Nixon learns why investigators haven't discovered motives or culprits in the wave of church burnings that have swept the South: they haven't looked. And in the wake of the election's talk about getting tough on crime, author and former inmate Mansfield Frasier discusses Race, Rage, and the Underclass.

The Winter 1996 Table of Contents

Shut Up and Shut Down--By Pat Arnow
Southern artists continue to work, in spite of dwindling funds and intensifying censorship.

Portfolio: Southeastern Center for Contempary Art--Winston Salem, North Carolina; Maxine Henderson--Murfreesboro, Tennessee; Mona Waterhouse Mobile, Alabama; Isabel Zamora--Fort Worth, Texas; The Road Company--Johnson City, Tennessee.

White Only on Main Street--By Emilye Crosby
When Mississippi Cultural Crossroads Center painted a mural, some Port Gibson townpeople saw red.

Out Loud--By Jo Carson
The people of Colquitt, Georgia, are facing their own stories.

Not Whistling Dixie--By Meredith Helton
Arts activist Nayo Watkins and John O'Neal talk about making art for social change.

Resources
Groups to keep freedom of expression alive.
Robert Franklin Williams--By Timothy Tyson
When the author of Negroes with Guns died recently, the world took note--except in his home of North Carolina.

Fanning the Flames--By Ron Nixon
The investigators seem to be missing what's right under their noses--who is responsible for church burnings and other acts of racial violence in the South.

Burning Memories--By David S. Cecelski
A historian finds undercover documents about North Carolina's Ku Klux Klan in the 1960s.
From the Editor

Letters

Followup:
Hamlet Casualties Continue
By Betsy Barton

Blueprint for Change:
Community Newspapers
By Eric Goldman

JuneBug: Southern Exposure's Storyteller:
Bo Willie Strikes Again
By JuneBug Jabbo Jones

Voices from the South:
On Race, Rage, and the Underclass
by Mansfield B. Frazier

Reviews of Southern Media:
It Comes from the People
by Jeanette Stokes

Still the South:
Whiskey
By Mary Lee Kerr
---

Get Subscription/Membership Info
This site made possible by SunSITE.
---
© 1996 by the Institute for Southern Studies
P.O. Box 531
Durham, NC 27702

Phone: (919) 419-8311
Fax: (919) 419-8315
Email: Southern@igc.apc.org

Last Updated 2/20/97