Since I'm home sick with a cold today, it seemed a good time to make chicken soup. Luckily, I had a quart of chicken stock frozen. Unfortunately, I was out of root vegetables and meat, except for some salmon. So it was matzah meal to the rescue.
If you haven't had matzah ball soup, you really need to make this. My recipe is pretty much off the box with some minor modifications.
1 quart of good chicken broth or stock
1 quarter cup of matzah meal
1 egg
oil
garlic powder
red pepper
salt
I like floaters, which are light matzah balls that pop to the surface. If you do the research you'll find that there are a lot of techniques for making floaters, such as using soda water, but really all you need to do is get some air into the batter and treat it gently.
Separate the egg yolk and white. Whisk the white in a bowl until it's nice and foamy (you can do this with a folk, but it will take a bit longer), we'll try to keep that foam intact all the way to the pot. Add a dash of salt and some garlic powder, 1 tablespoon of your chicken stock, the yolk, and 1 tablespoon of oil, and whisk that together. Next add the matzah meal and mix that up gently--don't over do it, you want to keep the foam intact. You don't want large lumps, but some small ones won't hurt anything. Once you have it mixed, put the bowl in the fridge uncovered for 30 minutes. Put a plate in the fridge, too.
While you're waiting, heat up your stock or broth. If you're using canned or boxed broth, I'd suggest adding a little red pepper and some thyme or chives.
The matzah batter will be stiff when you take it out of the fridge, but don't poke at it. Put it and the cold plate on the counter. Some people advise wetting your hands before you do this, but I think a little oil works better. Grab a spoon (I like small matzah balls, so I use a teaspoon), and spoon out a bit of the batter. Roll that gently into a ball and put it on the cold plate. You want to work quickly, since the cold keeps the batter stiff, and it gets sticky as it warms up. Here's the plate from this morning, these are about 1/2" in diameter: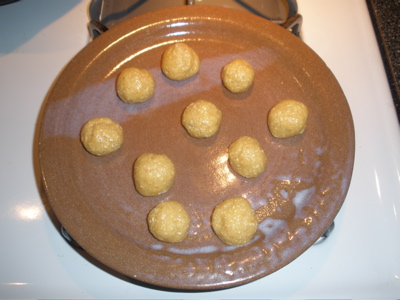 Next drop them into the simmering broth. It helps to turn up the heat just before you drop them so it will come back up to a good simmer faster. Also, cover the pot, that helps them expand.
After 20-30 minutes, they should be plumped up nicely and floating about in the pot. Here's breakfast, notice that the matzah balls have about doubled in size: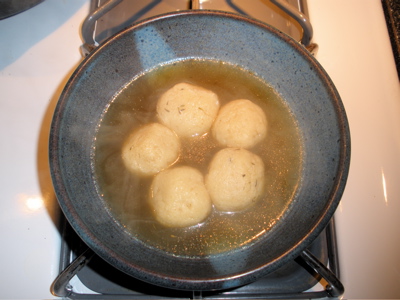 Some people like dense matzah balls, sinkers, which hug the bottom of the bowl, and to make those you can use this recipe, but don't seperate the eggs or whisk anything, just mix everything up and roll the matzah balls. Sinkers are pretty easy to make.
Categories: Recipes