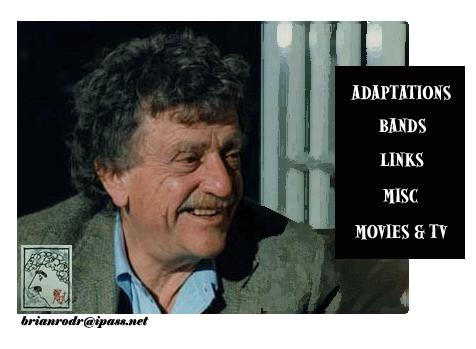 photo by Peter Reed
www.releaseharrisonbergeron.com - A 14 year old boy needs your help!

'Welcome To The Monkey House . . .' is archived on ibiblio.org. Click Here for the mirror.
You can now pre-order Breakfast of Champions on DVD from amazon.com at 30% off
It's not often that this site is recognized, but it was recognized by The Infography as one of the six superlative sources of information about Kurt Vonnegut.

| [Home] | [Adaptations] | [Bands] | [Links] | [Misc] | [Movies & TV] |
| Brian Rodriguez | brianrodr@ipass.net |
last update: May 09, 2000
(c) 1995-2000, brianrodr@ipass.net

You are visitor number
since November, 1996. So It Goes.
FastCounter by LinkExchange


| [Books By KV] | [Books About KV] | [Books On Tape] | [Movies] |

Sign My Guestbook
View My Guestbook