Fiddleheads and wild azaleas
Originally published April 21, 2008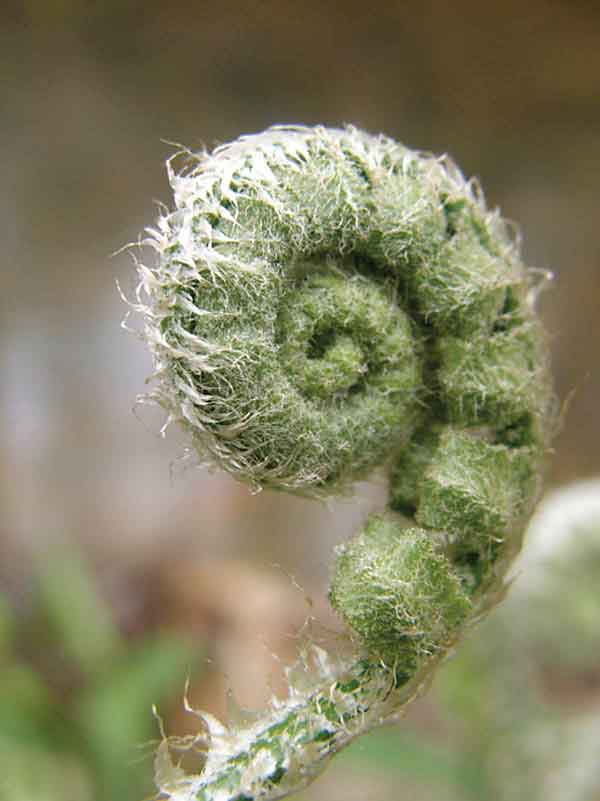 Fiddlehead of Christmas fern is protected by a hairy jacket. Photo by Dave Otto
By Ken Moore
A few days ago, local wildlife photographer Dave Otto sent me beautiful images of a Christmas fern (Polystichum acrostichoides) fiddlehead and a flower cluster of wild azalea (Rhododendron pericymenoides) expressing themselves along Bolin Creek in Carrboro.
Those fiddleheads are a definite sign of spring. Once they begin unfurling their new leaves, we can usually be confident that the warm growing season has finally arrived and we can move forward with our vegetable and flower gardening pursuits – but hold it right there!! Remember last year, when we had a serious frost about this time that resulted in some real setbacks for tender garden plants as well as our native flora.
So don't go out and plant more tender summer veggies and flowers than you are willing to replace if the mid-April cool spells turn out to be really harsh again. It's fine to delay your planting another week or two, because those warm-season plants don't really grow well until the soil has warmed.
Take a close look at Dave's close-up image of that fern fiddlehead and you'll discover one of nature's common strategies for survival. The hairy leaf surface serves as an overcoat for the tender fern fronds during the typical season's late frosts.
I don't remember ever observing our native wild azalea, also called Pinxterflower and Election Pink, being hurt by late frosts. You'll notice that the new tender azalea foliage emerges after those flowers have matured.
It's fun to imagine those leaves having the impulse to wait until it turns a bit warmer before venturing outdoors.
Though this wild deciduous rhododendron species is fairly common in our local forests, we don't notice it much because it requires a good bit of sunlight to flower really well. If you live in a forested landscape, you may be fortunate to spot a flower cluster here or there. If so, judiciously prune out some of the branches of adjacent trees to provide more sunlight and you'll be pleasantly rewarded with more flowers next spring. If you don't have naturally occurring wild azaleas, search for some at Niche Gardens and other local nurseries featuring native plants.
When Moyer Smith lived and gardened at the corner of King's Mill Road and Laurel Hill Road Extension in Chapel Hill, he recognized the value of a naturally occurring wild azalea growing at the sunny corner of his otherwise shaded property. He nurtured that plant to become a handsome flowering specimen. It is well worth a slow drive-by to see it every mid-April.
You may wish to join other like-minded folks seeing fiddleheads, wild azaleas and other signs of spring on the Haw River Assembly's Earth Day River Walk this coming Saturday morning. You can get more information at the assembly's website: HawRiverAssembly.org.
And remember, you live in a great community surrounded with natural areas, so get outdoors somewhere this weekend with family and friends.

Flowers of wild azalea light up the forest before their tender leaves emerge. Photo by Dave Otto