Flowers of heartleaf wild ginger are usually hidden beneath leaf litter on the forest floor. Photo by Dave Otto
By Ken Moore
Two weeks ago, Dave Otto shared photos of wild gingers in full flower along Bolin Creek. The wild ginger flowers, generally hidden beneath the leaf litter, had been exposed by recent rains.
The leather-textured flowers are long lasting; you can still see them. If you practice that "take a closer look" walking strategy, you will most likely find two species of wild ginger on the forest floor.
In fact, if you take yourself outdoors this next week, you will catch the fullest peak of early-spring flowering we've had in years! This abnormal spring, the earliest flowering species are lingering in an unusual overlap with later-flowering species.
For example, in a normal spring, if there is such a thing, peak flowering of redbud is followed by peak flowering of sassafras and, finally, flowering dogwood, which "normally" peaks on April 10 every year. This weekend, you will see all three at peak. Dogwood is peaking closer to April 5.
Yesterday, I saw lingering flowers of typical early bloomers like hepaticas, trout lilies, pennyworts and, most surprising of all, trailing arbutus, Epigea repens. I don't recall observing trailing arbutus in flower as late as April 1. So don't delay that walk in the woods if you want to catch this wildflower spectacle.
Now, back to wild gingers. The first to begin flowering is heartleaf, Hexastylis minor, easily spotted as a single leaf or a clump of leathery, white-mottled, evergreen, heart-shaped leaves. To view the flowers, you have to practice "belly botany" and carefully tease away the leaf litter at the base of the leaf petiole(s). Each widely open, heavily textured flower is a beautiful, white-mottled burgundy color. Please replace the leaf litter over the flower(s) as you found them.
The other ginger you will likely encounter is Hexastylis arifolia, identified by a larger leaf shaped more like an arrowhead than a heart. The leaves are not as dramatically white mottled as heartleaf. This ginger is commonly called little brown jugs, because the greenish-brown flowers, open slightly at the top, resemble narrow little urns. Another common name, little pigs, refers to the little pig ear-like unfolding of leaf buds next to the flowers. This ginger begins flowering several weeks after heartleaf. It's beginning now, so you will see them both.
Another evergreen heartleaf you may encounter locally is Hexastylis virginica, which has a similar leaf but a smaller, less widely open flower than H. minor. Common in the mountains and occasionally seen locally is the deciduous wild ginger, Asarum canadensis, which is now breaking dormancy and grows as a spreading groundcover, in contrast to the single clumps of the evergreen species. There are nice displays of evergreen and deciduous gingers at the Botanical Garden. If you want to grow them, Niche Gardens and the Botanical Garden have plants.
Native Americans made widespread medicinal use of leaves and roots of the wild gingers. Pioneers used the plant as a ginger flavor substitute.
When you go out to discover gingers in the next few days, those of you who have been keeping watch will notice that just about all of the beech leaves have dropped.
Wildflower walk: Dave Otto is leading a Friends of Bolin Creek spring wildflower walk on Saturday, April 11, leaving from Wilson Park at 9:00 a.m. All are welcome.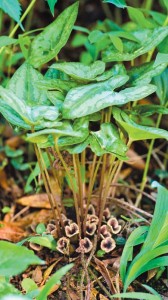 Flowers huddle close to the ground beneath the arrow-head shaped leaves of 'little brown jugs' wild ginger. Photo by Betsy Green Moyer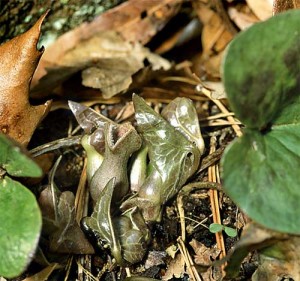 Shiny, unfolding new leaves flanking the flower of 'little brown jugs' resemble little pigs' ears. Photo by Betsy Green Moyer