Technician 5 Herman "Bud" E. Schuth
1157th Quartermaster Company Service Group, Aviation

Attached to the 868th Engineer Aviation Battalion
8th Service Group
5th Air Forces


Far East Air Forces


U.S. Army Air Forces

Combat Replacement Training Center
Base:
Nadzab Airfield
,
Lae
,
Morobe Province,
Papua New Guinea
Served: May 27, 1942 to January 14, 1946
Overseas: July 23, 1942 to November 3, 1945

Herman "Bud" Schuth died in 1956 at the age of 44 of complications of malaria contracted while serving in Papau New Guinea. His death is recognized as service related.
---
ABOVE shoulder patches: Left: 5th Army Air Forces Corps; Right: Far East Air Force
I do not know if Uncle Bud wore either of these but my research as of the date of posting suggests that these are possibly among the ones he wore.

---
Herman Schuth was drafted on May 27, 1942

He was a truck driver in a Quartermaster Unit attached to an Engineer Aviation Battalion of Army Air Force mechanic in Papau New Guinea.
He hauled fresh, baked, and canned food, and made minor on the road repairs to his trucks.

The 1157th has credit for participation in the New Guinea Campaign.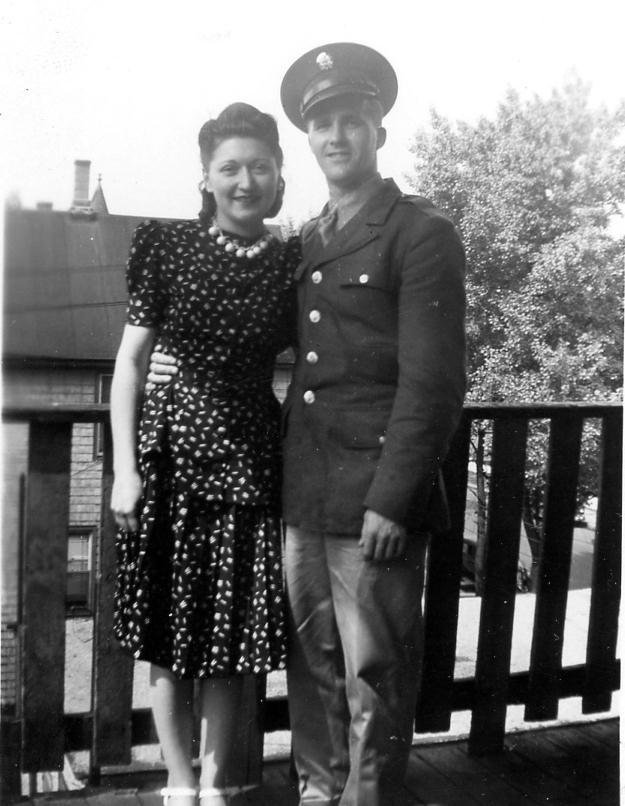 Jean (Cizewski) and Herman Schuth
(Undated from the collection of Felix & Ann Cizewski)

Herman Schuth died in June 21, 1956 from the complications of the malaria he contracted in Papau New Guinea. The Veterans Administration recognized his death as service related and provided benefits to his widow and children.

---
Click on the above links for more information on Herman Schuth's service.

Background on the base at which he served is at the Pacific Wrecks sites.

Details of his duties are at the U.S. Army Quartermaster History site of the U.S. Army Quartermaster Foundation and Museum.

The information on the complications of malaria is from the Mayo Clinic health information site.

---
We knew
Herman Schuth as Uncle Bud
. I was almost 4 years old when he died. While I have no memory of him, one of my earliest childhood memories was the firing of the guns in salute at the graveside.
---
For further research:

Herman Schuth's
discharge lists:
That suggests:

1157th Quartermaster Company Service Group, Aviation was attached to the Attached to the 868th Engineer Aviation Battalion.
The 868th did serve in the Philippines.
A question to be researched is if the 1157th continued to be attached to the 868th when the 868th was deployed to the Philippines.