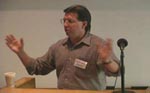 Look:&nbsp


or

Listen:
Brock Meeks is the Washington D.C. bureau cheif for MSNBC.

Previously, Brock had been Washington Bureau Chief for Wired/HotWired and INTER@CTIVE WEEK, and prior to that, he spent 2 years as Associate Editor for Communications Daily, a Washington, DC-based newsletter.

Brock has won numerous awards including the Newsletter Publisher's Foundation award for "Best Investigative Story" which he won in 1992 and a National Press Club Award for Explanatory Journalism he won in 1993. In 1992, he wrote a daily political campaign summary of the 1992 Presidential race for CNN's Democracy in America program which was delivered via a fax on demand service. That effort won "Best Fax On Demand" product of the year. He's won several awards from the Computer Press Association for his writing on various topics. In 1990 he won the Thomas Moore Storke Award from the World Affairs Council for "Best International Coverage" for his coverage of the Afghanistan war as a foreign correspondent for the San Francisco Chronicle.