Sustainable Farming Connection
Where farmers find and share information.
Fun Stuff
Hey! You've got work to do. Go back to the home page now!

On the Prairie -- This educational resource is great for helping kids understand and appreciate prairie ecology. Kids agree, the build a prairie page is a way cool interactive feature. Next best thing to a field trip.



How to tell if your beef has Mad Cow Disease -- Try this simple test.




Virtual Cow Tipping -- As with the real thing, this pastime must have been dreamed up by folks with too much time on their hands. Dodge the cows to tip the sleeper. For a simpler (and more aesthetically pleasing) online cow-tipping experience, visit the Official Cow Tipping Home Page. (Includes helpful How to tell if your cow has Mad Cow Disease.)



Complete Guide to Cows -- More ASCII-character cows than you can shake a fist at.



More Cow Stuff -- It's amazing how much fun cow stuff there is on the 'Net. If you haven't gotten your fill by now, check out the links from Everything about cows, and then some or The MOO-COW CAFEteria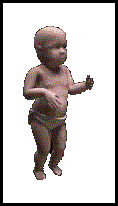 The Unofficial Dancing Baby Homepage -- What does this have to do with farming? Nothing, really. But if you're trying to babysit a toddler while you're doing office work, download one of these babies. I guarantee the toddler will learn valuable mousing skills while playing the video over and over like an addicted rat pressing the pill-dispensing bar in a drug research project. Fortunately, there is a baby for just about every musical preference.



The Vanishing Egg -- Great optical illusion. Requires Shockwave-capable browser.



Weird Farm News -- Gleaned from my buddy Chuck Shepherd's News of Weird column.





---
©1997 Committee for Sustainable Farm Publishing

Please read about our usage permission policy and disclaimer.

Send comments, suggestions and questions to the site author:
Craig Cramer cdcramer@clarityconnect.com

Coded using HoTMetaL Pro 3.0. Best viewed in Netscape 3.0 or later.
Please see our credits page for more information.

http://sunsite.unc.edu/farming-connection/links/funstuff.htm