Sustainable Farming Connection
Where farmers find and share information.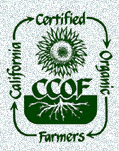 California Certified Organic Farmers

1115 Mission St.
Santa Cruz CA 95060


Phone: (408) 423-2263

Fax: (408) 423-4528

E-mail: Nadine.Golden@CCOF.org

Website URL: http://www.ccof.org/

Newsletter: Newsletter of California Certified Organic Growers

Our purpose is to promote and support organic agriculture in California and elsewhere through:
A premier certification program for growers, processors, handlers, and retailers.
Programs to increase awareness of and demand for certified organic product and to expand public support for organic agriculture.
Advocacy for governmental policies that protect and encourage organic agriculture.
---
©1997 Committee for Sustainable Farm Publishing

Please read about our usage permission policy and disclaimer.

Send comments, suggestions and questions to the site author:
Craig Cramer cdcramer@clarityconnect.com

Coded using HoTMetaL Pro 3.0. Best viewed in Netscape 3.0 or later.
Please see our credits page for more information.

http://sunsite.unc.edu/farming-connection/localcon/groups/ccof.htm