Sustainable Farming Connection
Where farmers find and share information.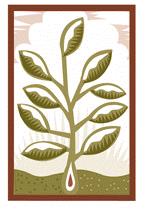 Institute for Agriculture and Trade Policy

2105 First Ave. South
Minneapolis MN 55404





Phone: 612-870-3400

Fax: 612-870-4846

E-mail: mritchie@iatp.org

Website: http://www.iatp.org/iatp

Contact: Dale Wiehoff, Executive Director

Newsletter: Weekly, free

The Institute for Agriculture and Trade Policy (IATP) is a nonprofit research and education organization. Our mission is to create environmentally and economically sustainable communities and regions through sound agriculture and trade policy. The Institute assists public interest organizations in effectively influencing both domestic and international policymaking through the following activities:
Monitoring, Analysis and Research. The Institute monitors the key events and topics related to agriculture, environment, community economic development and trade. This data is then analyzed to determine potential economic and ecological implications. Policy options are researched and presented in response to specific problems and opportunities.


Education and Outreach. The Institute prepares educational materials for distribution to policymakers, opinion leaders and the public at large. This includes a mail order literature service, video productions, public service announcement (PSA) campaigns, conferences and computer networks.


Training and Technical Assistance. The Institute provides training, consulting and technical assistance to groups interested in addressing economic and ecological issues through seminars, staff and leadership trainings, teleconferences, videos, on-site consultations and our system of computerized updates.


Coalition Building and International Networking. Concerned groups are brought together in coalitions to increase coordination of activities in a variety of issue areas. The Institute also works to build international networks by linking groups in different countries through conferences, study tours, publications, action campaigns and global electronic bulletin boards.
---
©1998 Committee for Sustainable Farm Publishing

Please read about our usage permission policy and disclaimer.

Send comments, suggestions and questions to the site author:
Craig Cramer cdcramer@clarityconnect.com

Coded using HoTMetaL Pro 3.0. Best viewed in Netscape 3.0 or later.
Please see our credits page for more information.

http://sunsite.unc.edu/farming-connection/localcon/groups/iatp.htm