Copyright (C) 2000-2008 Yellow Card Journalism, LLC. All Rights Reserved.
Additional images Copyright (C) 2003-2007 Mike Lastort, Fred Kfoury. Used by Permission.
Please contact us for web, news, editorial and commercial use restrictions.

Receive notification of new collections: YCJ RSS Feed
See the photos in print: Emerald City Gazette (America's Soccer Fanzine.)
Contact us: Scott Bales, Wade Jackson, Andy Mead, and the rest.
Contact the webmaster with any comments or queries.
---
ECG#30 - Nov 2006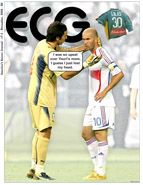 Updated: April 1, 2008.