YCJ Photos | Collection Index | ECG Magazine | YCJimages.com | Photographer: Andy Mead |

YCJ RSS Feed
Yellow Card Journalism Photo Service
Ohio State University Buckeyes vs Wake Forest University Demon Deacons
September 3rd, 2006 in Chapel Hill, North Carolina
NCAA Division 1 Men's Soccer game - box score
2006 Carolina Nike Classic
---
All images Copyright © 2005-2008 Andy Mead/Yellow Card Journalism, LLC. All Rights Reserved.
NOTE: Do not republish these images without permission. This includes, but is not limited to, YouTube, MySpace, Facebook, Flickr, PhotoBucket, blogs, and other websites.
---
The photos from the game have been divided into the following subsets:
---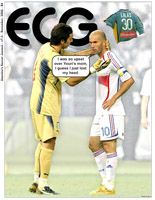 Wake Forest 3 - Ohio State 2
Venue: Fetzer Field - Chapel Hill, NC; Attendance: ; Time: 13:00; Weather: .
---
YCJ Links: YCJ Photos Home | Collection Index | ECG Magazine | Photographers | YCJ RSS Feed
---
Related Links: NCAA | Wake Forest Demon Deacons | Ohio State Buckeyes | BigSoccer |
---