A warm May evening, it had rained briefly and a low-lying mist clung to the group, wrapping itself tenaciously around students and trees alike. The two men and their seconds made their way carefully toward the cliff. Before they realized it, the protagonists were almost upon each other. As they backed off for the agreed upon ten paces, their figures assumed an almost ghostlike quality. Two shots rang out and the seconds rushed toward the young man who lay on the ground.
Blood covered the front of the ruffled white shirt. Even as his second attempted to lift his head, Peter Dromgoole gasped and breathed his last. Terrified, his rival and the two seconds dragged the lifeless Peter away from the cliff and toward a huge rock. Digging frantically - lifting their heads at each strange sound from the woods - they finally managed to dig a grave deep enough. They lifted Peter's body from the rock, placed it in its shallow grave and replaced the earth as carefully as the darkness and their haste would allow.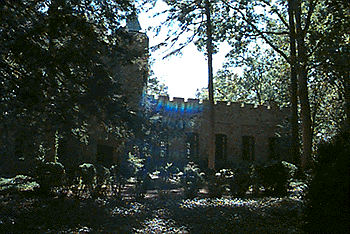 Meanwhile, Peter's family had received a strange letter from him. A letter which warned that he might bring sadness upon them and that they would probably never hear from him again. This was the last they ever heard from their son. A few weeks later, his uncle, at the insistence of Peter's mother, made a trip to Chapel Hill. In the room which Peter had shared with a young man named John Williams were the only signs that remained of him - his trunk and a few clothes.
Peter Dromgoole had disappeared as completely as if he had been spirited away. His fellow students were unable to give any clues as to what had happened to him. Stage coaches leaving Chapel Hill showed no record of any passenger named Peter Dromgoole. His uncle returned to Virginia a saddened and extremely worried man. His trip had been fruitless and without one clue as to his nephew's whereabouts.
This version of Peter's death and disappearance was related by a former student as he lay on his deathbed some 60 years later. It may or may not be the true story of the strange fate of Peter Dromgoole.
But what of a Chapel Hill girl named Fanny? For many a long summer afternoon she waited at the rock for her lover. What strange brownish stains had suddenly appeared on it! Sometimes as the shadows lengthened, she would think she saw a tall figure striding toward her through the woods. Then she would put her head in her arms across the rock and sob quietly. Her agonizing questions were never to receive an answer.
According to another story, young Peter ran away from school and enlisted in the army. However, the muster rolls of his supposed battalion have never been found. Is the name of Peter Dromgoole upon them? If so, the yellowed pages lying in some forgotten cache hold fast to their secret.