Harry Halpin
Photo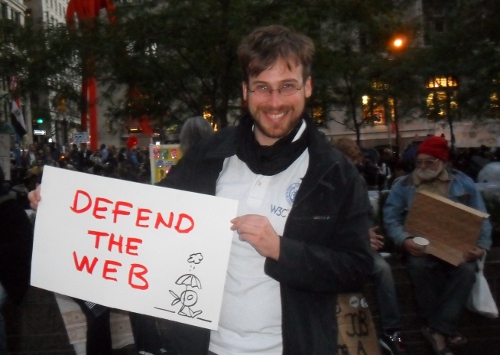 Affiliation
Team member of Technology and Society Domain at the World Wide Web Consortium
Visiting Researcher at L'Institut de recherche et d'innovation du Centre Pompidou (IRI)
Postdoctoral Research Associate at Computer Science and Artificial Intelligence Lab, MIT
Email:

PGP Key
Work
C.V.
Bio
I'm a World Wide Web Consortium (W3C) Team member in the Technology and Society Domain, where I lead efforts in identity and serve as Staff Contact for the W3C Web Cryptography Working Group. Directed by the inventor of the Web Sir Tim Berners-Lee, the W3C is the world's leading Web standards body to bring the Web to its full potential. I'm also currently writing a book on the philosophy of the Web under the direction of Bernard Stiegler under the PHILOWEB: Philosophy of the Web Project. Overall, both my technical and philosophical work is aimed at evolving the Web towards becoming a secure platform for free communication in order to enable collective intelligence.
Up until 2010 I was a postgraduate student of computer scientist Henry S. Thompson and the philosopher Andy Clark at the University of Edinburgh. My dissertation studied the impact of the Web over traditionally difficult questions of meaning and reference in philosophy of language, with applications to creating search engines over heterogeneous data, now available as the book "Social Semantics". Before joining W3C he was a visiting researcher working at semantic search at Yahoo! Research Barcelona and was a manager for the Humanities, Arts, Science and Technology Advanced Collaboratory at Duke University. He also done residencies at the Santa Fe Institute for Complex Systems and the Oxford Internet Institute at Oxford University. He has over 40 publications published in academic and technical journals, conferences, and workshops covering identity, cryptography, search engines, natural language processing, and the philosophy of cognitive science. He is also President of LEAP (LEAP Encryption Access Project), which works on letting secure communication services be widely available, including to activists in places such as Syria. The importance of the Web is further described in "Defend the Web", an article I co-authored with Tim Berners-Lee.
Events
Upcoming Events
Previous Events
European Privacy Forum, Oct 11-12th 2012, presenting on "Federated Identity as Capabilities" with Blaine Cook (lead programmer of Twitter)
Human Computation Workshop, July 27th 2012, presenting "Machine-learning for Spammer Detection in Crowd-sourcing" with Roi Blanco.
Digital Enlightenment Forum, June 18-19th 2012, presenting "Defend the Web" with Tim Berners-Lee.
Web 2.0 Privacy and Security Workshop, May 24th 2012, presenting "Web Authentication: The Next Step for the Evolving Identity Eco-System"
Philosophy and the Web Workshop, April 17th 2012, co-chair with Alexandre Monnin
Unlike Us Conference, March 8-10th 2012, Talk on "Hidden History of Facebook Like Button", Amsterdam.
Publications
Books
Thesis
Sense and Reference on the Web. University of Edinburgh. Ph.D. Advisors: Andy Clark and Henry S. Thompson. External Committee: Yorick Wilks and Jon Oberlander. (2010).
Edited Journals
Chaired Workshops
Book Chapters
Journal Publications
Harry Halpin: The Philosophy of Anonymous: Ontological Politics without Identity, Radical Philosophy, 176 (Nov/Dec 2012)
Alexandre Monnin and Harry Halpin: Toward a Philosophy of The Web. Metaphilosophy, 43 (4):361-379 (2012)
Hugh Glaser, Harry Halpin: The Linked Data Strategy for Global Identity. IEEE Internet Computing 16(2): 68-71 (2012)
Harry Halpin, Valentina Presutti: The identity of resources on the Web: An ontology for Web architecture. Applied Ontology 6(3): 263-293 (2011)
Harry Halpin, Victor Lavrenko: Relevance feedback between hypertext and Semantic Web search: Frameworks and evaluation. J. Web Sem. 9(4): 474-489 (2011)
Harry Halpin: Sense and Reference on the Web. Minds and Machines 21(2): 153-178 (2011)
Harry Halpin, Henry S. Thompson: Social Meaning on the Web: From Wittgenstein to Search Engines. IEEE Intelligent Systems 24(6): 27-31 (2009)
Valentin Robu, Harry Halpin, Hana Shepherd: Emergence of consensus and shared vocabularies in collaborative tagging systems. TWEB 3(4): (2009)
Patrick J. Hayes, Harry Halpin: In Defense of Ambiguity. Int. J. Semantic Web Inf. Syst. 4(2): 1-18 (2008)
Conference Proceedings
Harry Halpin, Victor Lavrenko: Relevance Feedback between Web Search and the Semantic Web. IJCAI 2011: 2250-2255
Roi Blanco, Harry Halpin, Daniel M. Herzig, Peter Mika, Jeffrey Pound, Henry S. Thompson, Duc Thanh Tran: Repeatable and reliable search system evaluation using crowdsourcing. SIGIR 2011: 923-932
Harry Halpin, Tom Baker: Vocabulary Hosting: A Modest Proposal. AAAI Spring Symposium: Linked Data Meets Artificial Intelligence 2010
Harry Halpin, Patrick J. Hayes, James P. McCusker, Deborah L. McGuinness, Henry S. Thompson: When owl: sameAs Isn't the Same: An Analysis of Identity in Linked Data. International Semantic Web Conference (1) 2010: 305-320
Harry Halpin, Valentina Presutti: An Ontology of Resources: Solving the Identity Crisis. ESWC 2009: 521-534
Dirk Bollen, Harry Halpin: An Experimental Analysis of Suggestions in Collaborative Tagging. Web Intelligence 2009: 108-115
Harry Halpin: Foundations of a Philosophy of Collective Intelligence. AISB Convention 2008: 12-19.
Harry Halpin, David J. Zielinski, Rachael Brady, Glenda Kelly: Exploring Semantic Social Networks Using Virtual Reality. International Semantic Web Conference 2008: 599-614
Harry Halpin, Valentin Robu, Hana Shepherd: The complex dynamics of collaborative tagging. WWW 2007: 211-220
Harry Halpin, Johanna D. Moore: Event Extraction in a Plot Advice Agent. ACL 2006
Harry Halpin, Henry S. Thompson: One document to bind them: combining XML, Web Services, and the Semantic Web. WWW 2006: 679-686