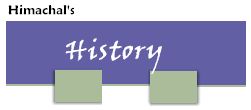 After Indian Independence, a Union Territory of Hill states was created. It primarily consituted of hill states around Shimla. On November 1, 1966 Punjab Hill areas were merged into Himachal as part of reorganization of Punjab. Himachal Pradesh became a full fledged state of the Republic of India on January 25, 1971.
Himachal Pradesh has been on the path of progress since Independence. The literacy rate of the state is 63% now and is improving every decade. The population has almost stabilized at about 5 million, thanks to high literacy and effective family planning programs. Every village in the state has electricity and drinking water now.
Many young men from Himachal serve the Indian Army and have played significant role in the National defense. Dharamsala has a war memorial dedicated to the memory of those who lost their lives for their country.
Himachal has one state university at Shimla, namely, Himachal Pradesh University. There is a Regional Engineering College (REC) at Hamirpur that has students from all over India. In addition, there is a Medical College at Shimla.
Himachal is literally a power house when it comes to hydro-electricity. The state has many dams that harness the hilly rivers to generate electric power. The electricity is used by farmers in Punjab, Haryana and by the industries in the northern plains.