SECTION IV
* * * * * * * * * * *
STRATEGIC BOMBARDMENT
FROM PACIFIC BASES

Chapter 17
Preparation for Combat
THE JCS decision that the major strength of the Twentieth Air Force would be based in the Pacific has been discussed in earlier pages.* B-29 combat operations from Saipan, Tinian, and Guam will be described in succeeding chapters. Here the purpose is to describe the complex organization that nourished XXI Bomber Command through its climactic assault on the Japanese homeland. Since the Joint Chiefs, in introducing the B-29 into the Pacific, divorced operational control from administrative and logistical services, there is warrant enough for the separate discussion that follows.
AAFPOA
The JCS directed Admiral Nimitz to seize the southern Marianas as bases for the B-29 on 12 March 1944--only three months before the 15 June target date.1 In that time, while completing preparations for the amphibious assault,† he had to make plans for constructing necessary airdromes, for moving new air units into the theater, for stockpiling ammunition and fuel, and for the providing of other essential logistical and administrative services. The operations of the new air organization were to be directed by Arnold as executive for the JCS a decision incidentally not made final until 1 April2--but Nimitz, as theater commander, was to be responsible for all else. As theater commander, Nimitz could count upon subordinate Army and AAF staffs to carry much of the burden--upon Lt. Gen. Robert C. Richardson, commanding U.S. Army Forces in the Central Pacific Area (USAFICPA), and upon Maj. Gen. Willis H. Hale, the commander of the Seventh Air Force. But since the command arrangements planned for
* See above, pp. 29-32.
† AAF participation in the conquest of Saipan is discussed in Vol. IV, Chap. 20.
--507--
the Twentieth Air Force presented organizational problems of peculiar complexity, much depended upon the attention that could be given these problems by Nimitz himself or his deputy, Rear Adm. Forrest P. Sherman, in consultation with representatives of appropriate headquarters in Washington.
Even in advance of formal action by the JCS on Arnold's command of the Twentieth, Maj. Gen. Laurence S. Kuter, the AAF's top planner, had flown to Hawaii in late March to open preliminary conferences with Nimitz and his staff.3 Kuter's trip was tacit acknowledgment that definitive arrangements could be made only in the theater; thus, by mid-April Arnold and Nimitz were agreed that a small group of officers should proceed immediately to Pearl Harbor to furnish CINCPOA's staff an outline of VHB requirements and to assist in completing the over-all logistic plan.4 Maj. Gen. Walter H. Frank was named on 20 April to head a special mission for this purpose,5 and alsoto gain agreement on such other problems as those pertaining to communications for B-29 units. Arnold cautioned Frank to remember that the construction and defense of VHB bases, together with the provision of supplies, was CINCPOA's responsibility. General Frank was to inform Nimitz of VHB requirements, but to avoid giving any impression of trying to dictate how those needs should be met.6
With the assistance of five officers representing the AAF, Army, Navy, and Marine Corps, Frank sat in formal conference at Pearl Harbor from 29 April to 4 May with representatives of Nimitz. Admiral Sherman presided and senior officers both of USAFICPA and the Seventh Air Force participated. The wide range of subjects under discussion included base development, airfield construction, weather information, transportation and shipping, communications, intelligence, personnel, and ordnance. And so great was the rapport established that the final report (the Frank Report) became a veritable bible for VHB planners and commanders in the months that followed.7 Nimitz wrote Arnold on the final day of the conference that he saw no insuperable difficulties in integrating their common plans.8 At Nimitz' suggestion, an advanced echelon of the XXI Bomber Command under Brig. Gen. Charles E. Thomas was established at Hickam Field late in May to effect necessary coordination with the staffs of Nimitz, Richardson, and Hale.9
Back in Washington, the JCS on 7 June approved a report of the Joint Logistics Committee delineating responsibilities for support of
--508--
all AAF elements in future POA operations according to the plan described below.10
CINCPOA: responsible for 1) assignment of blocks of communication call signs and frequencies, and construction and maintenance of interbase wire communications system; z) receipt, storage, and final delivery of aviation gasoline to airdromes, and construction and maintenance of all gasoline storage and distribution systems; 31construction and maintenance of airdromes, airdrome installations, and housing; 4) miscellaneous support including establishment and operation of additional depot facilities, installation and operation of port and beachhead facilities, all water and rail transportation service and motor transport service forward to depots, routing, convoy, and protection of AAF aircraft repair ships, evacuation, hospitalization, and other special services; and 5) all supply channels.
Commander, Twentieth Air Force: responsible for 1) first, second, and third echelons of supply, maintenance, and reclamation of all units assigned to the Twentieth Air Force; 2) the establishment and operation in the Marianas of the necessary AAF depots and AAF aircraft repair ships for fourth echelon supply, maintenance, and reclamation of Air Corps technical, ordnance, and signal supplies and equipment, and other items peculiar to the air forces; 3) operation of all communication systems required by the Twentieth Air Force in the Marianas, except those normally operated by the Army Airways Communication System, and construction of all wire systems within bases of the XXI Bomber Command; and 4) all motor transport service to Twentieth Air Force installations forward of depots in the Marianas.11
This directive also recognized CINCPOA's responsibility for establishing administrative policies which would be equitable and uniform for all elements within the theater. To insure against "conflict or interference" between the forces of CINCPOA and those of the Twentieth Air Force, both of whom were operating under JCS directives, it was specifically provided that local authority to resolve such difficulties would be exercised by CINCPOA or his area commander.12 In the interest of economy, depots of the Twentieth Air Force were also to support other elements of the AAF based in the Marianas. To provide supporting ground services for the anticipated twelve groups of B-29's, the War Department allocated to the theater additional service and engineer troops.13
--509--
The prospective augmentation of AAF strength in POA called logically for the creation of a new theater air headquarters. Seventh Air Force, the ranking air organization in the theater, could have served well enough, with additions to its staff, as an administrative headquarters for the additional AAF units specifically assigned to the theater, but it would have been in a somewhat anomalous position if it tried to perform those services for units belonging to the Twentieth Air Force.* To allow that force to attend to its own needs would have unnecessarily duplicated air force channels within the theater. Arnold, moreover, felt the need for "a strong hand" in negotiating intra-theater priorities on such things as shipping and construction.14 The anticipated redeployment of Iarge forces from Europe after V-E Day apparently provided another but secondary argument for a new air headquarters.
Richardson's proposals for an air echelon above the Seventh Air Force to accommodate expected augmentation of the AAF in the central Pacific had won no support in Washington until the VHB's were assured for the Marianas.15 But on 10 March, the same day that the Joint Planning Staff recommended the 15 June assault on the Marianas,16 the War Department approved the activation of an additional AAF headquarters in the Pacific Ocean Areas.17 In answer to Hale's protest that this action would denude his command of experienced personnel, Arnold replied that the principal function of the new headquarters would be to secure equitable logistical support for both the Seventh Air Force and XXI Bomber Command. He also expected the new headquarters, though planned as a small one, to have a "most important function in effecting coordination of operations between XXI Bomber Command and the theater air agencies."18
To head this new command the Air Staff apparently had decided as early as 16 April upon Lt. Gen. Millard F. Harmon, who, as commander of U.S. Army Forces, South Pacific Area (USAFISPA) ,had had long experience in the Pacific.19 It took time, however, to workout the details. By 24 May the War Department proposed that Richardson be named Commanding General of U.S. Army Forces, Pacific Ocean Areas (USAFPOA), a command to incorporate both USAFICPA and USAFISPA, with Harmon under Richardson as Commanding General, Army Air Forces, Pacific Ocean Areas (AAFPOA). Harmon was to be responsible to Richardson for logistics and administration,
---
* See Vol. IV, 281-82, 675-76, for status of Seventh Air Force in POA.
--510--
and to Nimitz for the operations of air units not belonging to the Twentieth Air Force. In addition, as deputy commander of the Twentieth, Harmon would have responsibility for local coordination of operations and logistical support.20
From his south Pacific headquarters in New Caledonia, Harmon immediately submitted a counterproposal that AAFPOA be placed directly under Nimitz on an equal status with USAFPOA except for ultimate court-martial jurisdiction.21 Richardson quickly and strongly objected to this violation of the principle of unity of command which put all Army elements under the theater Army commander.22 In general, Nimitz supported Richardson's position: operational control of AAF units assigned to task forces must continue to be CINCPOA's through the task force commanders.23 On 6 June Marshall radioed Harmon that Richardson would assume command of all Army forces under CINCPOA, but that the specific relationship of AAF elements to USAFPOA would be held in abeyance until Harmon could proceed to Washington after conferring en route with Nimitz and Richardson in Hawaii.24
In the final directive of 10 July.25 Harmon won major concessions. Although he did not win full independence for AAFPOA, he was made "responsible directly to CINCPOA for all matters pertaining to plans, operation, training and disposition of his forces." In addition, Harmon was designated Deputy Commander, Twentieth Air Force, and made responsible directly to Arnold in all matters affecting elements of the Twentieth Air Force in POA. Of still greater importance, Harmon was given authority to deal directly with Nimitz in the coordination of Twentieth Air Force activities in the theater.26 In a letter to Richardson also on the 10th,27 General Marshall explained that the directive's purpose had been to give Harmon a position in POA comparable to that held by Spaatz, Eaker, and Kenney in their theaters: each of them was responsible directly to the theater commander for all air operations while coming under the administrative control of the appropriate commander of U.S. Army forces. The Chief of Staff hoped that Harmon would participate in planning on a basis equal to that of all other commanders under Nimitz. Although Richardson was to continue in command of all Army forces in POA except for components of the Twentieth Air Force, Marshall specifically expressed his "desire" that Richardson delegate administrative authority to Harmon to the "maximum degree practicable."28
--511--
Activation of Headquarters, Army Air Forces, Pacific Ocean Areas at Hickam Field followed on 1 August 1944.29 Maj. Gen. Robert G. Breene, who had been Harmon's commander of services of supply in USAFISPA, was named deputy commander for administration as well as the commanding general of AAFPOA's service command. Breene promptly instiruted a sweeping realignment of air organizations in the theater. The Seventh Air Force, formerly the senior command, was made "mobile and tactichi" on 15 August by the reassignment of 112 units of various types to AAFPOA. The VII Air Force Service Command, its former administrative functions having been assumed by Breene as deputy commander for administration, was transferred to ASC/AAFPOA, where it lost its identity as an operating agency. In its place, VI Air Service Area Command was created, with headquarters at Wheeler Field and responsibility for service and supply in the rear area. Thus the Seventh was left only VII Bomber Command and VII Fighter Command. In preparation for the support of VHB units, the Hawaiian Air Depot was expanded and assigned directly to AAFPOA. For the forward or combat area, plans were laid for a Guam Air Depot, which was established in November. Although a second air service area command was planned for the forward area, it was never organized, and servicing of all tactical elements in the combat area became the function of the Guam Air Depot.30
Bases for the B-29
Eventually five great airfields were built in the Marianas, each of them occupied by a VHB wing: two on Guam, one on Saipan, and two on Tinian. Also located on Guam were the air depot, headquarters for XXI Bomber Command, and a forward headquarters for Harmon. Later, Iwo Jima was converted into a giant air base for staging B-29's and for long-range fighter aircraft. As the war came to an end, other Twentieth Air Force units were in place on bases in the Ryukyu Islands.31 The Frank Report of 3 May 1944 had tentatively approved facilities in the Marianas for twelve VHB groups and their supporting units.32 Original plans for the airdromes had been drawn by Seventh Air Force engineers as their normal contribution to the base development program incorporated in the over-all plan for the Saipan invasion.33 This program was coordinated with USAFICPA, which passed the requirements to CINCPOA who had final authority, not only
--512--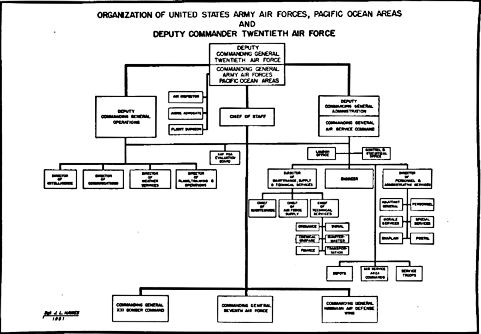 Organization of United States Army Air Forces, Pacific Ocean Areas and Deputy Commander Twentieth Air Force
over the air base plans but over priorities for everything from construction to shipping and movement of units. Actual construction was the responsibility of island commanders, who carried out approved programs of base development under the direct command of Vice Adm. J. H. Hoover, Commander, Forward Area; Hoover answered directly to CINCPOA.34 The Twentieth Air Force gained its first direct representation in the planning on 29 May, when headquarters for the advanced echelon of XXI Bomber Command was established at Hickam Field,35 and General Thomas almost immediately proposed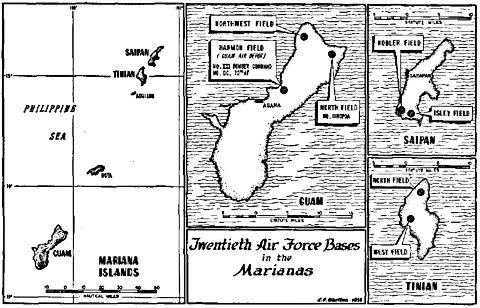 changes to meet new VHB requirements. The labyrinth of command channels led him on 25 June to request that island commanders in the Marianas be directed to secure XXI Bomber Command approval for all final layouts for VHB airdromes.36 This Adm. J. H. Towers, who gave Nimitz' reply, refused, with the suggestion that "engineering staffs work in close liaison with each other" but also with a warning that "final designs must comply in all respects with the requirements of CINCPOA on airfield construction in the Central Pacific."37
Only after 1 August, when Harmon arrived in Hawaii, did the Twentieth Air Force have a representative enjoying access to the highest POA commanders, During the seven critical months which preceded his death in February 1945, Harmon devoted his energies unstintingly to expediting the construction of bases and the establishment
--514--
of VHB units in the theater. Constantly he argued for higher priorities on needed shipping and construction,38 but although he found Nimitz sympathetic toward the program, there were many demands upon resources. The original JCS directive of 12 March had provided for the establishment of four VHB groups in POA with the highest priority for facilities, but Nimitz insisted that a subsequent directive of 11 April increasing the number by eight additional groups left the "priority to be determined by CINCPOA."39 Whether this was the actual intent of the JCS is not clear, but supported by Admiral King, Nimitz agreed to provide for the later groups in the Marianas only as circumstances permitted.40
Estimated dates for minimum operational readiness had been fixed in the Frank Report as follows:* Isley Field No. 1 (Saipan), 5 October; Isley Field No. 2 (Saipan), 15 October; North Field (Tinian), 1 October; West Field (Tinian), 20 October; Depot Field (Guam), 15 October; and North Field (Guam), 15 December.41 Movement of three VHB wings to the Marianas was then scheduled, with the first ground elements of the 73d Bombardment Wing to reach Saipan about 5 August, those of the 313th Wing to arrive at Guam about 5 October, and those of the 314th Wing to land on Tinian about 5 December. Initial air elements of these wings were scheduled for 5 October, 10 November, and 10 January, respectively.42
Determined enemy resistance in the Marianas upset all original schedules. Although on Saipan the delay was negligible, on Guam and Tinian all echelons intended for those two islands were delayed thirty days.43 More serious still was Nimitz' announcement on 9 August of plans to use Guam as a base for the Pacific Fleet, as a forward headquarters for CINCPOA, and as a staging area for the projected seizure of Formosa. Naval base installations, harbor facilities, and staging requirements for ground troops all were given a construction priority higher than that of the VHB program: except for Depot Field, Harmon was informed, work on B-29 facilities on Guam had been indefinitely deferred.44 Harmon estimated for Washington that this unexpected action would delay completion of bases on Guam by about 100 days.45 He felt himself unable to challenge Nimitz' action, for the admiral had the responsibility for any operation that might be directed
---
* The names used are those subsequently assigned to the several fields. Isley Field was named for Comdr. Robert H. Isely, repeat, Isely. Unhappily, usage has perpetuated a misspelling of the name, but since that usage has become official, it has seemed inadvisable to attempt a correction in this text.
--515--
against Formosa, but Harmon did protest to Arnold against the strategic advantage of a Formosa invasion. He doubted that Formosa could be occupied and its air bases developed before the war could be brought to an end by full exploitation of the Marianas.46
To the Air Staff in Washington, CINCPOA's action of 9 August came as "very bad news."47 Ground echelons of the 313th Bombardment Wing were ready to proceed on 15 August to west coast ports and were due on Guam by 5 October to prepare for the advanced air elements of the wing, expected by 10 November.48 Brig. Gen. Haywood S. Hansell, Jr., chief of staff of the Twentieth Air Force, wrote Harmon on 12 August that if the "delay at Guam is protracted, these units will either have to be super-imposed on other facilities in the Marianas, or else be diverted to the Southwest Pacific or the Aleutians.49 After inspecting the three islands between 8 and 12 August, Harmon on the 17th proposed to Nimitz a major revision of VHB plans which promised to save the situation.50 Ground reconnaissance by Harmon's engineers had revealed two facts as yet unknown: 1) the site of one of the two projected VHB airfields on Saipan was unsuitable for even limited B-29 operations because of a 120-foot ridge located about 6,000 feet from the point of take-off, and 2) from five to seven 8,500-by 200-foot runways could be developed on the flat areas of Tinian instead of the four planned.51 Harmon suggested that the delays in VHB plans for Guam could be offset in part by the following revised program: 1) eliminate Isley Field No. 2 on Saipan for B-29 operations and substitute one 7,000-foot strip (Kobler Field) for temporary storage of B-29 spares and for use by miscellaneous aircraft; 2) construct two additional 8,500-foot runways on Tinian; 3) operate all four groups of the 73d Wing from the two 8,500-foot runways of Isley Field No. I on Saipan until the two additional runways on Tinian were available; 4) construct a total of six operational runways on Tinian with priority for one on West Field and two on North Field to accommodate the first two groups of the 313th Wing and the overflow from the 73d Wing; and 5) construct the air depot and its facilities on Guam as scheduled.52 Although in August there were no berths for cargo ships at Tinian, CINCPOA nonetheless agreed on the 25th to develop six runways on Tinian as proposed and to transfer the 313th Wing from Guam to Tinian.53 Revised readiness dates for minimum facilities became: North Field (Tinian) , 1 December; West Field (Tinian), 1 January; North Field (Guam), 1 February; North
--516--
west Field (Guam), 1 April; Depot Field (Guam), 20 November.54
But only on Saipan was the base development schedule even partially met. After earlier plans for two airfields, each with facilities for two groups of the 73d Wing,55 had been abandoned, construction on Isley Field was pushed vigorously. High priority had been given to a temporary strip on the sites, and between 24 June and 6 August a 6,000- by 150-foot runway had been completed.56 Then aviation engineer battalions, working on a 24-hour basis, extended the strip to 8,500 feet and widened it to 200 by 19 October.57 All manner of difficulties beset the engineers: tropical rains beat down almost without abatement during July and August; roads from the coral pits became virtually impassable; and so many trucks broke down that men and equipment had to be diverted to the construction of a hard-surface road from the pits to the field. Enemy air raids and hard coral formations just beneath the surface, which made blasting necessary for all cuts, added to the unexpected difficulty.58 When the first B-29 arrived on Isley Field on 12 October, final paving and other facilities were incomplete. By 15 December a second runway could be used by B-29's on a mission against Japan, but facilities at Isley Field were not substantially complete until April 1945.59 In addition to the runways, dispersal areas consisting initially of 120 hardstands with connecting taxiways were constructed. After the operation of four groups from Isley Field had proved feasible, sixty additional hardstands were constructed for the sixty spare B-29's at Kobler Field. Eventually the hardstands were increased to 200, and 500-foot extensions were added to the east end of both runways. Completion of service aprons, warm-up aprons, fuel and bomb storage, and housing for personnel and for wing and group headquarters came slowly.60
Brig. Gen. Emmett O'Donnell's 73d Bombardment Wing led the way into the Marianas. An advanced air echelon of wing headquarters arrived from Colorado Springs on 24 August and the ground echelon by water on 16 September. The regular headquarters air echelon reached Saipan on 12 October; the four bombardment groups--497th, 498th, 499th, and 500th--and their four supporting air service groups followed during October and the first week in November.61 Within less than one month, on 24 November, the first mission against Tokyo was flown. Plans for the first twelve groups had been based on the assumption that only two groups of thirty B-29's each could operate effectively
--517--
from a single airfield with two 8,500-by 200-foot runways, but experience soon showed that one airfield with two runways could serve an entire VHB wing. It had also been demonstrated, however, that minimum facilities for a B-29 airdrome could not be built in 100 working days by 2 aviation engineering battalions. Actually, four battalions had failed to complete the field in that time.62
Airdromes on Tinian were built by the 6th Naval Construction Brigade.63 All construction forces were under the Seabee commander, to whom the island commander assigned work projects on the basis of priorities established by ComForwardArea. The two projected air bases were laid out on the sites of existing Japanese airstrips, which were rehabilitated first for use by fighters and heavy bombers. The original plan had provided for two VHB runways at each airfield, but following Harmon's proposals of 17 August, CINCPOA directed ComForwardArea to develop six runways on Tinian for six B-29 groups and to complete two runways at each of the two bases by 6 March.64 Since the 313th Bombardment Wing was ready to vacate its training bases on 15 October, Harmon tried to hurry the construction.65 His air engineers advised concentration on the building of four operational runways at North Field as a time-saving device, and Harmon requested the adoption of this plan.66 Admiral Hoover protested that the proposal would only delay the completion dates,67 but when Harmon continued to urge the change.68 Nimitz on 28 November directed that the four runways at North Field be constructed with readiness dates for the first two strips advanced to 1 January and 15 January respective1y.69
North Field consequently was developed with relative speed. The first 8,500-foot runway, along with 47 hardstands and taxiways, became usable 4 days ahead of schedule. The third runway was ready on 27 February, the fourth on 5 May. Paving and other facilities at North Field were not completed until early June.70 because extra hardstands had to be built to implement the February decision to base the atomic bomb unit, the 509th Composite Group, on North Field and the March decision to augment each VHB wing with additional B-29's.
Meanwhile, aircraft and personnel of the 313th Wing began to arrive in December. By the end of February the wing headquarters, the four bombardment groups--6th, 9th, 504th, and 505th--and all supporting units were established on North Field.71 The 309th Composite
--518--
Group arrived at North Field in June to take over its specially prepared facilities.72
When in January 1945 it was finally decided to go ahead with the development of Tinian's West Field, the original plans for deployment and construction had been abandoned, and it was then settled to base two wings on Tinian, assigning to West Field one of the two additional wings deployed to POA by the JCS in December.73 With construction proceeding rapidly, the first runway at West Field became operational by 22 March, the second by 20 April. By the end of April 190 hardstands, requisite taxiways, and storage facilities for fuel and bombs were substantially ready, and elements of the 58th Bombardment Wing had moved into place from CBI.74
Construction finally had got under way at North Field on Guam in November 1944. Here, all major construction forces, both Army and Navy, were assigned to the 5th Naval Construction Brigade, from which the island commander allocated work units on the basis of priorities set by ComForwardArea:75 1) harbor development, 2) CINCPOA headquarters, 3) supply facilities, 4) medical facilities, and 5) aviation development. These priorities obviously worked against the VHB construction program, and when Harmon saw that the program also had no precedence over theater aviation construction, he and his construction representative in the Marianas, General Thomas, were forced to press the interests of the Twentieth Air Force continuously with CINCPOA and his subordinates.76
Base development plans for Guam had originally provided for two operational airfields, North and Northwest, each with two standard VHB runways and facilities to support two groups each.77 The air engineers, however, in anticipation of later augmentation, selected sites and prepared layouts for basing an entire wing on each airfield.78 Consequently, when CINCPOA on 25 January finally approved the expansion of facilities on Guam to accommodate one of the two new B-29 wings committed to POA in December, construction proceeded without major revisions in plans.79 Harmon's request for completion dates of 1 February and I April for two runways and facilities on North Field, and 1 May and 1 June for Northwest Field, was rejected by ComFonvardArea, and the priorities assigned resulted in substantial delays in operations from the two air bases.80
Although the first runway on Guam was completed on 2 February, just one day later than Harmon's recommendation, to enable the 314th
--519--
Bombardment Wing to fly its first mission on 25 February, the second strip on North Field was not paved to its full length until 1 May, while taxiways, hardstands, and service aprons were only partially constructed at that time.81 ComForwardArea set 1 June and 1 July as estimated minimum operational dates for the two runways on Northwest Field. Ground was broken on 8 January, and work progressed on schedule until February, when the island commander transferred the two aviation engineer battalions employed there to projects of higher priority.82 Since this action threatened to disrupt the movement of the 315th Bombardment Wing, Harmon made strong protests to Nimitz.83 After temporizing for over a month, the latter on 31 March directed the island commander to defer various road and other low-priority projects and to assign sufficient construction units to Northwest Field to make the first runway operational by 1 June and the second by 1 July.84 This schedule was met, and the 315th Wing's first missions were flown on 26 June, but many of the supporting facilities were not completed even when hostilities ceased in August.
On Guam only Depot Field had been given a high priority; construction got under way on 6 September 1944 with an estimated completion date of 1 November.85 A portion of the runway had been cleared by the Japanese, the area was relatively flat, and the coral was soft compared to that at Saipan. Yet torrential rains and the diversion of construction units at critical times so slowed up the work that it was 10 November before the 7,000- by 150-foot runway was operational. By the end of February all primary buildings and storage facilities for three large air depots and the depot headquarters were substantially completed.86
Building requirements for headquarters of XXI Bomber Command and for housing the first three wings had been calculated by engineers of the Seventh Air Force. Since they were without previous experience other than that derived from meeting the requirements of heavy bombardment units, plans for housing and other headquarters facilities fell far short of minimum VHB needs.87 There were, moreover, no stockpiles of building materials in the islands to cover these deficiencies, as all shipments were limited to items requisitioned for specific units in the area.88 Also, each request to expand any VHB facilities had to be considered by Nimitz in terms of available shipping space. In the case of both the 58th and 315th Bombardment Wings, therefore, authorized construction material arrived in substantial
--520--
quantities only after both had flown several major missions over Japan. That these two wings were housed at all was made possible by large-scale borrowing from other units, Army and Navy.89 When the first units of the 73d Wing reached Saipan in August, their housing area had not even been cleared. Engineer aviation battalions eventually developed the housing areas, while flight-line facilities were constructed jointly by personnel from the engineer battalions and wing service groups.90
For the headquarters of AAFPOA and XXI Bomber Command on Guam, sites had been selected by Harmon just across the road from Depot Field in an area large enough to permit the two headquarters to be built side by side. When XXI Bomber Command personnel arrived on 5 December, they found the area cleared, the headquarters buildings erected, and one 500-man mess hall, latrines, washrooms, and signal, weather, and telephone buildings substantially completed.91 In the AAFPOA area only the headquarters building and one quonset hut were ready for occupancy on 1 february, when Harmon's headquarters was officially opened.92
The original development plan for Iwo Jima called for three airfields and installations to accommodate the garrison.93 The fields were to be designed to handle as many as ninety B-29's per day and to base five groups of escort fighters.94 Central Airfield was to be built primarily for staging Superforts en route from the Marianas to Japan, South and North fields for fighters and bombers other than the VHB's.95 In mid-March, after Iwo Jima was secured, the island was found capable of supporting a larger air establishment than had been anticipated, and on 25 April the island commander approved a new plan to convert Central Field into a huge airdrome with two B-29 strips, two fighter strips, and a combat service center.96 Airfield construction on the volcanic rock was extraordinarily difficult, and the work went slowly until the commander of the 9th Naval Construction Brigade, in charge of the task, put his Seabees on a schedule of two ten-hour shifts daily.97 Although the building program had not been completed by V-J Day, the strips were made serviceable early enough for them to support both B-29's and escort fighters during the climactic months of the strategic bombardment campaign.98
Final construction of VHB bases in POA was under way in the
---
* For a more detailed account of the building of the Iwo Jima fields, see below pp. 594-97.
--521--
Ryukyus at the end of the war. Plans called for a complete B-29 force in this area comparable to XXI Bomber Command. Designated in early planning as XX Bomber Command with headquarters in Okinawa, it became the Eighth Air Force, Pacific, in the July reorganization of VHB forces.* Air base construction plans, still in early stages of development on V-J Day, called for large airdromes and facilities on both Okinawa and Ie Shima to support twenty B-29 groups, a fighter command, a service command, and an air depot. In early operations from the Ryukyus both the fighters and air depot were under the control of FEAF, even though the Okinawa Air Depot had been assigned on 21 May to the Twentieth Air Force and attached to AAFPOA for administration and operation in the same manner as the Guam Air Depot.99
Original plans in the spring of 1944 had called for acceptance in POA of only three B-29 wings, with their supporting units.100 Before another spring had passed there were five wings, all of them based within range of their Japanese targets, and the total strength assigned to Twentieth Air Force units in the Pacific on 16 July 1945,when Gen. Carl Spaatz assumed command of them as constituent elements of the United States Army Strategic Air Forces,† stood at 76,423 officers and men.101 The following chart provides a ready list of the major organizations, together with their location and date of establishment in the theater:102
| Origination | Island Location | Arrival Date |
| --- | --- | --- |
| 73d Bombardment Wing | Isley Field, Saipan | August 1944 |
| Guam Air Depot | Harmon Field, Guam | November 1944 |
| Hq.XXI Bomber Command | Guam | (Advanced headquarters arrived on Saipan, August 1944) |
| 313th Bombardment Wing | North Field, Tinian | December 1944 |
| 314th Bombardment Wing Hq. | North Field, Guam | January 1944 |
| HQ. DC, Twentieth Air Force | Guam | February 1944 |
| VII Fighter Command | Iwo Jima | March 1945 |
| Combat Staging Center | Iwo Jima | March 1945 |
| 58th Bombardment Wing | West Field, Tinian | March 1945 |
| 315th Bombardment Wing | Northwest Field, Guam | April 1945 |
| 509th Composite Group | North Field, Tinian | May 1945 |
| Okinawa Air Depot | Okinawa | June 1945 |
| 301s Fighter Wing | Ie Shima | July 1945 |
---
* See below, p. 701.
† See below, pp. 684-88.
--522--
For this achievement much of the credit must go to the faith and perseverance of General Harmon. When he took command in August 1944, the deployment of additional B-29 wings was very uncertain: as late as October Arnold informed Harmon that there were no plans for commitment of VHB forces to POA beyond those committed in April. Two newly organized wings, the 315th and 316th, were definitely planned for commitment to the Philippines as XXII Bomber Command.103 Convinced that POA was the one area from which early mass bombing of Japan could be conducted, Harmon immediately urged Arnold that final commitment of the two wings be deferred until plans could be presented for using them first in the Marianas, and later possibly in the Ryukyus.104 Without waiting for Arnold's concurrence, the AAFPOA staff prepared a plan for increased VHB deployment in POA which Harmon himself carried to CINCPOA at Pearl Harbor on 25 October.105
Nimitz agreed in principle with Harmon's proposals, but he refused to give more than cautiously qualified approval to the proposed plan. Pointing out that extreme shortages in both service troops and shipping facilities had seriously affected his ability to carry out operations projected by the JCS for early 1945, Nimitz said he was "very much opposed" to any augmentation of the VHB program which would increase these shortages; he would agree, if necessary aviation engineer battalions, Army ground and service forces, and shipping were made available to the theater.106 The decision in Washington hung fire. Many believed that the Philippines, when secured, would afford better bases.107 Harrnon, however, continued to press upon Arnold his belief that the difficult engineering and logistical problems could be solved in time for all five wings to be established and operating from POA before the Philippines campaign could be completed.108 On 26 December the JCS finally approved Harmon's plans and assigned the two wings to the Marianas.109
As coordinator of VHB interests in the theater, Harmon was under increased pressure in the days following the new commitment. Richardson complained that USAFPOA did not have service forces available togive logistical support to the two wings and asked for additional troops from the War Department. Nimitz supported Richardson and refused to allocate shipping priorities for the new wings until additional service troops were definitely committed to USAFPOA.
--523--
After innumerable interchanges between theater agencies and Washington, Marshall cabled substantial approval of USAFPOA's requirements for service forces. Harmon was thus able to advise Arnold on 17 January that all major difficulties within the theater which might have impeded the arrival of the 315th and 316th Wings had been solved satisfactorily.110
Plans for deployment, however, underwent almost immediate revision.111 On 16 January the JCS directed XX Bomber Command to vacate bases in China immediately and to send its 58th Bombardment Wing, in lieu of the 3 15th, to the Marianas in April. The JCS also directed that the readiness dates of the 315th and 316th Wings be deferred for thirty days and that the latter be sent to the Okinawa area.112 Shortly thereafter the 316th Wing was definitely committed to the Ryukyus. As Ryukyus plans finally developed, XX Bomber Command Headquarters remained temporarily in India, while its only B-29 unit, the 58th Bombardment Wing, was reassigned to XXI Bomber Command and ordered to proceed immediately to the Marianas, where it was based on West Field, Tinian. The 315th was shifted to Northwest Field, Guam.113
To support VHB forces in the Ryukyus, the Okinawa Air Depot was established on 10 June and assigned to the Twentieth Air Force, though attached to AAFPOA for administration and operation in the same manner as the Guam Air Depot. The control of the Okinawa Air Depot, which was designed to service all AAF elements in the Ryukyus, became a bone of contention between the commanders of FEAF and AAFPOA, and its status was never definitely settled.114 Further expansion of B-29 forces in the Marianas was still in the planning stage when the war ended, although two new bombardment wings, the 20th and 47th, were projected for the Ryukyus before the redesignation of AAFPOA as USASTAF on 16 July, and two additional wings, the 13th and 96th, were projected afterwards.115
Plans for sending five groups of VLR escort fighters to POA were considered as early as July 1944, but not until 31 January were Headquarters, 301st Fighter Wing, and the 413th, 414th, 506th, 507th, and 508th Fighter Groups definitely assigned to the Twentieth Air Force. While the January decision earmarked these aircraft to be eventually under the operational control of XXI Bomber Command, the War Department directive placed the groups under the temporary control of AAFPOA for the assault and consolidation phases of the Ryukyus
--524--
and Iwo Jima operations, as were also the 15th, 21st, and 318th Fighter Groups of VII Fighter Command. In July AAFPOA's fighter command included two theater groups (the 15th and 21st) and two Twentieth Air Force groups (the 414th and 506th) which flew B-29 escort missions from Iwo Jima under the operational control of XXI Bomber Command. At the same time the 301's Fighter Wing (comprising the 413th, 507th, and 318th groups) was flying from Ie Shima under the operational control of the Seventh Air Force. The 508th Fighter Group, organized and equipped for B-29 escort missions, was retained on the island of Oahu and assigned to the 7th Fighter Wing for defense of the Hawaiian Islands.116
Rigid security regulations created problems in basing the atomic bomb unit in POA. Apparently AAFPOA was first informed of the high priority of the 509th Composite Group in late January 1945, when steps were taken to secure base facilities for the group on North Field, Tinian.117 When a formal request was made to CINCPOA for the assignment of a priority for the required construction and shipping, approval was refused because the information furnished was unsatisfactory.118 A naval officer from Washington, however, eventually gave CINCPOA a somewhat delayed briefing on the mission of the 509th Group, and by mid-June it was ready for operations from Tinian under the control of XXI Bomber Command.119
Command Relationship
In establishing the strategic bombers in the Marianas, General Harmon had one of the most difficult and complex assignments of the war. Besides the staggering burdens which his headquarters had to assume in connection with the construction of bases and moving the B-29 units into place, he himself was constantly beset with difficult and irritating jurisdictional problems. Harmon's unique and always indefinite status as the head of AAFPOA and deputy for Arnold aroused warm debate within the Air Staff as well as in OPD and in the theater.120 His directive from the War Department121 required him to deal with four major headquarters: those of CINCPOA at Pearl Harbor and Guam, of USAFPOA at Fort Shafter on Oahu, of Twentieth Air Force in Washington, and of XXI Bomber Command, first on Saipan and later on Guam. At no time were his relationships to these various headquarters precisely defined.
Only the fact that Nimitz was the theater commander and a very
--525--
cooperative person was definite; all else was nebulous. Harmon had, it is true, a clear view of the relationship intended between himself and Richardson, the Army theater commander: the War Department directive of 10 July, coupled with General Marshall's letter to Richardson of the same date,* was a compromise designed to achieve Arnold's desire that AAFPOA be established independent of Richardson while preserving one senior Army command in form.122 But Richardson's understanding was different. Harmon's role as deputy commander of the Twentieth Air Force also remained the subject of controversy and uncertainty. Aware of his dubious position and anxious that his responsibilities be clear from the start, Harmon had written Arnold shortly after the assumption of his command on 1 August that his "responsibilities in dual capacity as Comgen AAFPOA and Deputy Commander, Twentieth Air Force, are involved and difficult at best and any lack of clarity . . . in regard to the Twentieth Air Force will but add to the confusion."123 Yet, his tragic death off Kwajalein nearly seven months later came as he was flying from Guam to Washington in a further attempt to clarify his status.
Harmon evidently expected that as deputy commander he would be a direct command channel between Washington and elements of the Twentieth Air Force in the theater, as indicated by the comprehensive AAFPOA Memorandum 20-2 of 23 August, entitled "Control of VLR Activities: Tentative." Herein Harmon outlined in minute detail roles, which were anything but minor, for himself and each of his headquarters staff agencies in both the administrative and operational activities of the Twentieth Air Force. "Control of VLR activities in the Pacific Ocean Areas will be exercised by Lieutenant General Harmon in his capacity as Deputy Commander, Twentieth Air Force," read the memorandum; the "Chief of Staff, the Deputy Commander for Operations, and the Deputy Commander for Administration, AAFPOA, will function in dual capacity in regard to their responsibilities for the Twentieth Air Force and AAFPOA." Obviously Harmon was planning a large, specialized staff which could assume broad administrative and operational control over B-29 units in POA.124
Although this "tentative" memorandum was never approved by Arnold, it did focus attention on conflicting views within the Air Staff of Harmon's role as deputy commander. Lt. Gen. Barney M.
---
* See above, p. 511.
--526--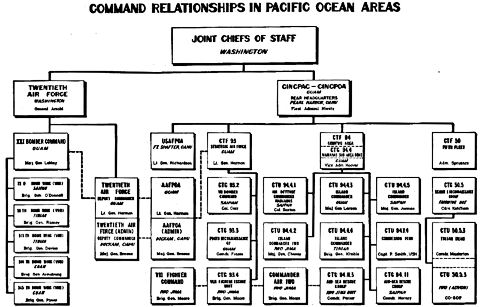 Giles, Chief of Air Staff, approved the AAFPOA memorandum and sent it to Brig. Gen. Lauris Norstad,125 who had just succeeded Hansell as chief of staff of the Twentieth Air Force. Norstad objected. Giles thereupon agreed that it be held in abeyance until Hansell, the newly designated commander of XXI Bomber Command, could confer with Harmon in the theater.126 Meanwhile, Norstad prepared a paper challenging Harmon's ideas as revealed in both the AAFPOA memorandum and in various messages. Pointing out that Harmon's proposed deputy commander for operations was directed to organize a "Twentieth Air Force Division" charged with responsibilities "completely covering all phases of operations of the XXI Bomber Command," Norstad said this was in direct conflict with initial thinking in the Air Staff. Moreover, Norstad added, Harmon's proposed deputy commander for administration duplicated XXI Bomber Command's staff for supply and maintenance. "Under the initial concept as developed here," wrote Norstad, "the XXI Bomber Command was organized essentially as an Air Force. It has a well-established, fully rounded headquarters capable of performing all the functions essential to an air force for operations and administration."127
Arnold's decision was sent to Harmon on 22 September: nothing must be done, he said, to "affect the approved concept of a strategic air force whose operations are controlled from Headquarters, Twentieth Air Force, Washington." But beyond retaining "direct operational control," it was his intention, Arnold continued, to decentralize controls as far as possible, and to this end he had requested the War Department to grant him broad administrative authority over elements of the Twentieth Air Force in POA which he expected to delegate to Harmon as his deputy.128 Arnold rejected Norstad's recommendation that XXI Bomber Command operate its own air depot, stating that service activities were Harmon's responsibility and that the Guam Air Depot and associated units would be assigned to the Twentieth Air Force and attached to AAFPOA for operations.129
The function of Harmon's headquarters was further clarified in a Twentieth Air Force office memorandum of 23 October. Reiterating the policy of administrative decentralization and the retention of direct operational control in Washington, the memorandum reflected both OPD and Twentieth Air Force opinion that Harmon's appointment as deputy commander did not constitute the establishment in
--528--
POA of an organizational entity; Harmon must be considered as an individual. While admitting that the staff of AAFPOA Headquarters would be used by Harmon as deputy commander, the memorandum specifically rejected the concept of a dual headquarters.130 Harmon described this interpretation as beating around the bush and wrote Giles that whatever the Washington view, AAFPOA "is in fact a combined headquarters and functions for both headquarters."131
On 22 November the War Department finally delegated to Arnold specific administrative authority over Twentieth Air Force elements within the theater, another major victory for the concept of an independent air force. Arnold was granted exclusive administrative jurisdiction over VHB forces in POA in connection with the relief and assignment of personnel, appointment of officers, demotion and reclassification of officers, detail of officers to special service schools in the United States, promotion of personnel through the grade of colonel, conferment of awards, and review of final acts of medical disposition boards.132 On 16 December Arnold redelegated most of this authority to Harmon as his deputy commander; and in conformity with Arnold's instructions, Harmon made a further delegation to XXI Bomber Command.133 The net result of this distribution of Twentieth Air Force administrative authority was to increase materially the importance of Harmon's role as deputy. But Arnold emphasized to Harmon that while AAFPOA Headquarters was assuming part of the load for which XXI Bomber Command Headquarters had been originally designed, the command must be left free to continue its essential headquarters functions of administration, supply, and maintenance.134
Harmon, however, had ambitions for his command to be more than an administering, servicing, and coordinating agency for the Twentieth Air Force. He evidently wanted control over all combat operations of AAF aircraft under CINCPOA and a measure of, if not complete, control over VHB operations. In the first, Harmon gained some success. On 6 December Nimitz named him commander of the Strategic Air Force, POA, which, as Task Force 93, had operational control of all Army and Navy land-based bombers and fighters belonging to the theater.135 And the decision to base five VLR escort fighter groups in POA seemed to give Harmon an opportunity to extend his operational control to elements of the Twentieth Air Force.136 Nimitz had agreed to accept the five fighter groups on the understanding that they would perform defense and tactical missions as well as provide
--529--
escort cover for the B-29's over Japan. This meant that for the assault phases of the operations against Iwo Jima and Okinawa these fighters constituted a part of a task force under the tactical commanders and reverted to their normal commanders only after the islands were occupied. Theater requirements thus dictated that the VLR fighters be placed under Harmon's operational control during the assault phases, and Arnold was in full agreement with this temporary assignment.137 Harmon also wanted "the operational control of long-range fighters used in support of VLR operations,"138 but Arnold informed Harmon on 23 January that he had decided to assign the fighter groups to the Twentieth Air Force and to attach them to AAFPOA for operations only during the assault and consolidation periods of the impending operations against Iwo Jima and Okinawa.139 Harmon protested that if operational control of the fighter groups were not retained by him--or, at his discretion, vested in the commander of XXI Bomber Command or other subordinate commanders--the planned operations would be jeopardized.140 Maj. Gen. Curtis E. LeMay, who had replaced Hansell as head of XXI Bomber Command on 20 January, countered with a strong message to Washington insisting that he must have absolute operational control of the fighters flying escort for his B-29's.141 LeMay's claim was promptly upheld, and Arnold reaffirmed his decision to limit Harmon's operational control to the assault and consolidation of Iwo and Okinawa.142
Harmon's headquarters listed objections to the Washington decision in strong terms. Fundamental was the contention that the fighter groups would be literally frozen except for occasional long-range missions, since XXI Bomber Command could not operate the aircraft for any purpose other than escort missions without a serious infraction of the principle of unity of command. Moreover, as Nimitz' commander of the Strategic Air Force, POA, and as Arnold's deputy commander of the Twentieth Air Force, Harmon was in a unique position to insure that adequate fighter support be provided and also that every aircraft be used to its full capacity in winning the war.143 To settle this issue and for other reasons, on 25 February Harmon departed by air for Washington along with his chief of staff, Brig. Gen. James R. Anderson, and his executive to the deputy commander for operations, Col. William Ball. The aircraft reached Kwajalein but disappeared without trace after taking off for Johnston Island some
--530--
1,400 miles away. No word of the plane or its occupants was ever received.144
As a ranking air officer Harmon had justifiable ambitions to command the B-29 forces in the war against Japan. His concept of his role as deputy commander, as seen in AAFPOA Memorandum 20-2, further reveals that he planned a headquarters not simply to service the VHB forces but to operate and control them when the opportunity came. Yet Harmon's status as commander of AAFPOA under Nimitz literally disqualified him for operational control because it would jeopardize the Twentieth Air Force's position in relation to the Navy. Harmon was expected, of course, to coordinate operational and administrative problems with Nimitz, which he did with remarkable success, but Arnold was determined to protect the independence of the Twentieth Air Force as an operating agency under his direct control from Washington. Brig. Gen. Richard C. Lindsay of AC/AS, Plans, wrote Harmon the Air Staff's appraisal of the problem:

Having the fullest confidence in you personally and recognizing Admiral Nimitz's fine co-operative spirit, [Arnold] is apprehensive of the compromising action that could be taken by CINCPOA's staff with relation to the operation of the Twentieth Air Force units should you and your staff be placed in the direct functional channel of operational control.145
If fear of losing control of the B-29's to the Navy was paramount, of almost equal weight was the need to keep fluid the air command in the Pacific, for in the same period during which Harmon was urging clarification of his authority, the JCS were wrestling with the problem of reshaping the MacArthur and Nimitz theaters for the final phases of the war against Japan. Any premature commitments might have compromised the equal status which the AAF sought in the Pacific reorganization. Also, there were strong and, needless to state, ambitious personalities involved in what was a major contest for authority and prestige within the AAF.
The loss of General Harmon and the key members of his staff was a serious blow to plans for the strategic air war from POA. Fortunately, many of the basic decisions had been made, and the complex problems of establishing the first independent air force in the Pacific and coordinating it with other commands had been at least partially solved. On 2 March 1945 Maj. Gen. Willis H. Hale, AAFPOA deputy commander for operations, assumed Harmon's positions, and he in
--531--
turn was succeeded on 4 May by Lt. Gen. Barney M. Giles.146 Even before the arrival of Giles the status of the strategic air force in POA was being clarified. The over-all command organization had had its answer also, for on 5 April POA and SWPA were merged, with MacArthur becoming supreme commander for all Army forces and Nimitz for all Navy forces. The only exception was the Twentieth Air Force which retained its independent position under the JCS. Before Giles departed for POA, the question of shifting operational control of the B-29 forces from Washington to the Pacific was under consideration in the Air Staff, and one of the missions of Giles and his deputy, Maj. Gen. Laurence S. Kuter, was to prepare the way for the establishment of USASTAF on 16 July.147
AAF units in POA, including the Twentieth Air Force, operated within the orbit of a theater under the supreme command of Admiral Nimitz. Since 1942 Nimitz had held two titles: Commander in Chief, United States Forces, Pacific Ocean Areas, as the executive agent of the Joint Chiefs of Staff; Commander in Chief, Pacific Fleet. The only exception to his supreme command authority resulted from the JCS action of 1 April 1944 which had named General Arnold as its executive agent in commanding the Twentieth Air Force. This violation of the principle of a unified theater command applied only to the "employment, administration, missions, objectives, transfers, etc.," of the B-29 forces and related units, and left untouched CINCPOA's responsibility for and jurisdiction over building and defending bases, logistical support of units, and establishing uniform administrative policies throughout the theater.148 The fact is that the Twentieth Air Force, in spite of its "independence," found itself subject to theater controls and entirely dependent upon theater services and priorities, once its units moved into POA.
To coordinate and administer his authority, CINCPOA maintained a joint staff at Pearl Harbor and, after its capture in July 1944, another at Guam. Command controls were exercised by CINCPOA in the rear area of the Hawaiian Islands almost exclusively through conventional Army and Navy organization, but special combined or joint commands in the form of task forces functioned in the forward areas. In the rear area Richardson had primary responsibility for all Army activities, while in the forward areas, including the Marianas and Iwo Jima, command over all forces and territory passed to Vice Adm. J. H. Hoover as Commander, Forward Area, Central Pacific. An island
--532--
commander was charged with control of "all activities, services, troops, and installations on the atoll, island, or islands he is designated to command."149 The island commanders with whom the AAF and Twentieth Air Force units were directly concerned were Maj. Gen. H. L. Larsen (USMC) on Guam, Maj. Gen. J. L. Underhill (USMC) and later Brig. Gen. F. V. H. Kimble (USA) on Tinian, Maj. Gen. Sanderford Jarman (USA) on Saipan, and Maj. Gen. J. E. Chaney (USA) on Iwo Jima. These commanders were directly under Admiral Hoover who reported only to the theater commander. The Army administrative channel to its units under the island commanders was from USAFPOA and the Western Pacific Base Command through the Army Garrison Force which was the controlling Army command on each island. For the Twentieth Air Force the island commander was a key figure: through him basic support on the islands was controlled. Between AAFPOA and CINCPOA differences on policy and procedure inevitably arose, but relations between the AAF and Navy were consistently cordial.150 Between AAFPOA and USAFPOA, on the other hand, there were protracted and often petty jurisdictional disputes, the basis for which may be found in the War Department directive of 10 July.151 Evidences of conflict appeared even before the formal activation of AAFPOA on 1 August 1944. On 18 July Richardson's chief of staff, Brig. Gen. Clark L. Ruffner, prepared a memorandum stating that the War Department directive meant that while Harmon was responsible only to Nimitz for the preparation of plans, operation, training, and disposition of his forces, he would have to "integrate" these functions with USAFPOA.152 Clearly, USAFPOA expected to retain a veto power over Harmon in these special areas. But Ruffner went further: even in connection with Twentieth Air Force activities, requests made by XXI Bomber Command would "of necessity" have to be referred to Richardson for "integration" with USAFPOA's "responsibilities and means."153 Harmon had a sharply different interpretation, contending that the phrase "responsible directly to CINCPOA for all matters pertaining to preparation of plans, operation, training and disposition of his forces" was used advisedly, and the word "operation" was definitely understood to include functional activities of all forces, including service, as well as combat. The term "forces," Harmon insisted, was just as definitely inclusive of service units.154
--533--
The controversies over prerogatives between AAFPOA and USAFPOA consumed much of the energy of the two headquarters during August, September, and October.155 Specific clashes between the two commands arose over the assignment of air service units arriving in POA, the determination of the location of the 6th Night Fighter Squadron in Hawaii, the modification of a special B-24 aircraft for Maj. Gen. Frederick Gilbreath, commander of the South Pacific Base Command, and Richardson's letter of instructions to Harmon on 1 August. Only the first of these issues, however, was of primary importance. By 10 October 1944 eight aviation engineer battalions, two ordnance ammunition companies, and one signal construction battalion marry all Twentieth Air Force troops-had been assigned by the War Department to USAFPOA to support VHB projects;156 it was expected that they would be reassigned immediately to AAFPOA on arrival in the theater. But Richardson in several instances temporarily diverted aviation engineer battalions to other activities. When Harmon vigorously protested, the Air Staff asked the War Department to assign all such units to the senior AAF commander instead of the senior Army commander in the theater.157 The War Department refused to modify its policy of a unified Army command, insisting that the system was working satisfactorily in other theaters.158 Nevertheless, Harmon actually won his fight in fact, if not in theory, for on 18 November Richardson announced that in the future all AAF troops, including Arms and Services with the AAF, when assigned by the War Department to USAFPOA, would be reassigned immediately to AAFPOA.159 Some disregard of this policy existed as late as May 1945,160 but it would be a distortion of fact to suggest that all was conflict between AAFPOA and USAFPOA. Actually, there were relatively few basic points at issue, and the two headquarters usually resolved these at the top level. Harmon's primary contacts, moreover, were actually not with Richardson's headquarters so much as with subordinate echelons, such as the Central and Western Pacific Base Commands and the Replacement Training Center with which AAFPOA was authorized to deal directly.
Complaints regarding control of AAF units in POA, other than those of the Twentieth Air Force, more frequently involved protest at their incorporation into joint task forces under Navy control. At no time did the commander of AAFPOA possess operational control of the aircraft assigned to his command. All combat missions were
--534--
flown on orders of a task force commander responsible directly to CINCPOA. A major concession to the AAF had been made on 1 May1944,when the commander of the Seventh Air Force, General Hale, was named to command as ComAirForward the Shore-Based Air Force, Forward Area, a joint task force designated as Task Force 59.* Under this command came all shore-based aviation, including bombardment, fighter, and troop carrier (except ATC and NATS) in the forward area of the Central Pacific. But Hale as ComAirForward did not have access to CINCPOA and was, in fact, directly subject to the orders of Hoover, ComForwardArea, for assignment of missions and designation of objectives. This destruction of the integrity of the Seventh Air Force had been resisted without avail by both Richardson and Hale in the period before the arrival of Harmon. Until its inactivation on 6 December 1944, Task Force 59 continued an unhappy existence, caused in no small measure perhaps by Hoover's reputation for hostility toward the AAF and "high-handed disregard of normal processes of Army administration."161 A major complaint of AAF commanders was Hoover's insistence on employing heavy bombers on strikes against shipping in violation of AAF doctrine and in spite of continuous AAF protests.162
Concurrent with the disbandment of Task Force 59, the Strategic Air Force, POA, was established as Task Force 93, under the command of Harmon.163 With operational control of all Army and Navy land-based bombers and fighters in the combat area and responsibility directly to CINCPOA, this appointment apparently represented a major victory for Harmon and the AAF. But Task Force 93 gradually lost control of the Navy aircraft formerly under ComAirForward as well as of various AAF units. The shrinkage was under way by February, and by April only VII Bomber Command (Task Group 93.2) and VIL Fighter Command (Task Group 93.4) remained. Then in June the bomber groups of VII Bomber Command were assigned to the Tenth Army on Okinawa, leaving only VII Fighter Command to the Strategic Air Force.164 Moreover, Harmon's control of VII Fighter Command was limited, since the aircraft of Task Force 93 were assigned to Hoover as ComForwardArea with first priority for island defense. The Strategic Air Force's control had been further reduced on 25 May, when VLR escort missions under the operational control of XXI Bomber Command were made the primary
---
*See Vol. IV, 675.
--535--
mission of VII Fighter Command and defense of the islands secondary.165 Strategic Air Force, POA, was finally disbanded on 3 August 1945, two days before VII Fighter Command, the last of its elements, was assigned to the Twentieth Air Force under USASTAF.166
Wastage of AAF manpower seemed to be inherent in this joint task force system employed by the Navy in POA. Since CINCPOA had operational control of all AAF combat aircraft, the large operations and intelligence headquarters staffs provided under War Department tables of organization for all echelons of its AAF commands were largely without function. With the activation of AAFPOA this wastage of personnel was further compounded. Two large operations and intelligence staff sections, fully manned far combat activities, thus spent months in almost complete frustration and idleness because the combat units of their commands had been detached and assigned to task forces which had their own complete staff sections. Not until the Seventh Air Force was transferred to FEAF in July 1945* to begin operations from Okinawa did its headquarters really justify its existence. AAFPOA, of course, had a vital servicing and administrative mission, but there was little, if any, excuse for its large operations and intelligence staff sections at any time prior to its redesignation as USASTAF in July 1945.167
Logistical Support in the Muriunus
In committing the B-29's to the Marianas, the JCS had superimposed a striking force incapable of self-sustainment upon the theater's logistical structure. Although Nimitz was specifically charged only with the "logistical obligation" for support of Twentieth Air Force units in his theater, an exact delineation of logistical responsibility for the strategic bombers in POA remained a subject for debate until the end of hostilities.168 It had been impossible to settle all details in the meetings of the Frank Committee in May 1944, and the settlement of questions, which were not definitively disposed of there necessarily depended upon action by the theater commander.169 The XXI Bomber Command was unique in that it carried on its operations without an air service command, without control of an air depot, without aviation engineer battalions or ordnance companies, and with the barest minimum of work and service troops. The operational commander of
---
* See below, p. 694.
--536--
the B-29's looked to CINCPOA for necessary shipping, construction, and maintenance of airdromes; to USAFPOA for all Army supplies; and to AAFPOA for air technical supplies and depot support. Harmon and his successors had no prerogatives of command over logistics, and were in the "anomalous position of having to deal with uninformed staffs on the basis of agreement."170
The logistical channels which resulted were circuitous, cumbersome, and confusing, and few people fully understood their labyrinthine ramifications. For example, the Western Pacific Base Command (Army) supplied dry rations for all forces ashore, while a Navy agency, Service Forces, Pacific Fleet, furnished all fresh provisions. All gasoline, oil, and lubricants were provided by ComForwardArea, through Navy channels. Clothing, general equipment and supplies, and construction equipment were obtained by Army units through the Army Garrison Force, whose commander sometimes wore a second hat as island commander. ComForwardArea (later changed to ComMarianas) in the person of Admiral Hoover was the logistical focal point for all forces in the Marianas, and his headquarters processed all requests for support, set construction priorities, and controlled road and port traffic.171
To obtain construction of an air installation for the AAF in the Marianas, a requisition was routed first to the Army Garrison Force, where it was screened to determine if other Army facilities on the island could be substituted; next it went to the island commander who determined if other island facilities could be substituted; and finally it passed to ComForwardArea who could approve or disapprove. If approved, the requisition was returned to the island commander who assigned a building priority and directed an aviation engineer or Seabee unit to do the work. But construction materials had to be obtained from the Army Garrison Force and, if not on hand, had to be requisitioned through the Western Pacific Base Command from the mainland. Finally, a shipping priority and a vessel allocation had to be secured from CINCPOA at Pearl Harbor before the material could be shipped. It is not surprising that construction projects which took a few hours to complete manually sometimes required weeks to process administratively, nor is it extraordinary that the request for construction of a building for the headquarters area of XXI Bomber Command on Guam bore twenty-six separate indorsements before it was approved. It is also small wonder that this system was criticized as a
--537--
"tangled web of split channels for such debatable things as technical, administrative, and operational control," and as one which "promoted uncertainty, delay, and reluctance on the part of intervening echelons to assume responsibility."172
Yet, the intertwined system must have worked better than the foregoing description suggests, for after the commitment of the B-29's to POA, there commenced the most remarkable build-up of AAF strength witnessed in a like period during the war. Personnel and aircraft in great numbers were established in the theater on the largest airdromes ever constructed and were supplied with a vast tonnage of bombs, gasoline, and other materiel. The expansion of personnel is indicative of this growth. In August 1944 AAF strength in the theater was 51,320, but by mid-July 1945 the influx of VHB and supporting AAF units brought it to 166,345.173 Of this number, 76,423 officers and men were distributed within the Twentieth Air Force as follows: 59,910 in the five wings and special units assigned to XXI Bomber Command; 249 assigned to XX Bomber Command; 16,264 in the Guam and Okinawa Air Depots, VII Fighter Command, 301st Fighter Wing, and other special VLR supporting units attached to AAFPOA. Assigned to the theater commander and directly under AAFPOA were additional AAF units numbering 89,922 distributed as follows: AAFPOA Headquarters and separate units, 42,942; Hawaiian Air Depot, 1,845; Guam Air Depot, 2,898; VI Air Service Area Command, 14,267; VII Fighter Command, 7,585; 7th Fighter Wing, 5,315;and Seventh Air Force, 15,070.174
Excluding the Twentieth Air Force combat wings, the AAF expansion had been largely in service troops. While the Twentieth Air Force and AAFPOA together were made up of 117,545 combat and 48,800 service troops, the Twentieth's division was 65,083 combat and 11,340 service, and AAFPOAs was 52,462 combat and 37,460 service. Since only 2,046 of the Twentieth Air Force service troops were assigned to XXI Bomber Command and the others attached to AAFPOA, the service forces subject to various controls of AAFPOA totaled 46,754 in mid-July 1945.175 Many of these troops, however, were included in the thirty-three aviation engineer battalions organized by July 1945 into the 927th Engineer Aviation Regiment on Guam, the 933d Engineer Aviation Regiment on Okinawa, and the 935th Engineer Aviation Regiment on Ie Shima.176
--538--
There was also a corresponding build-up of aircraft in the theater. From 999 aircraft of all types in August 1944 the number rose to 3,006 on hand in mid-July 1945,with the change in types and models of aircraft as significant as the increase in numbers. There had been no B-29 aircraft in August 1944, but there were 59 by the end of November and 985 on 31 July 1945 the build-up had averaged more than 100 per month after November. After reaching a peak of 177 planes delivered in April, it had leveled off with 94 in May, 147 in June, and 110 in July. In addition, 451 P-47N's arrived between March and July, while the P-51's increased from 8 in November to 348 the following July. Other important additions by July 1945 were 74 P-51's, 123 B-26's, and 27 F-13's. Revealing still further the changing character of the air war in POA, the number of B-25's and B-24's remained approximately at the August 1944 levels, and the once common P-38's and P-39's had virtually disappeared.177
In fact, the flow of B-29 aircraft to POA was so rapid that it outstripped the arrival of combat crew replacements. While 1,437 B-29's and 42 F-13's were received in the theater by the end of the war, only 1,892 crews arrived--an excess of but 413 crews over aircraft.178 With intensified operations beginning in March, the shortage of combat crews became a critical limiting factor. As maintenance and supply steadily improved, it became possible to operate the B-29's 114.9 hours per assigned aircraft in March and to plan for utilization of the bombers to a maximum of 156 hours per assigned aircraft by December 1945.179 Combat crews, however, could be flown no more than 95 to 100 hours per month and that for short periods only, while 75 hours per month was considered to be the maximum for extended operations.180 The authorized ratio of crews to aircraft was 1.25, but this was further reduced for combat use because of shakedown and lead crew training, which amounted to 10 per cent of all B-29's flying in the Marianas.181 Obviously, sustained maximum use of available aircraft would rapidly deplete the crew strength unless the ratio were increased. General LeMay repeatedly urged Washington to establish a ratio of two combat crews per aircraft, and when warned that the training program could not be accelerated to provide immediate relief, he asked and won approval for a maximum bombing program which if long sustained would have bankrupted his command of crews.182 Suggestions that B-17 and B-24 crews from Europe be used
--539--
after six weeks' transition flying in B-29's in the United States went no further than the planning stage, and the acute shortage of combat crews had not been solved at the war's end.183
In contrast to the Twentieth Air Force's operations in China-India, where the supply of gasoline, spare parts, bombs, and maintenance facilities was always inadequate, only two supply obstacles imposed really serious limitations on B-29 operations in the Pacific: 1) a serious shortage of incendiary bombs, following the March fire raids, which continued until late summer, and 2) shortages of B-29 spare parts which kept many aircraft on the ground in the period from November to March. It must not be assumed that there were no other supply problems, for there were indeed a multitude of them, but only these two caused real delays in the strategic bombing of Japan.184
Various explanations have been offered for the exhaustion of the supply of incendiary bombs in the Marianas in the spring of 1945. Yet the answer seems to be relatively simple. LeMay's decision in March to send all available B-29's with maximum loads of fire bombs on low-level raids apparently made the shortages inevitable, for this was a radical departure from the high-level missions with a preponderance of high-explosive bombs which the planners had anticipated. It was the responsibility of AAFPOA to requisition ammunition for all AAF aircraft in the theater, and requirements were estimated six months in advance on the basis of the number and types of missions anticipated, the types of bombs available, and the shipping allocated.185 In December 1944 estimates of bomb requirements for the first six months of 1945 were projected by AAFPOA on the following assumptions: 1) that there would be 4 B-29 groups operating during January, 8 during February and March, and 12 from April through June; 2) that 60 per cent of the total tonnage of bombs carried would be high explosives; and 3) that 5,000 tons of shipping per wing would be available monthly.186 A further assumption was that the bomber missions would continue to be high-level ones on which the B-29's had averaged only 5,473-pound bomb loads in November and 8,048 in December.187 The planning was entirely unrealistic in terms of the March operations. Actually 388 bombers were assigned by March,188 78.3 per cent of the total weight of bombs carried during the month were incendiaries and only 21.7 per cent high explosives, and low-level bombing tactics had increased the average bomb load to 12,295 pounds per aircraft.189 Other planners were equally
--540--
inaccurate in their estimates: XXI Bomber Command estimates as late as 8 February were based on a total bomb requirement of only 3,000 tons per wing per month divided into 40 per cent incendiary and 60 per cent high explosive,190 March Twentieth Air while as late as 11 Force Headquarters in Washington estimated that only 33 per cent of the B-29 bomb tonnage would be incendiaries.191
The shortage of incendiaries in the Marianas became the source of a relatively heated controversey,192 and though estimates were quickly adjusted to changed conditions, the pipeline for supplies was three months long. By the end of March the B-29 planners in POA were estimating monthly bomb requirements at 10,000 tons per wing for a total of 50,000 tons for the command;193 by May planners in Washington had raised the estimates to 15,000 tons per wing per month or a total of 75,000 tons equally divided between incendiaries and high explosives.194 To avert future shortages, General Arnold insisted that a maximum level of 4 months' supply of bombs, based on estimated monthly expenditures of 75,000 tons, be stockpiled in the theater, or a total storage of 300,000 tons equally divided between the 2 types of bombs. This was in response to LeMay's contention that the JCS directive requiring the bomb stockpile to equal two months' expenditures should be interpreted to permit a maximum effort restricted entirely to either bomb type.195 CINCPOA interpreted the JCS requirement to mean a stockpile based on the total possible expenditure of all types of bombs and refused to raise storage levels above 150,000 tons.196 LeMay protested so strongly that Maj. Gen. Junius W. Jones, AAF Air Inspector, made an analysis of the bomb situation in the Marianas; he reported on 5 July 1945 1) that the current supply of bombs on hand was adequate for the months of July and August, 2) that estimates indicated the 1 September supply of bombs would be 125,567 tons exclusive of August receipts, and 3) that assuming the projected missions to be 6,900 in September, the total consumption of bombs would not exceed 50,000 tons for the month.197 Since the total tonnage, including bombs and mines, dropped by the B-29's from November 1944 through August 1945 amounted to only 157,502 tons, and the maximum for 1 month was 42,711 in July,198 it is difficult in retrospect to find fault with the Air Inspector's conclusion that there was no present or future shortage in sight,199 The fact is that the bomb scarcity had been solved by June, when the supply pipeline caught up with planning.200
--541--
It was difficult for XXI Bomber Command to function at full efficiency without prerogatives of command over the procurement of bombs and aviation gasoline and other services which were vital to its bombing operations. It experienced some concern over the fact that, while conducting the only continuous combat operations from bases in the Marianas, its assigned priority for the construction of an air base for the 314th Bombardment Wing on Guam was 91, for the 315th Wing 95, and for the headquarters area of XXI Bomber Command itself 110--all well behind the construction of roads and numerous naval installations.201 But Nimitz, while meeting many other demands upon his resources, kept the B-29's well supplied with fuel: they never suffered any shortage of that essential item, and by July 1945 storage facilities for 892,000 barrels existed in the Marianas and Iwo Jima.202 Always, however, there was a shortage of personnel in the theater to handle shipping. On 1 June 1945 there was, for example, a backlog of 260,000 short tons aboard ships in Guam harbor waiting to be unloaded, while other vessels were being held at Eniwetok awaiting clearance before proceeding to Guam.203 This deficiency of troops to handle supplies became particularly acute during the Okinawa operation and was further accentuated as the war against Japan was pressed on the sea and ground as well as from the air. But it should be remembered that AAF personnel never amounted to more than about 10 per cent of those looking to Nimitz for logistical support.204
The supply and maintenance of items peculiar to the AAF were the logistical responsibility of the Twentieth Air Force according to the JCS directive of June 1944, but here again VHB forces were dependent upon theater agencies. To AAFPOA was delegated responsibility for supply through the Guam Air Depot of the more than 300,000 B-29 parts and other technical AAF equipment.205 The normal command channels ran from XXI Bomber Command to AAFPOA to the Pacific Overseas Air Technical Service Command (POATSC) at Oakland, California, where the supplies were procured and shipped via ATC or water to the theater. POATSCs claim that the elapsed time on critical parts shipped by air was often no more than six days from the dte of the wing's requisition until installed in the aircraft was doubtlessly true, but only in exceptional cases;206 it is certainly true, however, that ATC delivered many items with a lapse of no more than eleven days.207 was in fact consistently
--542--
prompt once the obstacles of command channels permitted the supplies to reach the air terminals. Serious shortages in both air force and other supplies were often the result of unpredictable supply requirements which arose from changes in tactics and a steadily increasing volume of sorties rather than failure by procurement or transportation agencies.208
But the Guam Air Depot was not even organized, much less ready to provide support to the B-29's, when the first strike against Japan was launched on 24 November. The first troops and supplies for the depot were not unloaded until 9 November, at a time when construction work on warehouses, offices, and quarters had scarcely started. Seabee and aviation engineer troops were busy on airdrome, harbor, road, and other high-priority projects, and all efforts by Harmon to secure earlier construction dates for the depot had been futile. The result was that thousands of boxes were stacked with little effort at classification along a muddy road some 75 feet wide and 5,000 feet long known familiarly as the "Mile of Supply."209 With no alternative but to provide for themselves, clerks and telephone, radar, propeller, and engine repair men, not to mention other specialists, were put to work constructing warehouses, offices, housing, showers, and latrines.210 It was February before the depot was ready to give fourth echelon maintenance to the combat wings.211 and April before some of its floating aircraft repair and maintenance units arrived.212 The XXI Bomber Command was thus forced during the first weeks of strategic bombing to depend upon its own meager service personnel for purposes never contemplated by the Twentieth Air Force planners.
If delay in depot support was the compelling reason for drastic changes in the original concepts for supplying and maintaining a B-29 combat wing, there were other factors which influenced organizational changes. Problems arising from the housing of over 12,000 personnel on one combat base and from operating over 180 four-engine aircraft from a single airdrome were unique, and solutions were possible only on the basis of actual experience in the Marianas.213 In any event, General Hansell took steps in early November to adapt the supply and maintenance procedures of his B-29 command to existing conditions.214 As finally developed, rigid controls over all supply and maintenance activities of XXI Bomber Command were centralized under the deputy chief of staff for supply and maintenance, a
--543--
position filled by Col. Clarence S. Irvine from November 1944 until the end of the war. Within each of the five wings there was a similar concentration of authority in a deputy chief of staff for supply and maintenance who operated through a supply controller and a maintenance controller. The primary departure from orthodoxy was in the elimination of the squadrons as operating entities and the merger of the groups into work pools. Under the wing supply controller was grouped all supply personnel for the operation of a wing supply control center, which was the central agency for requisitions, records, warehouses, and issues for all units of the wing based on the airdrome.215
The conventional practice of attaching a service group to each bomb group to form a combat team for maintenance was discarded in favor of service centers under the wing maintenance controller. The pattern followed was to pool the personnel and equipment of two service groups into a service center with primary responsibility for the maintenance of the aircraft of two bomb groups. Production line techniques were introduced with centralized shops manned by technicians for the maintenance of engines, armaments, communications, radar, propellers, and parachutes. Also, since work loads fluctuated widely between groups from day to day, the centralized shops gave the wing controller both the authority add the flexibility to get maximum use of all men and tools.216 Colonel Irvine, who both conceived and controlled this organization for combat maintenance, said that into it went the
control principles of a good factory! plus the basic principles of production line maintenance plus specialized maintenance as it had been used in various forms in England, the Second Air Force, and CBI, all specially hand-tailored to fit the geography, the equipment, the personnel, and the psychology of the XXI Bomber Comrnand.217
Originally there was considerable resistance from the various units to the resultant loss of identity, but strong support from LeMay squelched open opposition. Irvine reported that "every time people started throwing blocks under the wheels . . . Curt really let them have it in his own quiet way."218 The measure of success of this centralization of authority and pooling of service units for supply and maintenance is best attested to by the results attained in the face of the 75 per cent increase in bombing operations which began in March. In January, before the new system
--544--
was fully operative, 22.7 per cent or 113 of 497 scheduled aircraft failed to bomb primary targets because of mechanical failures. As the integrated program developed, the abortive sorties for mechanical failures became: in February, 17.4 per cent or 134 of 772 aircraft; March, 9.6 per cent or 235 of 2,441; April, 10.4 per cent or 363 of 3,474; May, 10.9 per cent or 500 of 4,586; June, 9.9 per cent or 550 of 5,565; July, 6.7 per cent or 420 of 6,248; August, 7.5 per cent or 246 of 3,291.219 Supply efficiency likewise showed a marked increase. The all-out March raids were never hampered by any lack of AAF supplies, although "margins in many instances were precariously slim."220 While the Guam Air Depot should be credited with a remarkable achievement in supplying the thousands of parts required by the B-29's, the wing supply centers made notable contributions to the following record: in December, 12.7 per cent of an average of 134 assigned aircraft were grounded for parts; in January, 4.6 per cent of 214; in February, 4.5 per cent of 313; March, 4.2 per cent of 388; April, 1.3 per cent of 512; May, 1.0 per cent of 718; June, 0.3 per cent of 790; July, 0.2 per cent of 923; and August, 0.2 per cent of 986.221
After completing a tour of the B-29 combat stations in August 1945, Gen. Carl Spaatz radioed Eaker that he was "tremendously impressed with the economy and efficiency which has been achieved here through merging personnel and equipment into common offices and shops supervised through locally improvised organizational structures."222 Spaatz was also convinced that these organizational changes effected in the theater had contributed materially to the "unparalleled operational accomplishments of the Twentieth Air Force."223
--545--
Table of Contents
Previous Chapter (16) * * Next Chapter (18)
Notes to Chapter 17
1. JCS 713/4, 12 Mar. 1944.
2. JCS 742/5, 1 Apr. 1944.
3. Ltr., Maj. Gen. Willis H. Hale to Gen. H. H. Arnold, 5 Apr. 1944.
4. Memo for Marshall and King from Arnold, 16 Apr. 1944.
5. Ltr., Arnold to Nimitz, 20 Apr. 1944.
6. Ltr., Arnold to Maj. Gen. W. H. Frank, 20 Apr. 1944.
7. Frank Report, submitted by memorandum to Arnold by Frank, sub.: Conference with Commander-in-Chief, Pacific Ocean Areas, and the Joint Staff, 4 May 1944, with attached transcript of confetence, Hq. CINCPOA, Pearl Harbor, 29 Apr. 1944.
8. Ltr., Nimitz to Arnold, 3 May 1944.
9. Ltr., Arnold to Brig. Gen. C. E. Thomas, 23 May 1944; Hist. Adv. Ech. Hq. XXI BC, p. 4.
10. JCS 823/1, 29 May 1944, approved by informal action on 7 June 1944.
11. Ibid., pp. 13-14.
12. Ibid., p. 7.
13. lbid., p. 24.
14. Ltr., Arnold to Lt. Gen. M. F. Harmon, 12 Dec. 1944.
15. CM-OUT-9662-2, Lt. Gen. R. C. Richardson to Arnold, 1 Feb. 1944; CM-OUT-9925-9, Richardson to Arnold, 8 Feb. 1944.
16. JCS 713/1, 10 Mar. 1944.
17. 1st ind. (ltr., Richardson to OPD, WD, 22 Feb. 1944) OPD, WD, 10 Mar. 1944.
18. Ltr., Arnold to Hale, 20 Apr. 1944.
19. Ltrs., Brig. Gen. Haywood S. Hansell, Jr., to Hale, 10 Apr., 16 Apr. 1944; Hale to Hansell, 22 Apr. 1944.
20. CM-OUT-40903, Marshall to Richardson info. Harmon, 24 May 1944.
21. Memo for Hull from Hq. AAF, sub.: Command of Air Force Units in the Pacific Ocean Areas, 30 May 1944.
22. Ibid.; CM-IN-21742, Richardson to Marshall info. CINCPOA, 28 May 1944.
23. See n 22 above.
24. CM-OUT-46867, Marshall to Richardson and Harmon, 6 June 1944.
25. See ltr., Marshall to Harmon, 10 July 1944.
26. See ltr., Harmon to Arnold, 11 June 1944; memo for C/S 20th AF from Col. C. E. Combs, A-3 20th AF, 26 June 1944.
27. Ltr., Marshall to Richardson, 10 July 1944.
28. Ibid.
29. Hq. USAFPOA GO 2, 1 Aug. 1944.
30. Hist. Air War POA, I, 72, 114-15.
31. History of VHB Construction in the Marianas and on Iwo Jima, App. III, in Hist. Air War POA [hereinafter cited Hist. VHB Construction].
32. Frank Report, 4 May 1944, p. 2.
33. Hist. VHB Construction, pp. 5-6.
34. Radg., CINCPOA to CG AAFPOA, 15 May 1944; rpt. by Rear Adm. F. P. Sherman to JLC, min. JLC 73d Mtg., 4 Sept. 1944, p. 4.
35. Hist. Adv. Ech. XXI BC.
36. Ltr., Thomas to CINCPOA, 25 June 1944.
37. Ltr., CINCPOA to CG XXI BC Advon, 25 July 1944.
38. Hist. VHB Construction, pp. 9-10.
39. Ltr., Harmon to Arnold, 5 Oct. 1944.
40. Ibid.
41. Frank Report, Tab B, 4 May 1944; incl. to ltr.. CINCPAC-CINCPOA to CG AAF, 31 May 1944, p. 3.
42. Frank Report, Tab C, 4 May 1944.
43. Hist. VHB Construction, p. 54.
44. CINCPAC-CINCPOA ser. 000650, 11 Aug. 1944; ltr., Harmon to CINCPOA, 17 Aug. 1944; ltr., Harmon to Arnold, 17 Aug. 1944.
45. Ltr., Harmon to Arnold, 17 Aug. 1944.
46. Ltr., Harmon to Arnold, 24 Aug. 1944; ltr., Harmon to Hansell, 25 Aug. 1944.
47. Ltr., Hansell to Harmon, 12 Aug. 1944.
48. Frank Report, Tab C, 4 May 1944.
49. Ltr., Hansell to Harmon, 12 Aug. 1944.
50. Ltr., Harmon to CINCPOA, 17 Aug. 1944.
51. Ibid., p. I.
52. Ibid., pp. 3-4.
53. Radg., CINCPOA to COMFWDAREA, 250115Z Aug. 1944.
54. Ltr., Harmon to Nimitz, 26 Sept. 1944; mailgram, CG AAFPOA Rep.(Thomas) to CG AAFPOA, 20 Oct. 1944
55. Base Development Plan TEARAWAY, CINCPAC-CINCPOA ser. 000307, 6 May 1944.
56. Hist. 804th Engr. Avn. Bn., July 1944, p. 2.
57. Ibid., Oct. 1944, pp. 2-3.
58. Hist. VHB Construction, pp. 38-42.
59. Ibid., pp. 44-45.
60. Ibid., pp. 45, 48.
61. Hist. Air War POA, I, 130.
62. Hist. VHB Construction, p. 51.
63. Ibid., p. 73.
64. Radg., CINCPOA to COMFWDAREA, 250115Z Aug. 1944; Base Development Plan TATTERSALLS, change 2, CINCPAC-CINCPOA ser. 000322, 14 May 1944.
65. T-CON-20-1, Norstad to Harmon, 20 Sept. 1944.
66. Radg., CINCPOA to COMFWDAREA, 210908Z Sept. 1944; ltr., Harmon to Arnold, 21 Sept. 1944; ltr., Harmon to Nimitz, 26 Sept. 1944.
67. Radg., COMFWDAREA to CINCPOA, 261405Z Sept. 1944.
68. CM-OUT-1085, CG AAFPOA to CINCPOA, 26 Sept. 1944.
69. Radg., CINCPOA to COMFWDAREA, 280150Z Sept. 1944.
70. Hist. VHB Construction, pp. 95-99.
71. Hist. Air War POA, I, 132.
72. T-CON-H-6-3, CG 20th AF to DC 20th AF, 6 Feb. 1945.
73. Ltr., Nimitz to Harmon, CINCPAC-CINCPOA ser. 000965, 7 Nov. 1944.
74. Hist. VHB Construction, p. 105.
75. Ibid., pp. 61-62.
76. Ltr., Thomas to Harmon, 21 Oct. 1944.
77. Base Development Plan STevEdore, CINCPAC-CINCPOA ser. 000317, 12 May 1944.
78. Hist. VHB Construction, p. 109.
79. T-CON, Breene with LeMay, 25 Jan. 1944.
80. T-CON-270126Z, Advon AAFPOA to CG AAFPOA, 27 Jan. 1945; Hist. VHB Construction, p. 111.
81. Hist. VHB Construction, pp. 115-17.
82. Ibid., p. 119.
83. T-CON-606, CG XXI BC to DC 20th AF. 10 Mar. 1045: CM-OUT-4275 CG AAFPOA Admin. to CINCPOA Pearl Harbor, 11 Mar. 1945; ltr., LeMay to CG AAFPOA, 12 Mar. 1945.
84. Radg., CINCPOA Pearl Harbor to ISCOM Guam, 30223Z Mar. 1945.
85. Hist. 1889th Engr. Avn. Bn., Sept. 1944, pp. 1-2.
86. Hist. VHB Construction, p. 131.
87. Ibid., p. 130.
88. Ind., (ltr., CG XXI BC to ISCOM Tinian, 14 Mar. 1945), ISCOM Tinian.
89. Hist. VHB Construction, p. 131.
90. Ibid., p. 134.
91. Ibid., pp. 141-42.
92. Hq. AAFPOA GO 20, 1 Feb. 1945.
93. Base Development Plan WORKMAN, change 2, 26 Dec. 1944.
94. T-CON-unnumbered, DC 20th AF to CG XXI BC, 7 Jan. 1945.
95. Base Development Plan WORKMAN, change 3, 11 Feb. 1945.
96. Hist. VHB Construction, p. 155.
97. Ibid., pp. 156-58.
98. Ibid., pp. 159-60.
99. Hist. Air War POA, I, 155.
100.JCS 745/5, 11 Apr. 1944.
101. Hq. USASTAF Monthly Stat. Sum., 20 July 1945, p. 101; Official Station List, AAFPOA-20th AF, 1 July 1945; Official Station List, USASTAF, 1 Aug. 1945.
102. Official Station List, USASTAF, 1 Aug. 1945.
103. Ltr., Arnold to Harmon, 16 Oct. 1944.
104. T-CON-23-A, Harmon to Arnold, 23 Oct.1944.
105. Ltr., Harmon to CINCPOA, 23 Oct: 1944.
106. Ltr., Nimitz to CG AAFPOA, CINCPAC-CINCPOA ser. 000965, 7 Nov. 1944.
107. Unpublished rpt. to JCS by CG AAF on Strategic Air War in Europe and Pacific (prep. in 1947 by a special committee, Brig. Gen. A. R. Maxwell, chairman), Pt. III, sec. III-A, p. 7.
108. Ibid.
109. CM-OUT-82189, Arnold to Richardson for Harmon, 26 Dec. 1944; ltr., S/W to CG USAFPOA and CG AAFPOA, 3 Jan. 1945.
110. T-CON. Harmon to Arnold, 17 Jan. 1945; Hist., Air War POA, I, 136-38.
111. Ltrs., Harmon to CINCPOA, 23 Dec. 1944; Harmon to Arnold, 23 Dec. 1944.
112. CM-OUT-21782, 16 Jan. 1945; ltr., CG AAFPOA to CINCPOA, 17 Jan. 1945.
113. Ltr., Hale to Arnold, 17 Jan. 1945; memo for Harmon from Col. W. B. Ball, Hq. AAFPOA, 22 Jan. 1945.
114. Hq. DC 20th AF GO 12, 21 May 1945; Hist. Air War POA, I, 155-56.
115. Official Station List, AAFPOA20th AF, 1 July 1945; Official Station List, USASTAF, 1 Aug. 1945.
116. Hist. Air War POA, II, p. 77-80.
117. T-CON-5001, CG AAFPOA Admin., Hawaii, to DC 20th AF, Guam, 2 Feb. 1945.
118. T-CON-0567, DC 20th AF to CG 20th AF, 28 Feb. 1945.
119. T-CON-H-9-6 CG 20th AF to DC 20th AF, 9 Feb. 1945.
120. Memo for CG AAF and CG 20th AF from Hansell, 18 Apr. 1944; memo for Arnold from Maj. Gen. T. T. Handy, AC/S OPD, 26 Apr. 1944; memo for Arnold from Col. C. E. Combs, A-3 20th AF, 26 June 1944.
121. Ltr., Marshall to Richardson and Harmon, 10 July 1944.
122. Ltr., Harmon to Giles, 25 Aug. 1944.
123. Ltr., Harmon to Arnold, 15 Aug.
124. Hq. AAFPOA Memo 20-2, 23 Aug. 1944.
125. R&R, Giles to C/S 20th AF and WAS, comment 1, 31 Aug. 1944.
126. Ibid., comment 2, Norstad to WAS, 1 Sept. 1944.
127. Memo for Arnold from Norstad, 4 Sept. 1944.
128. Ltr., Arnold to Harmon, 22 Sept. 1944. OPD approval of this delegation of administrative authority over 20th AF elements within POA was so doubtful that Giles wrote Harmon that the alternative solution probably would be the assignment of VHB forces to the theater with Arnold having only their operational control (ltr., Giles to Harmon, 26 Sept. 1944).
129. Ltr., Arnold to Harmon, 22 Sept. 1944.
130. Memo for AC/AS Plans from Norstad, 23 Oct. 1944.
131. Ltr., Harmon to Giles, 10 Nov. 1944.
132. Ltr., S/W to CINCPOA, 22 Nov. 1944; telg. 2-30, CG 20th AF to DC 20th AF, 30 Nov. 1944.
133. T-CON-H-16-3, CG 20th AF to DC 20th AF, 16 Dec. 1944; ltr., DC 20th AF to CG XXI BC, 18 Dec. 1944.
134. T-CON-H-16-3, CG 20th AF to DC 20th AF, 16 Dec. 1944.
135. Ltr., Harmon to Giles, 10 Nov. 1944; CM-OUT (unnumbered), CTF 93 to CINCPOA, 2 Dec. 1944.
136. Ltr., Hansell to Harmon, 28 July 1944.
137. Ltr., Norstad to Harmon, 7 Dec. 1944.
138. Ltr., Harmon to Giles, 10 Nov. 1944.
139. T-CON-H-23-2, Norstad to Harmon, 23 Jan. 1945.
140. T-CON-24-D, DC 20th AF to CG 20th AF, 23 Jan. 1945.
141. T-CON-FN-23-21, CG XXI BC to CG and DC 20th AF, LeMay to Norstad info. Harmon, 23 Jan. 1945.
142. T-CON-G-24-8, Arnold to LeMay info. Harmon, 24 Jan. 1945; ltr., C/S USA (signed Craig) to CG USAFPOA, 31 Jan. 1945.
143. Memo for Adm. F. P. Sherman, ns., n.d., summarizing the views of Hq. AAFPOA on the assignment of the 20th AF fighter groups; Hist. Air War POA, II, 278-79.
144. Hist. Air War POA, II, 281.
145. Ltr., Lindsay to Harmon, 2 Jan. 1945; ltr., Kuter to Harmon, 2 Jan. 1945.
146. Hq. AAFPOA GO 30, 2 Mar. 1945 and GO 62, 4 May 1945.
147. T-CON, LeMay (Guam) with Norstad (Washington), 5 May 1945.
148. JCS 742/5, 1 Apr. 1944.
149. Ltr., CINCPOA to CG USAFICPA, CINCPAC-CINCPOA ser. 0172, 13 Jan. 1944.
150. Interview with Maj. Gen. R. B. Breene, DC AAFPOA for Admin., 16 May 1945, quoted in Hist. Air War POA, II, 310.
151. See again ltr., Marshall to CG USAFPOA and CG AAFPOA, 10 July 1944.
152. R&R, Brig. Gen. C. L. Ruffner, C/S USAFICPA, 18 July 1944.
153. Ibid.
154. Ltr., Harmon to Giles, 25 Aug. 1944.
155. Hist. Air War POA, II, 179-204.
156. Ltrs., Harmon to Arnold, 10 Oct. 1944; Harmon to Giles, 13 Oct. 1944.
157. Hist. Air War POA, II, 187-88; memo for AC/AS Plans from Norstad, 23 Oct. 1944.
158. Ltr., Giles to Harmon, 29 Oct. 1944.
159. Ltr., CG USAFPOA to CG AAFPOA, 18 Nov. 1944.
160. See n 150 above.
161. Hist. Air War POA, II, 334.
162. Ibid., p. 357; III, 110-16.
163. STRATAJRPOA GO 1, 6 Dec. 1944.
164. Hist. Air War POA, II, 380-81.
165. Radg., CINCPOA to DC 20th AF, 252315Z May 1945.
166. Radg., CINCPOA to CTF 93, 030207Z Aug. 1945.
167. Hist. Air War POA, II, 382-84.
168. T-CON-1487, CG USASTAF to CINCPOA, 7 Aug. 1945.
169. CINCPACCINCPOA, ser. 000960, sub.: Logistical Plan for the Operation of Units of the Twentieth Air Force in the Marianas, 5 Nov. 1944; Report of Ladd Board on Internal and External Requirements for Self-sustaining Wing Operations, Sept. 1945, p. 7.
170. Ladd Report, p. 3; Hist. Air War POA, II, 310-11.
171. Ladd Report, pp. 3-5.
172. Ibid., p. 6.
173. Hist. Air War POA, I, chart: Personnel Strength, following p. 113; Hq.AAFPOA Monthly Stat. Sum., Oct. 1944-June 1945; Hq. USASTAF Monthly Stat. Sum., July-Aug. 1945.
174. Hq. USASTAF Monthly Stat. Sum., July 1945, pp. 8-10; Official Station List, AAFPOA-20th AF, 1 July 1945; Official Station List, USASTAF, 1 Aug. 1945.
175. Hq. USASTAF Monthly Stat.Sum., July 1945, p. 10.
176. Official Station List, AAFPOA-20th AF, 1 July 1945.
177. Hist. Air War POA, I, chart: Aircraft Strength Data, following p. 113.
178. 33d SCU, Twentieth AF: A Statistical Summary of Its Operations Against Japan, p. 14 [hereinafter cited as 20th AF Opns. Japan].
179. Ibid., p. 30.
180. Twentieth AF: A Brief Summary of B-29 Strategic Air Operations, 5 June 1944-14 Aug. 1945, p. 65 [hereinaftercited 20th AF Strat. Opns.].
181. Ibid., p. 60.
182. Ibid., p. 65; Hist. XXI BC, May 1945, pp. 24-25.
183. T-CON, LeMay (Guam) with Norstad (Washington), 27 Apr. 1945; USSTAF in Europe, Report: Status of Project "Return of HB Groups for Conversion to VHB," 31 Mar. 1945.
184. 20th AF Strat. Opns., p. 65.
185. CM-OUT-RJ30443, Richardson to CG SFPOE, 5 Sept. 1944.
186. Ltr., CG AAFPOA to CG AAF, 21 Dec. 1944; Hist. Air War POA, App. VI, Logistical Support: Ammunition Support for the XXI Bomber Command, pp. 11-12.
187. 20th AF Opns. Japan, p. 12.
188. Ibid., p. 15.
189. Ibid., p. 12.
190. T-CON-FN-08-34, CG XXI BC to DC 20th AF, 8 Feb. 1945.
191. T-CON-G-10-10, CG 20th AF to CG XXI BC, 11 Mar. 1945.
192. Ltr., Col. Sol A. Rosenblatt, Asst. A-4 20th AF, to Kuter, 2 June 1945.
193. T-CON-5805, DC 20th AF Admin. to CG 20th AF, 26 Mar. 1945; CM-OUT-1540, CG XXI BC to COMFWDAREA, 25 Mar. 1945.
194. Hist. Air War POA, App. VI, pp.26-27.
195. Ibid.
196. CM-OUT-81407, Arnold to Breene, 12 May 1945; radg., CINCPOA Pearl Harbor to COMFWDAREA, 19 May 1945.
197. Ltr., TAI to DC 20th AF, 5 July 1945.
198. 20th AF Opns. Japan, p. 12.
199. Hist. Air War POA, App. VI, p. 46.
200. Ibid.
201. Ladd Report, p. 6.
202. 20th AF Opns. Japan, p. 78.
203. Hist. Air War POA, App. VI, p. 35; CM-OUT-25692, AAFPOACG Admin. to CG AAF, 1 June 1945.
204. Hist. Air War POA, II, 310.
205. Hist. Overseas Supply Sec., POATSC, Nov. 1942-Mar. 1945, p. 115.
206. Ibid.
207. Hist. XXI BC, Nov.-Dec. 1944, p. 48.
208. 20th AF Strat. Opns., p. 60.
209. Hist. Guam Air Depot, 14 June 1944-31 Jan. 1945, pp. 19, 28.
210. Ibid., p. 31.
211. T-CON-5563, CG AAFPOA Admin. to CG AAFPOA Guam, 8 Mar. 1945.
212. Hist. XXI BC, 1 Jan.4 Feb. 1945, p. 63.
213. 20th AF Strat. Opns., p. 60.
214. Hist. XXI BC, 1 Jan.-28 Feb. 1945, p. 66.
215. Hq. XXI BC Reg. 65-1, 1 Feb. 1945; Hq. XXI BC Comd. Bk., May 1945, pp. 9-10; 20th AF Opns. Japan, pp. 40-41, 52; Hist. Air War POA, I, 149-54.
216. Hist. 73d Bomb. Wg., 1 Dec. 1944 -31 Jan. 1945, pp. 56-57; 20th AF Opns. Japan, p. 31.
217. Ltr., Irvine to Norstad, 17 Feb. 1945.
218. Ltr., Irvine to Norstad, 1 Apr. 1945.
219. 20th AF Opns. Japan, p. 32.
220. 20th AF Strat. Opns., p. 60.
221. 20th AF Opns. Japan, p. 34.
222. T-CON-2337, Spaatz to Eaker, 18 Aug. 1945.
223. Ibid.