Return to Naval Historical Center home page.

Return to Online Library listing

DEPARTMENT OF THE NAVY -- NAVAL HISTORICAL CENTER
901 M STREET SE -- WASHINGTON NAVY YARD
WASHINGTON DC 20374-5060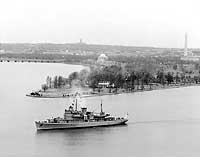 Online Library of Selected Images:
-- NORWEGIAN NAVY SHIPS --
Haakon VII (Training Ship, 1958-1974).
Haakon VII, a 2800-ton training ship, was converted from the U.S. Navy seaplane tender Gardiners Bay (AVP-39). Transferred to the Norwegian Navy in May 1958, she travelled widely in her new role as naval cadet training ship. Haakon VII was disposed of in 1974.
This page features a view of Haakon VII.
If you want higher resolution reproductions than the Online Library's digital images, see: "How to Obtain Photographic Reproductions."
Click on the small photograph to prompt a larger view of the same image.
Photo #: K-81807

Haakon VII
(Norwegian Training Ship, 1958)

Passes Hains Point, Washington, D.C., following a visit to the Washington Navy Yard, 9 March 1970.
Monuments and landmarks visible in the background include the National Cathedral (on ridgeline in center distance), the Jefferson Memorial (center, middle distance) and the Washington Monument (right distance).

Official U.S. Navy Photograph.

Online Image: 64KB; 740 x 605 pixels

Reproductions of this image may also be available through the National Archives photographic reproduction system as Photo # 428-K-81807.
Though reproductions of this photo from the Naval Historical Center's collections are available in black & white only, those from the National Archives should be available in color.


Return to Naval Historical Center home page.
30 May 1999