Return to Naval Historical Center home page.

Return to Online Library listing

DEPARTMENT OF THE NAVY -- NAVAL HISTORICAL CENTER
901 M STREET SE -- WASHINGTON NAVY YARD
WASHINGTON DC 20374-5060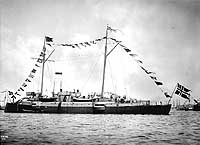 Online Library of Selected Images:
-- NORWEGIAN NAVY SHIPS --
Viking (First Class Gunboat, 1891-1920).
Viking, a 1181-ton gunboat or small protected cruiser, was built at Horton, Norway. Launched in 1891, she served in the Norwegian Navy until stricken in 1920. The Norwegian Red Cross later employed her as a hospital ship.
This page features our only view of Viking.
If you want higher resolution reproductions than the Online Library's digital images, see: "How to Obtain Photographic Reproductions."
Click on the small photograph to prompt a larger view of the same image.
Photo #: NH 73118

Viking
(Norwegian First Class Gunboat, 1891)

Dressed with flags at Keil, Germany, during ceremonies marking the opening of the Keil Canal, June 1895.
Note sailor with rifle on the ship's bridge, and officer using telescope by the steering wheel aft of the mainmast.

U.S. Naval Historical Center Photograph.

Online Image: 88KB; 740 x 560 pixels

Return to Naval Historical Center home page.
28 May 1999