switches. When the motor is running, the handles will automatically go to neutral position. For this reason it is best to press the safety switches down before grasping the hand grips of the control handles.
If this is done, the control handles will move to neutral position without moving the turret. If the control handles are held in any other position than neutral and the safety switches are closed, the motor will start, causing immediate and possibly violent motion of the turret. Either safety switch will put the motor in operation. Depressing the safety switches also turns on the sight and provides power to the booster motors so that they will operate when guns are fired.
To adjust the brightness of the sight to lighting conditions use one hand to hold the control handles, keeping the safety switch depressed, and turn the sight rheostat with the other hand. To operate the turret turn the handles in the direction you desire the turret to move. For azimuth (right or left) the control handles are operated exactly like those of a bicycle. For elevation, move the upper part of the handgrips backward, and for depression, move the top portion of the control handles forward. Don't jerk the controls—move them smoothly and deliberately.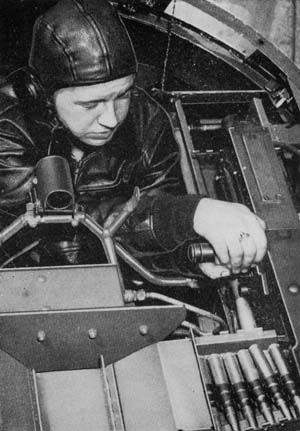 charging handle of one gun with both hands, one above the other, and give a quick, hard pull back. Then release the handle smartly and let it slide forward by itself. Repeat the procedure for the other gun.
At the left of the control panel is the hydraulic pressure gauge. As soon as the pump is operating, check to see if it reads the desired At the left of the control panel is the hydraulic pressure gauge. As soon as the pump is operating, check to see if it reads the desired 1150 Ibs. pressure. While operating the turret, check this gauge from time to time to see if the proper pressure is maintained. Directly under your index fingers on both control handles are the triggers. Either trigger will fire both guns.
On each side of you at shoulder level are the levers for hand-charging the guns. Grasp the lbs. pressure. While operating the turret, check this gauge from time to time to see if the proper pressure is maintained. Directly under your index fingers on both control handles are the triggers. Either trigger will fire both guns.
On each side of you at shoulder level are the levers for hand-charging the guns. Grasp the