Growing Up in Rocky Mount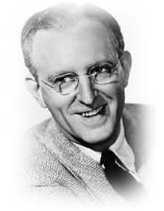 James Kern Kyser was born June 18, 1905, in Rocky Mount, North Carolina. Although his interest in music wasn't serious until his college days, Kyser's future successes were forecast at an early age.

At that time, Silas Green's Minstrels were visiting Rocky Mount. To advertise their performance the band paraded in full costume through the streets of the small town. A toddler of 3 years of age, Kyser had followed the band, beating on his mother's best aluminum pot.

Kyser's roots were well-established in the South, and his relatives were prominent doctors, lawyers — and professors, who had taught at UNC for more than a century. His brother became a chemistry professor at UNC, and his cousin served as graduate school dean. His uncle, Edward Vernon Howell, opened the university's pharmacy school in 1897 and was its dean until he died in 1931. His parents, Paul and Emily Royster Howell Kyser, were pharmaceutical pioneers as well; his mother was the state's first woman pharmacist.

His family's work in medicine might have led to Kyser's interest in improving health care later in his life. Or maybe it was the fact that he needed care so much as a child — he cut his head open several times, and broke his collar bone and both arms. "I fell off every high building in Rocky Mount — that's why they stopped building 'em," he told Seventeen magazine contributors in 1940.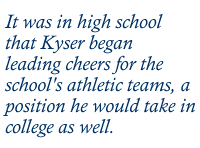 In high school, Kyser "went out for every activity except the girl's basketball team," according to Seventeen. He was president of his junior and senior class, edited his high school yearbook, and formed his own junior varsity football team (the varsity coach thought he wasn't big enough to play at the higher level). It was also in high school that he began leading cheers for the school's athletic teams, a position he would take in college as well.

Kyser graduated from high school in 1923. His was the first class to graduate intact — thanks in part to one of his plans as senior class president. Kyser had the best students tutor the "borderline ones" so that every student could receive a diploma. It was this kind of leadership that would make him famous barely a decade later.

Previous | Next