Part the second.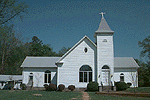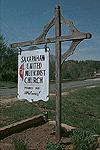 Ostensibly, Michael and I ventured this way to photograph this church which we had seen nearly a year before; it was beautiful then, nestled in its summer greenery by a river (how very appropriate for a church to be next to a river, what with baptisms and all). It's not quite green enough to reflect what we had seen before, but it is still a very striking little building.
---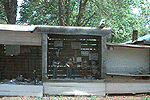 [left] I apologise, dear readers, for the poor detail of this photograph, but let me enlighten you as to its content. As Michael and I were driving out of town, I told him that we had to get a picture of this side-of-the-road exhibit I had seen on our way in. He nodded in assent, and so as we pulled beside the house that was host to this interesting work of art/political & religious protest, he flung the car door open and snapped a picture, quickly. We were uncertain as to who exactly owned or took care of it, and weren't about to hang around and find out.
Basically, the signs above the puppets' heads read: [Tin Can Baby] [Test Tube Baby] [somethingsomethingsomething] [JUST SAY NO]. Shaking our heads, we bid our farewells to Saxapahaw and its inhabitants, and headed back towards Chapel Hill.
---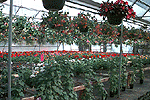 [right] On our way out of town, there were signs for a greenhouse a few miles off the beaten path. Agreeing that it was a perfect day to go plant-shopping, we rumbled down a gravel road to arrive at a nursery which, oddly enough, I had visited in much the same manner about two years ago.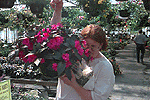 We poked around for a good half an hour or so, looking at the multitudes of herbs, flowers, succulents, trees, gardening accessories and such-like that they had for sale. I took a look at some hanging baskets but finally decided on a fern (to replace the fern that my mother had disposed of a year earlier, ironically purchased from the same place). [left]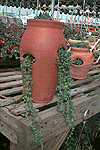 Michael was sold on this plant because it is in a piece of pottery made in Russia. The plants themselves are cool too -- some variant of succulent/cactus-family plant on top and a neat-looking and -feeling plant commonly known as "string of pearls" coming out of the sides. [right]
If you're interested in contact information for Spring Meadow Greenhouses, I scanned their business card.

---
To Get There
Coming from Chapel Hill:
Take Route 54 West for about 10 miles. You will pass through the community of White Cross, almost to the Orange County border. At the intersection with the Inn at Bingham School there will be a sign that says "Saxapahaw" with an arrow pointing left. Take that left. You'll go through more houses and fields and farmlands, then after about another 5-8 miles you will enter the city limits of Saxapahaw.

All in all, the route itself is very scenic, and there are many picturesque houses along the way. Recommended as a sojourn out of Chapel Hill, or a half-day trip.
---
I received an email from Bob Knauff about a book he is writing for the Haw River Historical Association called Fabric of a Community: The Story of Haw River, North Carolina. The book itself "is 96 pages long and contains 102 photographs. Anyone who would like information can check the page above, call 910-578-4467, or send him email (use the link above or write: rknauff@aol.com).
---
return to the virtual north carolina exhibit | heliocentric information pages for north carolina