The Andaman Islands and Nicobar Islands are located in the northeastern corner of the Indian Ocean. Together they form an arc between Myanmar (Burma) and Sumatra, separating the Bay of Bengal on the west from the Andaman Sea on the east. There are some 550 islands in all, but only 26 are large enough to be inhabited. The Andamans are in the northern part of the arc and the Nicobars are to the south, the two groups being separated by a broad passage called the Ten Degree Channel.
Following failed attempts at colonization by Denmark, the islands were colonized by Britain during the mid 1800s and were administered as part of the British Empire of India. They were occupied by Japan during World War II (1942-45). When India became independent in 1947 the islands were organized as a union territory of the Republic of India. In 1974 the Andaman Islands and the Nicobar Islands became separate districts within the territory. In 2006 the Andaman Islands district was divided into two districts.
The great tsunami of 26 December 2004 caused heavy damage throughout the territory. In some areas, especially in the south, the damage was catastrophic, with heavy loss of life.
Aids to navigation in India are administered by the Directorate General of Lighthouses and Lightships (DGLL), an agency of the Ministry of Shipping. Lights on this page are maintained by the district office at Port Blair, the territorial capital.
ARLHS numbers are from the ARLHS World List of Lights. Admiralty numbers are from volume F of the Admiralty List of Lights & Fog Signals. U.S. NGA List numbers are from Publication 112.
General Sources
Port Blair District Aids to Navigation

Lighthouse information from DGLL, including photos for most of the lighthouses.
Photos by various photographers available from Lightphotos.net.
Coming soon: photos by various photographers posted by Alexander Trabas.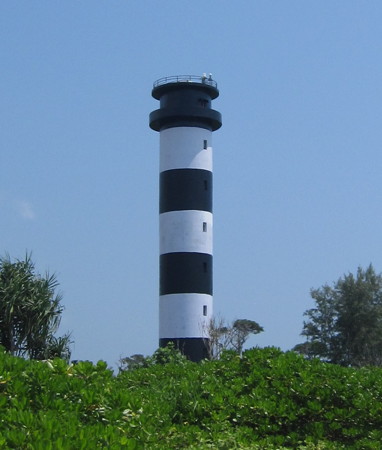 Little Andaman Island Light, Little Andaman, March 2011
Panoramio photo copyright RafaNosh; permission requested