The continent of Antarctica has no permanent population, but it has nearly 70 scientific stations, many of them staffed year round. A few of these stations are visited fairly regularly by adventure cruise ships. The more accessible stations are all located in the region south of Cape Horn (Chile), where the Antarctic Peninsula and South Shetland Islands extend well to the north into waters that can be navigated safely during the summer. This region is claimed by Argentina, Chile, and the United Kingdom. Under the Antarctic Treaty of 1959 these claims are suspended indefinitely, and all lands south of latitude 60°S are set aside as a scientific and wildlife reserve.
In the Lighthouse Directory, navigational beacons are considered to be lighthouses if they have a height of at least 4 meters and a footprint of at least 4 square meters. By this standard, Antarctica has no lighthouses. However, this page lists a number of taller beacons that approach lighthouse status. Several of these lights have been described as "the world's southernmost lighthouse." For the record, the southernmost navigational light listed by NGA is a small beacon at the Argentine station of San Martín, near the base of the Antarctic Peninsula at 68°11.8'S. This is considerably farther south than the lights listed here.
There may well be other lights in the Antarctic that should be listed here; photos would be welcome.
Lights in the Antarctic probably operate only when ships are expected.
ARLHS numbers are from the ARLHS World List of Lights. Admiralty numbers are from volume G of the Admiralty List of Lights & Fog Signals. U.S. NGA List numbers are from Publications 110 for the South Orkney Islands and 111 for the South Shetland Islands and Antarctica.
General Sources

Photos by various photographers posted by Alexander Trabas; includes pages for the South Orkney Islands, the South Shetland Islands and for Antarctica.
Photos by various photographers available from Wikimedia.
Photos by various photographers available from Lightphotos.net.
Official Argentine Navy lighthouse site, with data and small photos.
Photos and brief historical accounts for Argentine lighthouses.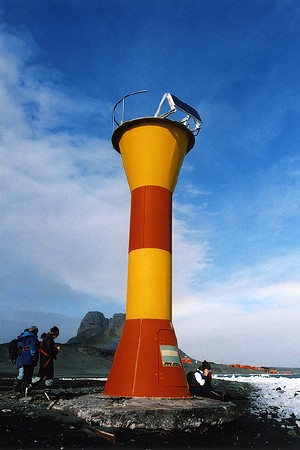 Potter's Bay Light, King George Island, February 2005
anonymous Creative Commons photo
(no longer online)