The Cape Verde Islands are a group of volcanic islands located in the Atlantic roughly 700 km (430 mi) west northwest of Cape Verde, the westernmost point of the African continent. There are eight major islands and a number of smaller ones, all featuring rugged scenery. These islands were uninhabited until they were discovered and settled by Portuguese explorers in the 1400s. After 500 years as a Portuguese colony the islands became independent as the Republic of Cape Verde in 1975.
The islands are arranged in two lines converging toward the east. The southern group is the Ilhas de Sotavento (Leeward Islands) and the northern group is the Ilhas de Barlavento (Windward Islands).
The languages spoken in the islands include Portuguese and a local creole language. The Portuguese word for a lighthouse is farol, plural faróis; a small lightbeacon is often called a farolim. In Portuguese ilha is an island, ilhéu is an islet, cabo is a cape, ponta is a promontory or point of land, rocha is a rock, recife is a reef, baía is a bay, estreito is a strait, rio is a river, and porto is a port or harbor.
Aids to navigation in Cape Verde are operated by the Instituto Marítimo Portuário (IMP).
Special thanks to Harm Carrette, who visited six of the islands in early 2019 and shared his observations and photos.
ARLHS numbers are from the ARLHS World List of Lights. PT numbers are from the IMP list; these are certainly the original Portuguese light list numbers. Admiralty numbers are from volume D of the Admiralty List of Lights & Fog Signals. U.S. NGA List numbers are from Publication 113.
General Sources

Articles on the Portuguese edition of Wikipedia, most with photos.
Photos by various photographers posted by Alexander Trabas. Photos for Cape Verde are by Thomas Philipp, Eckhard Meyer, and Douglas Cameron.
Photos by various photographers available from Wikimedia.
Photos by various photographers available from Lightphotos.net.
Postcards from the collection of Klaus Huelse.
Navigation chart for the islands.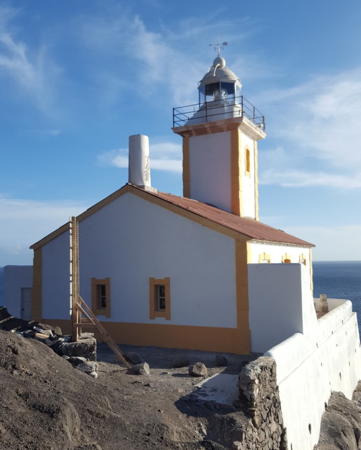 Dona Amélia (Ponta Machado) Light, São Vicente, February 2019
contributed photo copyright Harm Carrette; used by permission.