Most of Italy occupies a long peninsula in the Mediterranean Sea, with the Adriatic and Ionian Seas on the east and the Ligurian and Tyrrhenian Seas to the west; the country also includes the Mediterranean's two largest islands, Sicily and Sardinia, and many smaller islands. With this geography Italy has a very long coastline reckoned by geographers at about 7600 km (4722 mi). Guarding this coast are many lighthouses; the Directory lists more than 400.
Italy is divided into 20 regions (regioni), many of them well known outside the country in their own right. The region of Calabria is the "toe" of the Italian boot, located in the south of the country northeast of the island of Sicily. Basilicata (or Lucania) is the adjoining region to the north, more or less in the "arch" of the boot. Historically Calabria and Basilicata were ruled for many years by the Kings of Naples, monarchs of the House of Bourbon. In 1816, following the Napoleonic wars, Calabria and Basilicata were included with Campania (Naples) and Sicily in the Bourbon state known as the Kingdom of the Two Sicilies. During Italy's unification the Kingdom of the Two Sicilies was conquered by Sardinia in 1860-61 and incorporated in the new Kingdom of Italy in 1861.
Calabria has a long coastline facing the Tyrrhenian Sea to the west, the Ionian Sea to the southeast, and the Gulf of Otranto to the northeast. Basilicata is mostly an inland region, with very short coastlines on the Tyrrhenian Sea and Gulf of Otranto.
The Italian word for a lighthouse is faro, plural fari. This name is usually reserved for the larger coastal lights; smaller beacons are called fanali. In Italian isola is an island, isolotto is an islet, secca is a shoal, cabo is a cape, punta is a point of land, baia is a bay, stretto is a strait, fiume is a river, and porto is a harbor.
Aids to navigation in Italy are operated and maintained by the Italian Navy's Servizio dei Fari e del Segnalamento Marittimo (Lighthouse and Maritime Signal Service). Lighthouse properties are naval reservations, generally fenced and closed to the public.
ARLHS numbers are from the ARLHS World List of Lights. EF numbers are from the Italian Navy's light list, Elenco Fari. Admiralty numbers are from volume E of the Admiralty List of Lights & Fog Signals. U.S. NGA List numbers are from Publication 113.
General Sources

Lighthouse information from the Italian Navy's Servizio dei Fari.
Photos by various photographers posted by Alexander Trabas. For this region many of the photos are by Capt. Peter Mosselberger ("Capt. Peter").
Aerial photos posted by Marinas.com.
Photos by various photographers available from Wikimedia.
Photos by various photographers available from Lightphotos.net.
Historic postcard images posted by Klaus Huelse.
Navigational chart information for southern Italy.
Navigational chart information for Calabria.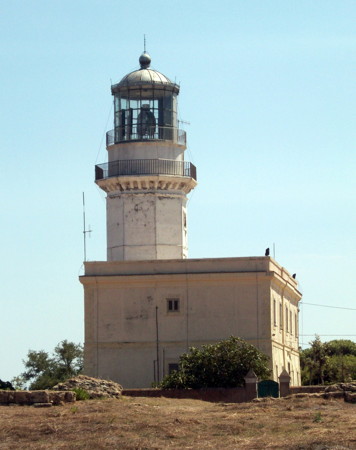 Capo Colonne Light, Crotone, August 2009
Flickr Creative Commons photo by Revol Web