This page includes lighthouses of two small territories, one of France and one of the Netherlands, located in the Leeward Islands at the northeastern corner of the Caribbean Sea. Saint-Martin is unique among Caribbean islands in having been divided between two colonial powers. Since 1648 France has occupied the northern portion of the island (roughly 3/5 of the whole), while the Netherlands has occupied the southern portion, known as Sint Maarten. Marigot is the capital and largest town of French St.-Martin, and Philipsburg is the capital and largest town of Sint Maarten.
The two French territories of St.-Martin and St.-Barthélemy were formerly governed as dependencies of the larger island of Guadeloupe, but since 2007 they have reported separately to Paris as collectivités of France. The Dutch territory of Sint Maarten was attached administratively to the Netherlands Antilles for many years, but in October 2010 it became a separate state, a "constituent country" of the Kingdom of the Netherlands.
Saint Martin was heavily damaged by Hurricane Irma in September 2017.
Most of the lighthouses of the Lesser Antilles are very poorly known, so information about them would be welcome, and photos are especially welcome.
ARLHS numbers are from the ARLHS World List of Lights. Admiralty numbers are from volume J of the Admiralty List of Lights & Fog Signals. U.S. NGA numbers are from Publication 110.
General Sources

Photos by various photographers posted by Alexander Trabas.
Photos by various photographers available from Lightphotos.net.


Saint-Martin Lighthouse

* Marigot

Date unknown. Active; focal plane 20 m (66 ft); flash every 4 s, white, green or red depending on direction. 10 m (33 ft) round conical tower painted white. No lantern. Rosalie Beasley's photo is at right, Roger Theriault has a photo, another closeup photo is available, Trabas has a view by Arno Siering, and Bing has a satellite view. Located across the road from the base of the breakwater mole of the harbor of Marigot, the principal town of the French portion of the island of Saint-Martin, on the northwestern coast of the island. Site open, tower closed. ARLHS STM-001; Admiralty J5658; NGA 14732.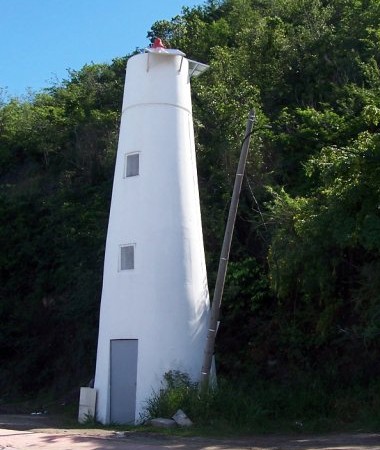 Marigot Light, St.-Martin, January 2010
photo copyright Rosalie Beasley; used by permission