Monaco is an independent principality wedged into the French Côte d'Azur about halfway between Nice and the Italian border. The total area is 188 hectares (465 acres) and the permanent population is less than 35,000. Independent for many centuries, the tiny country was briefly annexed by France during the Revolutionary period (1793-1815), but then regained its independence under the protection of the King of Sardinia. When the surrounding county of Nice was transferred from Sardinia to France in 1860, a special treaty was signed affirming Monaco's continued independence.
Monaco has 4.1 km (2.5 mi) of Mediterranean frontage and two harbors, the Port d'Hercule (Port de Monaco) at Monte Carlo and the Port de Fontvieille a short distance to the south. Aids to navigation are presumably operated by the port authority, Ports de Monaco. In 2005, Monaco began a harbor expansion project at the Port d'Hercule requiring removal of the old breakwaters and their lighthouses. The government declined to consider any suggestions that the lighthouses be relocated or preserved, regarding them as obsolete. For lighthouse fans, this was a heartbreaking loss.
The French word for a lighthouse, phare, is usually reserved for the larger coastal lighthouses; a smaller light or harbor light is called a feu (literally "fire," but here meaning "light").
ARLHS numbers are from the ARLHS World List of Lights. Admiralty numbers are from volume E of the Admiralty List of Lights & Fog Signals. U.S. NGA List numbers are from Publication 113.
General Sources

Photos of European lighthouses collected by Alain Guyomard and Robert Carceller.
Photos by various photographers posted by Alexander Trabas.
Photos by various photographers available from Lightphotos.net.
Historic postcard views posted by Klaus Huelse.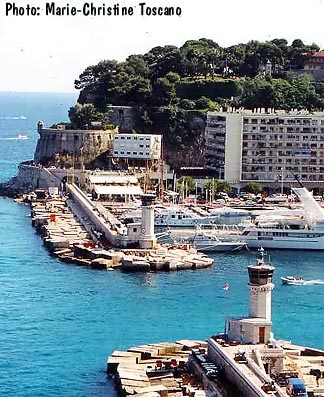 The lost lighthouses of Monte Carlo, looking south
photo by Marie-Christine Toscano
courtesy of Le Phare à Travers le Monde,
posted by Alain Guyomard and Robert Carceller