Madeira is a group of islands located in the eastern Atlantic Ocean about 870 km (540 mi) southwest of Lisbon, Portugal and about 580 km (360 mi) west of the coast of Morocco. The group includes one large island, the Ilha de Madeira, and a number of smaller islands. The islands were visited by Roman sailors and perhaps by the Phoeniceans, but there was no regular contact with Europe until Madeira was rediscovered and named by Portuguese navigators in 1418. The islands have been Portuguese ever since. In 1974 they became an autonomous region of Portugal. With a population of about 290,000, the islands are a very popular year-round resort, especially for Europeans, as well as a popular stop for cruise ships.
The Portuguese word for a lighthouse is farol, plural faróis; a small lightbeacon is often called a farolim. In Portuguese ilha is an island, ilhéu is an islet, cabo is a cape, ponta is a promontory or point of land, rocha is a rock, recife is a reef, baía is a bay, estreito is a strait, rio is a river, and porto is a port or harbor.
Formerly owned by the Navy, the lighthouses in Portugal are now operated by the Lighthouse Directorate (Direção de Faróis), an agency of the National Maritime Authority (Autoridade Marítima Nacional).
ARLHS numbers are from the ARLHS World List of Lights. PT numbers are from the Lista de Faróis published by the Portuguese lighthouse directorate. Admiralty numbers are from volume D of the Admiralty List of Lights & Fog Signals. U.S. NGA List numbers are from Publication 113.
Lighthouse information from the Direção de Faróis.
Photos by various photographers posted by Alexander Trabas. Rainer Arndt, Carlos Maria Silvano, Werner Seiler and Helmut Seger contributed photos for Madeira.
This Portuguese Wikipedia page links to articles on the country's lighthouses. The Madeira lighthouse photos are also available in Wikimedia's Lighthouses in Madeira category.
Photos by various photographers available from Lightphotos.net.
Historic postcard images collected by Klaus Huelse.
Navigational chart for Madeira.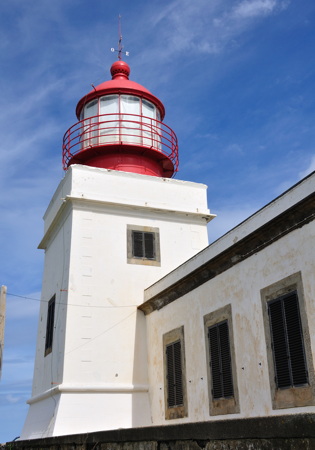 Ponta do Pargo Light, Madeira, March 2010
Flickr Creative Commons photo by Hansueli Krapf