One of the largest of the South Pacific countries, New Caledonia is an island chain located roughly 1600 km (1000 mi) east northeast of Australia. It was named in 1774 by the British explorer Capt. James Cook, but it has been a French territory since 1853. Residents rejected independence in a 1987 referendum and also in a new referendum in November 2018. It is possible that the name of the country will be changed, although there is no agreement yet on a new name.
During World War II New Caledonia served as a base for Allied operations against Japanese forces in the southwest Pacific.
The country consists of one large island, called Grand Terre, and many smaller islands, including the Îles des Pins to the southeast and the Îles Loyauté to the northeast. Grand Terre is oriented northwest to southeast, with the capital Nouméa on the west side near the southeastern end.
For lighthouse fans, New Caledonia boasts one of the world's tallest cast iron towers, the Phare Amédée shown at right. There are also a number of smaller lighthouses, which are much less well known.
The French word for a lighthouse is phare, but feu (fire) is used for smaller lightbeacons. The lighthouses of New Caledonia are managed by the Service des Phares et Balises.
ARLHS numbers are from the ARLHS World List of Lights. Admiralty numbers are from volume K of the Admiralty List of Lights & Fog Signals. U.S. NGA List numbers are from Publication 111.
General Sources

Web site for the aids to navigation service in New Caledonia.
Photos by various photographers available from Wikimedia.
Photos by various photographers available from Lightphotos.net.
Photos by various photographers posted by Alexander Trabas. Most of the New Caledonia photos are by Rainer Arndt.
Historic postcard images posted by Klaus Huelse.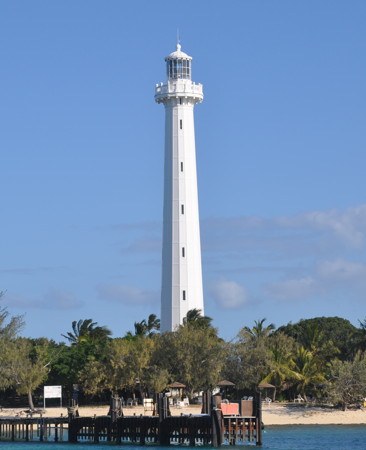 Phare Amédée, Le Mont-Dore, November 2009
Wikimedia Creative Commons photo by Eustaquio Santimano