For most of its history, Korea was an independent kingdom, or at least an autonomous kingdom under Chinese influence. In 1910 Japan annexed all of Korea. At the end of World War II in 1945 the 38° parallel was established as the dividing line between U.S. and Soviet zones of occupation, and in 1948 separate civil administrations were established in the two halves of the country. The Korean War (1950-53) ended in a draw, with the armistice line falling close to the prewar 38° line. The northern half of Korea became the Democratic People's Republic of Korea (DPRK), commonly known as North Korea, a reclusive Communist state that bars all but a few carefully selected foreigners.
As a result of this history and the current political situation, there is very little information available on the lighthouses of North Korea. Fortunately, lighthouses have been a favorite subject for DPRK postage stamps, and these stamps provide images of some of the lighthouses. Also, satellite imagery confirms the presence of many lighthouses.
North Korea has two coastlines; the east coast faces the East Sea (Sea of Japan) and the west coast faces the Yellow Sea and Korea Bay. This page covers lighthouses of the east coast, and there is a separate page for the lighthouses of the west coast.
In Korean, the word for a lighthouse is deungdae (등대); dan is a cape and do is an island. It is worth noting that the romanization system used in North Korea differs from the Revised Romanization system used in South Korea.
ARLHS numbers are from the ARLHS World List of Lights. Admiralty numbers are from volume M of the Admiralty List of Lights & Fog Signals. U.S. NGA List numbers are from Publication 112.
General Sources

Coming soon: photos by various photographers posted by Alexander Trabas.
Postage stamp images posted by Klaus Huelse.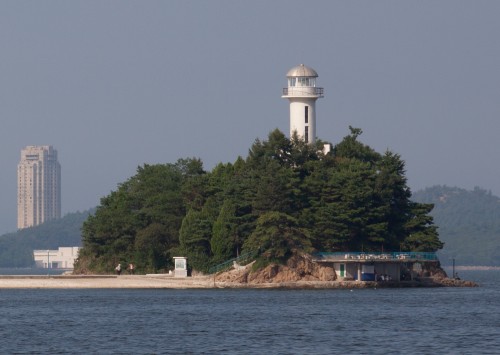 Changdok Do Light, Wonsan, August 2010
Flickr photo copyright Thomas Peddle; used by permission