Russia has an extensive network of inland waterways. The Volga River, Europe's longest river, forms the backbone of this system as it drains southward into the landlocked Caspian Sea. The lower portion of the river is connected to the Don River and the Black Sea by the Volga-Don Canal, while the Volga-Baltic Waterway connects the upper part of the river to St. Petersburg (via Lakes Onega and Ladoga) and to the White Sea and Arctic Ocean (via Lake Onega and the White Sea-Baltic Sea Canal). In addition, the Moscow Canal connects the river to the Moscow River and the national capital.
The Caspian Sea is the world's largest lake, with a length of about 1100 km (700 mi). It receives the waters of the Volga and Ural Rivers and many smaller streams, but it has no outlet to the ocean. Russia has only about one fourth of the shoreline of the Caspian.
During the Soviet era, more than a dozen lighthouses were built in Russia and in the Soviet republics of Azerbaijan, Kazakhstan, and Turkmenistan, which are now independent. The Caspian lights definitely had a navigational purpose, and many of them remain in use. These lighthouses, like the Ostrov Chechen' Light at right, are among the least well known major lighthouses in the world.
In the Soviet Union, all lighthouses were closed to foreign visitors. Since the breakup of the Soviet empire, conditions have become much more free, and many of the lighthouses listed on this page are accessible to visitors.
The Russian word for a lighthouse is mayak (маяк); mys (мыс) is a cape and ostrov (остров) is an island. Since aids to navigation on inland waterways such as the Caspian Sea are not listed on international light lists, we have very little information about them. More information certainly would be welcomed. Aids to navigation on the inland waterwaysof Russia are presumably maintained by the River Transport division of the Marine Board.
ARLHS numbers are from the ARLHS World List of Lights.
General Sources

Photos by various photographers available from Lightphotos.net.
Photos by various photographers available from Wikimedia.
Nothing here yet, but hopefully this webmaster will be adding information on the lighthouses.
Historic postcard images posted by Klaus Huelse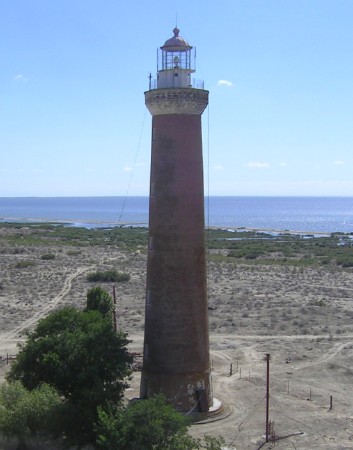 Ostrov Chechen' Light, Caspian Sea, August 2005
Panoramio Creative Commons photo by Nick Yakovlev