Through its outlet to the Mediterranean, the Black Sea has long provided a southern maritime connection for Russia. However, the history of Russia's control of the Black Sea coast is complex. Following the breakup of the Soviet Union in 1991 and Russia's annexation of Crimea in 2014 the Russian Black Sea coast is now in two sections separated by the Kerch Strait. This page covers the eastern section, including the Krasnodar and Rostov provinces of the Russian Federation. There is a separate page for Crimea.
Between the two sections, the Kerch Strait connects the Black Sea to the much smaller basin of the Sea of Azov. At the northeastern corner of the Sea of Azov, Taganrog Bay extends eastward to the delta of the Don River. Russian territory includes about 3/4 of the coast of Taganrog Bay, the eastern and southern shores of the Sea of Azov, the east side of the Strait of Kerch, and a section of the northeastern coast of the Black Sea proper about 300 km (190 mi) long, extending from the Kerch Strait to the border with Abkhazia. The principal ports in this region are Taganrog city on Taganrog Bay and Novorossisk on the northeastern Black Sea; a third major port is under development at Taman on the Kerch Strait. In addition, from this coast there is an important connection through the lower Don River and the Volga-Don Canal to Russia's vast inland waterway system.
In the Soviet Union, all lighthouses were closed to foreign visitors. Since the breakup of the Soviet empire, conditions have become much more free, and most of the lighthouses in this region are accessible to visitors. Some of the towers may be open, and better information on accessibility is needed. Photos and visitor reports would be welcome.
Russian lighthouses are owned and operated by the Russian Navy, although some of them have civilian keepers. The Russian word for a lighthouse is mayak (маяк); mys (мыс) is a cape and ostrov (остров) is an island.
ARLHS numbers are from the ARLHS World List of Lights. RU numbers, where available, are from the Russian Black Sea light list (publication 2217). Admiralty numbers are from volume N of the Admiralty List of Lights & Fog Signals and U.S. NGA List numbers are from Publication 113.
General Sources

Photos by various photographers available from Wikimedia.
Photos by various photographers available from Lightphotos.net.
Photos by various photographers posted by Alexander Trabas.
Historic postcard images posted by Klaus Huelse.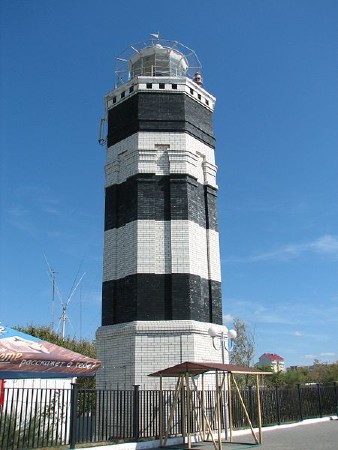 Anapa Light, Anapa, September 2007
Wikimedia Creative Commons photo by Artem Topchiy