Pig Pickins
615 Deacon Boulevard
Winston-Salem, NC 27105
(910) 777-0105
Located across the street from the coliseum, Pig Pickins is a bit commercial for a barbecue joint. But they make some tasty barbecue. And, their hush puppies are outta sight!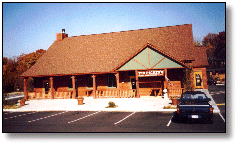 The owner learned how to make barbecue from his father, Nick Carros, the owner of Mr. Barbecue. The son's barbecue, made with shoulders only, is a bit less smokey and the dip is a tad spicier than his dad's. The barbecue at both places is great, however.

Log Burner