Red Hot & Blue
100E Colonades Way
Cary, North Carolina 27511
(919) 851-2282
This establishment is - if you will only allow yourself to keep an open mind about such things - a yuppie barbecue joint! It is located on an outparcel of an upscale shopping center in Cary (Concentrated Area of Relocated Yankees), North Carolina. Not a single Harley Hog has ever graced the parking lot, and pickup trucks are rarities. Inside, the sounds of Memphis blues fill the air, and the walls are covered with the memorabilia of B.B. King, Koko Taylor, "Gatemouth" Brown, Albert Collins and hundreds of other noted blues performers. They are even open on Sundays!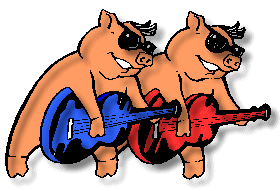 What the folks at Red Hot & Blue admit to serving is "Memphis Pit Bar-B-Cue". Indeed, the pigs in their logo play guitars. Pork and beef both can be found on the menu. Their "MoJo" (regular) and "Hoochie Coochie" (hot) finishing sauces are definitely from west of the Applachians. By all rights, that alone should be enough to eliminate them from this list of barbecue joints. But wait! Order up a Jumbo pulled-pork sandwich. They will serve it up on a huge "cheap", white bun and will put slaw on it without you even having to ask. Take a bite and and you may well forget where you are. The pulled pork is cooked slowly in fancy stainless steel " pits" heated with electricity produced at a nuclear power plant just down the road. In the back of each pit is a little hearth on which small quantities of hickory wood are burned to produce the smoke that fills the interior the machines. It ain't exactly traditional, but the results are awfully good! How good? Splash on some finishing sauce from Short Sugar's, and the pulled pork is every bit as good as that from a three- or four-bottle joint. Hey, even a blind hog will find an acorn every once in a while.

Barbecue for the Masses