Klose "Owner Recommended" Backyard Smoker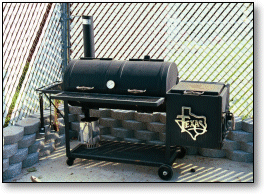 Roy Young's horizontal cooker was manufactured by Dave Klose.



"I have a Klose two door, back yard bbq smoker. In spite of Mr. Klose's claim that you can take it with you to the beach or a family reunion ..... forget it, it weighs over 700 lbs. Takes two men and a boy to move it, let alone lift it into a pickup truck.

The smoker is constructed of 1/4 inch steel. The smoking area is large enough for 3 briskets, a turkey, ribs, sausage, etc. It is 20" in diameter by 42" inches long with a 20" X 20" fire box. Has limited table space around the smoking area and if you want to grill all you do is open the lid to the fire box. You have five adjustable levels in the fire box for any type of grilling.

I love this smoker ..... it maintains an even temperature regardless of the weather. Being raised on Western type bbq, I like the taste of smoked meat .... however, since I moved to the East, I have grown fond of Carolina Q as well.

I should of have ordered the one door model .... I thought the two door model looked cool, but I found out the strip of metal between the door is a pain with larger pieces of meat during the cooking process. Also, I thought the size I bought was big enough for our use, but I am sorry I didn't buy the Back Yard Chef, that has the upright smoking box as well. I like Belly's Klose unit, but without the trailer.

I generally fire up with charcoal and then add wood for smoke. Living where I do prevents me from operating a burn barrel and shoveling coals. If I had it to do over again I would build me a version of Wilbur D. Hog. "