Great barbecue can be prepared with nothing more than meat suspended on a framework of sticks over a bed of coals on the open ground. That's the way the Caribbean natives who gave barbecue its name did it. An enclosure of some sort, however, makes the cooking process a bit easier and more reliable. A Weber kettle grill with coals banked to one side will do. Folks have found any number of ingenious ways to turn oil drums into barbecue cooking machines. And, these days a plethora of commercially-built smokers are available for purchase at your local Home Depot or Walmart. But, the ultimate is your very own backyard barbecue pit. Here's one way to make your very own!



The "Wilber D. Hog" Pit


First Fire
December 27, 1997

Design & Construction
Design Considerations
Bill of Materials
Construction Log
Things To Do Differently Next Time

Next Time!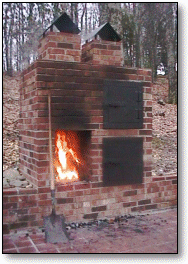 Sidney R. Pig, Wilber's Fraternal Twin Brother

Cooking With Wilber
North Carolina Pulled Pork Barbecue


Photography



Albums

Construction
Foundation
Floors & Walls
Doors
Ceilings & Chimneys
Hearth & Pit Cavity
Brick Cleaning

Cooking
"It Don't Get No Better Than This " Barbecue Shoulder
Wilber's First Turkey
Wilber's First Beef Ribs
Wilber's First Pork Ribs
Wilber's First Boston Butt
SuperBowl XXXII Shoulders & Wings
Wilber's First Beef Brisket
Willingham Pork Ribs
Wilber's First Shad
Dave's "Slap Your Momma" Beef Ribs
Wilber's First Front Pork Quarter
A Pair of Barbecue Shoulders
Labor Day Butts
Wilberfest 98
Leg of Lamb
Christmas Ham
Rocky Q
A Pair of Picnics
Wilber in the Winter
Deer Hams in Sidney

Critters, Etc.
Beauregardless
Wilber D. Hog
Cupig
Wilber's Flower Garden
Easter Pig
"Cool" Wilber, Summer 1998
Wilma, Wilber's New Girlfriend
Tire-Bouchon



Dave with a well-seasoned Wilber in operation.
January 4, 1998