The Firewood


Hickory is the traditional wood of Southern barbecue. Oak is perhaps most commonly used. The milder white oak is better than the heavier flavored blackjack and red oaks. A mixture of hickory and oak is a superb choice. Pecan, when you can get it, is the Cadillac of barbecuing woods, and walnut also makes a great fuel.

A pile of aged hickory is ideal for making coals.
Many fine barbecue joints use green wood. The sap and moisture in newly cut wood, unfortunately, yields a strong tasting smoke. Accordingly, wood that has been aged for up to a year will generally produce the best smoke for making barbecue over live coals.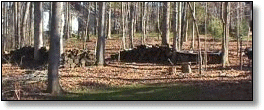 Wilber's "grocery store" contains hickory, pecan, dogwood, and oak wood.
All other fuels -- especially that great bane of barbecue, gas -- are unsuitable for use in making pulled pork barbecue.

Back Next