Master Drummer Khalid Saleem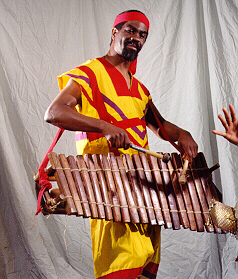 KHALID ABDUL N'FALY SALEEM is a performer, a teacher, a consultant-arranger and an instrument maker. Khalid has been sharing his well-honed craft for over 30 years and is highly respected by artists and audiences around the world. His domestic performance credits include membership in the Chuck Davis Dance Company and later, a 10-year stint as music director with the African American Dance Ensemble. This affiliation took Khalid to venues coast to coast such as the Kennedy Center, the Brooklyn Academy of Music and numerous theaters and festivals. He has toured with the storyteller Malaya of Griot Society, and with Babatunde Olatunji at the National Black Arts Festival. He is the artistic director of Rhythms of Life Music Ensemble which has recently released a compilation of original and traditional compositions.
Internationally, Khalid has performed in London with the Big Drum Dance Company; in Greece, Italy, Norway and Yugoslavia with the Chuck Davis Dance Company; and in West Africa with Rosemary Guiraud. Khalid toured Mexico with the Ron Roach African and Caribbean Dance Ensemble, shaping presentations as music director. He has also toured Calgary, Canada, and Tokyo, Japan presenting workshops and master classes. He has lived, worked and studied in the Ivory Coast, and has also worked and studied with Titos Sompa of Zaire, Les Ballets Africains and Ladji Camara of Guinea, West Africa.
Khalid was an ongoing faculty member at Duke University from 1982 through 1994. He has been a long time accompanist at the American Dance Festival at Duke University where he plays for African and Modern dance classes. In April 1996, Khalid arranged a 200-drum orchestra for Durham, North Carolina's Earth Day celebration, Unity in the Community, with his ensemble The Drum as One. It is with this group which he has been commissioned to return to arrange the 50-piece percussion orchestra for Durham's Museum of Life and Science. He is currently the music director of Sankofa and an assistant professor of African Music/Drumming at SUNY College at Brockport.
NC Percussion
My Page
ibiblio

Last Modified: July 19, 2004       Mary Overby