Mary A. Overby
mao@ibiblio.org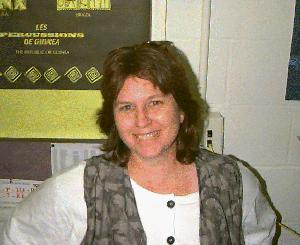 I work as computer consultant in Chapel Hill, North Carolina. Previously, I worked for webslingerZ, Inc. and the University of North Carolina at Chapel Hill doing project management, database development and computer programming. I've been publishing and developing database applications on the web since February 1994.
I play drums for fun, mostly Afro-Cuban and West African rhythms. I have studied with Beverly Botsford, Khalid Saleem, Bradley Simmons and Mamady Keita. I traveled to Cuba to study rumba with Los Munequitos de Matanzas in 1994 and with AfroCuba de Matanzas in 2001. In 2004, I spent a month in Salvador, Bahia, Brazil volunteering with Cross Cultural Solutions and studying Brazilian music. I play the tamborim in the Carolina Samba School directed by Brazilian Eduardo DeSouza.

 ¡Cuba!      

was one of the first websites about Cuba, featuring Cuban musicians; pictures of Cuban people and places; and links to other information about Cuba.

and Vertical Gallery contain photos from the studio of artist Manuel Moinelo Pineiro in Matanzas, Cuba, taken by Mary Overby in 2001 on a trip with percussionist Carol Steele and Steelina Productions.

includes the Cuban Musician's Photo Gallery with photos from Cuba taken in 2001; links to related pages about cuban musicians; and other collections of photos from Cuba by the author.

a collection of photographs from my trip to Cuba with Carribean Music and Dance in December 1994.
---
| | |
| --- | --- |
| Established: February 1994 | Modified: June 13, 2004 |