MILLER EVENTS
Scroll down to view Calls for papers, Conferences and panels, Current productions,
and Special events, as well as links to archives for past events.
We would appreciate it if you could send us any current information for the following categories to make them as detailed as possible; include past, current and future events so that people can use this as an archive. Send information to webmaster
Sue Abbotson
. We try to keep only upcoming events on this page--but you can link in each section to archive pages for information on past conference papers, productions and events.
N.B. For information on the Arthur Miller Journal--including how to subscribe and content lists for
previously published isssues, go to the Journal website.

The Arthur Miller Theater at the University of Michigan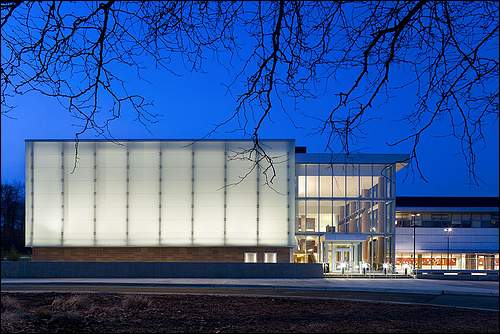 Calls For Papers:

The Arthur Miller Society is always looking for anyone who would like to organize Miller panels at conferences, such as ALA, SAMLA, NEMLA, CDC, American Studies, ASTR or ATHE--please contact our current President, Paula Langteau, with proposals/details.

During Arthur Miller's 2015 centennial year, the expectation is that conferences, theaters
and publishers will be especially interested in engaging with Miller material,
and so we encourage you to share any plans for celebrations,
publications or productions with the society that we can help to publicize,
or solicit us for ideas/assistance.
Ongoing CFP:
Arthur Miller Journal
Looking for papers on any aspect of the life and work of Arthur Miller for the
Arthur Miller Journal
which is published Spring and Fall. Go to the
Journal
page for more detail regarding submissions, subscriptions, contact e-mails for the various editors, and for contents of past volumes. You can make a submission to the Journal of an essay, performance review, or book review, as well as offer material for the notes section--directly at this
website
. If a Miller play is being produced in your area (check the listings below)--please attend and upload your review through the above link (website).
Hungarian Journal of English and American Studies
published near the close of 2006 a special Arthur Miller Edition: Volume 11, Number 2 (2005): ISSN: 12 18-7364 that contains several new essays on Miller's work--see details in the archive link below for
Special Events/News/Releases 2007
regarding how to order yourself a copy. The Journal is meanwhile looking for further submissions: Manuscripts should conform to the latest edition of the MLA Handbook in all matters of style (parenthetical citations keyed to a works-cited list). Contributions on history should conform to the latest edition of the Chicago Manual of Style. All submissions should be sent together with a disk copy of the article in Word 95 for Windows. All correspondence should be addressed to the Editor, HJEAS, University of Debrecen, Pf. 73, Hungary 4010; e-mail:
abnagyzo@delfin.unideb.hu
JCDE: Journal of Contemporary Drama in English,

published by
De Gruyter (Berlin/Boston) http://www.degruyter.com/view/j/jcde
A bi-annual, peer-reviewed journal that focuses on contemporary Anglophone dramatic literature and theatreperformance. It renegotiates the understanding of contemporary aesthetics of drama and theatre by treating dramatic texts of the last fifty years, and welcomes essays on the work of Arthur Miller.
Essays should be no longer than 8,000 words (including notes and bibliography) and should be
formatted according to MLA style (7th edition, 2009.

ESSAY CONTRIBUTIONS should be sent to: Prof. Dr. Martin Middeke, Chair of English Literature, University of Augsburg, Universitaetsstraße 10, D-86159 Augsburg, Germany.

EMAIL: martin.middeke@phil.uni-augsburg.de
SUGGESTIONS FOR REVIEWS should be sent to: Prof. Dr. Christina Wald, Humboldt Universität zu Berlin, Philosophische Fakultät II, Institut für Anglistik und Amerikanistik, Unter den Linden 6, D-10099 Berlin, Germany.
EMAIL: christina.wald@hu-berlin.de


The

Journal of American Drama and Theatre

-- a fully online and peer-reviewed journal -- is currently seeking submissions for upcoming issues. If you are working on an article related to theatre and/or drama of the Americas, consider submitting it to JADT. Full submission guidelines can be found here, and the current issue (guest-edited by ATDS) can be viewed here. Details of the next ATDS guest-edited and themed issue will be available soon!



CFP and other scholarly opportunities with Deadlines:

International Arthur Miller Centennial Conference
University of Extremadura, Cáceres, Spain November 19-21, 2015
Deadline for proposals: September 30, 2015


Plenary speakers: Christopher Bigsby (Director of the Arthur Miller Centre for American Studies, University of East Anglia, UK, pending confirmation); Matthew Roudané (Georgia State University), Félix Martín Gutiérrez (Universidad Complutense de Madrid), and Ramón Espejo Romero (Universidad de Sevilla).



The Department of English of the University of Extremadura (Faculty of Arts and Letters) will host the International Arthur Miller Centennial Conference, in Cáceres, Spain on November 19-21, 2015.

The conference aims to provide a forum for academic reflection into any aspect of the life and works of Arthur Miller. We welcome contributions from a wide spectrum of critical perspectives on the playwright's prolific output of dramatic and non-dramatic works, spanning more than six decades. From the perspective of the 100th anniversary of his birth on October 17, 1915, Miller's role in American literature and culture and his significant contribution to the reshaping of American theatre will be reassessed.

This three-day conference will feature 4 plenary lectures, panels of concurrent paper sessions, 2 roundtable sessions, staged readings, and photographic and book exhibits.

Themes that could be addressed include, but are not restricted to:

 Miller's reception abroad: influence, affinities and translations into other languages.
 Miller's literary contemporaries
 The influence of European theater on Miller's drama
 The "seductive" influence of Miller's works on other American and European playwrights
 The lasting legacy of Miller and his connection to and influence on other playwrights
 Miller as a playwright/short story writer/novelist/essayist
 The staging and performance of Miller's plays in Europe
 The transposition of Miller's playscripts to the screen
 Fact and fiction in his plays
 Miller in Spain and Spain in Miller
 Intertextuality in Miller
 Linguistic/stylistic studies of Miller's plays
 The intersections of race, class and gender in Miller's plays
 Miller's politics and ideology
 Teaching Miller: Text, subtext and context
The official conference languages will be English and Spanish.
It is anticipated that selected papers from the conference will be published.
Click here to download a flyer with these details to offer to anyone you think may be interested.

Please send abstracts of no more than 250-300 words (in Microsoft Word or rtf formats) for proposed 20-minute papers by September 30, 2015, accompanied by a short biographical note not exceeding 150 words, institutional affiliation, and contact details to all the following emails.
Luis Girón Echevarría, Conference chair (luigiron@unex.es ; luisgironechevarria@gmail.com )
Bernardo Santano Moreno (santano@unex.es)
Ma Carmen Galván Malagón (mcgalvan@unex.es)
Diana Villanueva Romero (dvillanv@unex.es)


Notification of acceptance will be sent by October 7th.


For further information, please visit the Conference website (under construction) or contact the organizers (above).



The Travis Bogard




Artist in Residence Program at Tao House




Invites

Developing or established Playwrights,

Scholars or Critics in the Performing Arts




to apply for

a working retreat of up to a month

at the Eugene O'Neill National Historic Site, Danville, CA.




As a Tao House Fellow you will:




• work in the solitude and quiet of Tao House, in the creative atmosphere in which

America's only Nobel Prizewinning
playwright produced his masterpieces. (

N.B. Subject of

work need not relate to O'Neill

.)


• live offsite in comfortable, contemplative surroundings. Meals and local transportation

are provided.




• have access to the Tao House Research library holdings in American Theatre, which

include documents,
photographs and unique collections on O'Neill's life and work.
• select your preferred residence between May 1 & October 31, 2016.


Application deadline: November 30, 2015.


For full details and to apply, go to www.eugeneoneill.org.





Below are photographs of Mr. Miller from the 9th International Arthur Miller Conference, taken by Dr. Jeffrey Mason, University of Oregon.






Conferences and Panels:

(Link to AMS conference archive) (Link to ALA archive)



Members, especially, please make every effort possible to attend any conference panels with
papers on Miller and support the continuation of

Arthur Miller

scholarship.




The Arthur Miller Centennial

October 16-18, 2015

Sponsored by the Arthur Miller Society at St. Francis College, Brooklyn, New York

CFP is complete, and we shall announce a number of exciting panels and presentations once the conference program has been finalized (

coming soon

).

Conference Chair: Stephen Marino

The Arthur Miller Journal

St. Francis College

180 Remsen Street

Brooklyn, New York 11202

smarino@sfc.edu

Click

here

to get to the Registration site, or download the materials

here

: the preference is for online registration.

Click here to get a .pdf flyer you can post to help spread the word.


Department of Theatre & Drama, University of Michigan 100th Anniversary

ARTHUR MILLER SYMPOSIUM SCHEDULE




The symposium will be October 14th-16th, 2015 in Ann Arbor at the U of M Arthur Miller Theatre in the Walgreen Drama Center. The symposium events will be free and open to the public. The Anniversary events begin on Homecoming Weekend, October 8th-11th. For more information, see the U of M Department of Theatre & Drama 100th Anniversary

website.




October 14: Keynote address by Enoch Brater, the Kenneth T. Rowe Professor of Dramatic Literature and an international authority on Miller.


October 15: Panel discussion exploring our history as a department and Miller's interest in the University.


October 16: Distinguished U-M alumni and other prominent theatre, film, and television artists share their experiences in working on Miller's plays.











Outside the William Inge Theatre they have




planted a tree for each past Honoree of the




William Inge Festival Achievement Award




who has passed on.




The tree they planted in Miller's




memory right outside the




William Inge Theatre in




Independence, Kansas.




Here is the plaque at the base of the tree.



Current Stage Productions (Link to Archive)
A useful place to check for upcoming productions of plays is the DPS website, where you can search by the playwright to see which plays have been licensed through them for production (both professional and non-professional). The listings below, however, contain more details and generally more up-to-date information.

If you are looking for a Miller expert to provide a lecture, keynote, seminar or talkback in conjunction with a production, please contact us and we will try and put you in touch with any scholars in your area.


Productions During 2016

Death of a Salesman

4 June-2 Oct.by American Players Theatre, for Play in the Woods, 5950 Golf Course Road, Spring Green, WI. Call 608-588-2361 or check the website.


The Price

20 May-26 June by Melbourne Civic Theatre, 817 E Strawbridge Ave, Melbourne, FL. Call (321) 723-6935 or check the

website

.

Death of a Salesman

20 May-11 June by Live Arts Inc., 123 East Water St., Charlottesville, VA. Call (434) 977-4177 x123 or check the

website

.

Death of a Salesman

May-June of 2016 by New Theatre at South Miami-Dade Cultural Arts Center, 10950 SW 211th St., Cutler Bay, FL. Call 786-573-3500 or check the website.


Death of a Salesman

28 April-29 May by Artswest Playhouse, 4711 California Ave SW Seattle, WA. Directed by Mathew Wright. Call (206) 938-0339 or check the website.


A View from the Bridge

29 April-8 May by Theatre Box, 35 Verbena Avenue, Floral Park, NY. Call Call (516) 900-2031 or check the

website

.

The Crucible

8-23 April by Boise Little Theater, 100 E Fort Street, Boise, ID. Directed by Frank White. Call (208) 342-5104 or check the

website

.

All My Sons

8-24 April by Raven Theatre. 115 North Street Healdsburg, CA. Directed by Carl Hamilton. Call 707-431-7790 ext. 11 or (707) 433-6335 or check the website.

All My Sons

8-16 April by Southwest Playhouse, N 6th St, Clinton, OK. Call (580) 323-4448 or check the website.


The Crucible

25 March-10 April by Portland Players, 420 Cottage Rd., South Portland, ME. Directed by Michael Donovan. Call (207) 799-7337 or check the

website

.

The Crucible

4-13 March by Younts Center for Performing Arts, 315 N Main St, Fountain Inn, SC. Call (864) 409-1050 or check the

website

.

The Crucible

26 Feb.-19 March by Center Point Legacy Theatre, 525 N 400 W, Centerville, UT. Call (801) 298-1302 or check the

website

.

The Crucible

18 Feb.-19 March by the Royal Lyceum Theatre, Grindlay Street, Edinburgh, Scotland, UK. Directed by John Dove. Call +44 131 248 4848, or check the

website

.

The Crucible

24-28 Feb. by University of New Hampshire Theater, 30 Academic Way, Durham, NH. Call (603) 862-7222 or check the

website

.

Death of a Salesman

19 Feb.-13 March by Lakewood Playhouse, 5729 Lakewood Towne Center Blvd SW, Tacoma, WA. Call (253) 588-0042 or check the

website

.

The Crucible

29 Feb. previews, to open 7 April (until 17 July). Produced by Scott Rudin. Directed by Ivo van Hove with Ben Whishaw, Sophie Okonedo, Saoirse Ronan, Ciarán Hinds, Jim Norton, Tavi Gevinson, Jason Butler Harner, and Bill Camp. Set design by Jan Versweyveld. Philip Glass to provide an original score. Theater space TBA.


All My Sons

22 Jan.- 16 April by Montana Repertory Theatre, as part of their winter national tour. Directed by Jere Hodgin. Check the home

website

or their

agent

for more information.

All My Sons

22 Jan-7 Feb. by The Modern Theater, 1320 E Garden Ave., Coeur D Alene, ID. Call 208-676-7529 or check the

website

.

All My Sons

15 Jan.-21 Feb. by StagesTheatre, 400 E Commonwealth Ave, Fullerton, CA. Call (714) 525-4484 or check the

website.

All My Sons

15 Jan.-7 Feb.

by

Irish Classical Theatre

,

625 Main Street, Buffalo, NY.

Call (716) 853-ICTC

or check the

website

.

Death of a Salesman

15-31 Jan. by Palo Alto Players, 1305 Middlefield Rd # 1, Palo Alto, CA. Call (650) 329-0891 or check the

website

.

The Crucible

15-24 Jan. by Community Players Theatre, 201 Robinhood Ln, Bloomington, IL. Call:(309) 663-2121 or check the

website

.

All My Sons

7-17 Jan. by Riverwalk Theatre, 228 Museum Drive, Lansing, MI. Directed by Bob Robinson. Call 517 482 5700 or check the

website

.
Productions During 2015
FILM INFORMATION (21st century developments):

The Misfits

will be re-released in UK cinemas from Friday 12 June.

From Thursday 26th March 2015 at 7pm, cinema audiences will have the chance to watch Mark Strong lead the cast in Ivo Van Hove's five-star Young Vic production of Arthur Miller's

A View from the Bridge

broadcast from the Wyndham's Theatre in London's West End as part of National Theatre Live. The National Theatre's innovative project, NT Live, broadcasts some of the best of theatre live from the stage to cinemas across the UK and around the world. More than 1500 screenings are to take place in over 40 countries with additional encore screenings to be announced. Details of all screenings can be found at http://ntlive.nationaltheatre.org.uk/
Lifetime is producing a four-hour miniseries based on J. Randy Taraborrelli's book,

Marilyn Monroe: The Untold Story

. No word yet on who will play Miller.
Captured live in High Definition by DigitalTheatre.com at The Old Vic, London during its 2014 season directed by Yael Farber, with Richard Armitage,

The Crucible

is to be screened in 350 cinemas in the U.K. and Ireland Dec. 4 and 7 only, with further worldwide screenings to follow. US venues seem to have fallen through, but keep checking at Cinemalive, and you can also order the production through DigitalTheatre.


Playing for Time

is released now on Blu-ray; it includes a booklet included with a new essay from film scholar Teri Ginsberg. Check out this review.

23 Oct. 2013, The Museum of Modern Art (MoMA) will be screening the East Coast premier of Stanley Kramer's newly restored 1951 film version of

Death of a Salesman

as part of To Save and Project: The 11th MoMA International Festival of Film Preservation at The Museum of Modern Art, 11 West 53rd Street (between 5th and 6th Avenues), New York, NY. Call 212-708-9400 or check the website. The World Premiere screening of was presented by the UCLA Film & Television Archive in the Billy Wilder Theater on August 9, 2013 as part of film series entitled, "Champion: The Stanley Kramer Centennial," honoring the late legendary filmmaker.

MGM has released

The Misfits

in Blu-Ray--a rare occurence for a black and white movie, however, the disc sadly contains little additional material.

All My Sons

with David Suchet and Zoe Wanamaker, is available from Digital Theatre as a downloadable production (or to stream) for £6.99 at their website,

Playing for Time

was finally released on DVD on 7th Sept. 2010. Check here for details.

An update on Anthony La Paglia's

A View From The Bridge

. The option rights to this will soon be expiring and La Paglia seems ready to give up on his plans to film his performance as Eddie Carbone, although his production team have not completely given up hope that the rights may be extended.

A film version of The Ride Down Mt. Morgan, directed by Nicole Kassell, starring Michael Douglas--though completed, has no plans for release.

A film version of The Man Who Had All the Luck, directed by Scott Ellis with screenplay by Rebecca Miller, has also been shelved.

Rebecca Miller's

The Private Lives of Pippa Lee

, about a woman in Connecticut heading for a nervous breakdown after her husband leaves her for a younger woman opened in 2009--several reports on its autobiographical aspects, with the Alan Arkin character (older man with three marriages under his belt) being somewhat based on Arthur Miller.

Charlie Kaufman's 2009 movie,

Synecdoche, New York

, contained as one of its central conceits, a production of

Death of a Salesman

, performed with a deliberately young cast.

The Sorcerer's Apprentice

(2010) with Nicholas Cage, features as a character, an evil witch named Abigail Williams, shown in Puritan dress.

The 2001 movie, Plain Jane, based on Miller's novella

Homely Girl, A Life

was released in Europe in 2001 under the title

Eden

,

but is not available in the US--the screenplay was not Miller's and there have been many changes. Reviews were poor--so a US release is unlikely.
Special Events/News/Releases for 2015-2016 (Link to Archive for past years)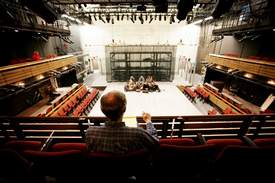 I
nside the Arthur Miller Theater at the University of Michigan
where they will be producing

All My Sons


in October 2015 to mark the Miller Centenary.
There will be a talkback moderated by David Kennedy, with Miller scholars Steve Marino and Sue Abbotson on Sunday 11 Oct. after the matinee performance of

Broken Glass

at Westport Country Playhouse, 25 Powers Court, Westport, CT.

This September New Repertory Theatre in Watertown, MA, will be hosting a panel discussion focusing Arthur Millers' work and his identity as a writer as part of our Spotlight Symposium Series. Titled "Examining Arthur Miller: How Life Influences Art." The series is intended to engage our audience on deeper themes and meanings of the productions. This symposium session will take place on Sunday, September 20th at 4:30pm, following the matinee performance of

Broken Glass

. Dr. Sue Abbotson will be on the panel.


All My Sons

9-18 Oct. by Department of Theatre and Drama at University of Michigan, in their Arthur Miller Theater, Ann Arbor, MI, as part of the university's celebration of Miller's Centenary. A special gala performance will be given on 9 Oct. see website for more information about the play and other events.


Death of a Salesman

early Oct. in Yiddish, with English supertitles by the New Yiddish Repertory at Theater Castillo Theater, 543 West 42nd Street, Clinton, NY. For 40 performances only, call (212) 941-1234, or check their website. Though drawing on the 1951 Joseph Buloff translation--

Toyt fun a Salesman

--this is a new, more expansive translation.
There is an American electropop duo who have named themselves Twenty One Pilots (Tyler Joseph and Josh Dun) in homage to

All My Sons

, where a man must decide what is best for his son after causing the death of twenty-one pilots. The duo tackle moral dilemmas through their poetic lyrics mixed over synthetic beats.

A new two part four hour biopic,

The Secret Life of Marilyn Monroe

will be first broadcast on Lifetime on May 30 and 31 at 8pm. Based on the

New York Times

best selling book by J. Randy Taraborrelli. Kelli Garner is cast as Marilyn, with Susan Sarandon as her mother. Stephen Bogaert will be playing Arthur Miller.

In 2005, Miller's estate donated 55 acres along Tophet Road, to the Roxbury Land Trust, which became the Arthur Miller and Inge Morath Miller Preserve. Now, ten years later, their daughter, Rebecca has donated nearly 100 acres more along the Woodbury-Roxbury border. The land connects other preserved parcels to create a greenbelt that now stretches from Painter Hill Road in Roxbury to the Good Hill Farm Preserve on Route 317 in Woodbury. That preserve, which is contiguous to the newly donated land, connects to four other nature preserves that total nearly 720 acres of open space. The land trust has preserved 3,630 acres of farmland, woodlands, wildlife habitat, watercourses, wetlands and open space in Roxbury and neighboring communities since it was established in 1970.

2015 Olivier Awards: Ivo Van Hove's production of

A View from the Bridge

carries off prizes for best actor (Mark Strong), best revival and best director.


Abigail/1702

29 April-24 May, "sequel" to

The Crucible

by Roberto Aguirre-Sacasa at Long Beach's International City Theatre. Call 562-436-4610 or check the website.


Marilyn Forever

(by Gavin Bryars ) 21-29 March, American premier by Long Beach Opera, Warner Grand Theatre, 478 West Sixth Street, San Pedro, CA. Directed by Andreas Mitisek. The opera (with jazz interludes) focuses on Monroe's relationships and marriages, particularly with Arthur Miller, and her death. Call 562 432-5934 or check the website.

Cité des Arts is partnering with the Lauren-Reilly Eliot Company, Acting Unlimited (AUI), Wanderlust Theatre Co., the Cane Fire Film Series and others to produce the Arthur Miller Festival Series. The Lauren-Reilly Eliot Company opens the Festival at Cite Des Arts with their production of

Death of a Salesman

from January 17, 2015 to February 1, 2015. In May, Cité des Arts, will produce

A View from the Bridge

(from May 8, 2015 to May 17, 2015 at Cite Des Arts), and Acting Unlimited will contribute

The Crucible

(at Theatre 810 from May 22, 2015 to May 30, 2015). In June, American history professor, Dr. Nina McCune will conduct a seminar on HUAC and the Hollywood Blacklist at Cité; and in July, the Cane Fire Film Series will screen Miller's

The Misfits

. Wanderlust Theatre Co. closes the year long collaboration and celebration in December with

All My Sons

at Cité des Arts. The Festival continues to reach out to area theatre companies and other producing entities for participation, so watch for future announcements regarding further productions and programs throughout the year.

Arthur Miller - A Life

April 16-19 2015. An L.A. Theatre Works Original Docudrama celebrating Miller's 2015 centennial, this world premiere docudrama reveals the events in Arthur Miller's life that shaped some of the most iconic plays in modern history. Get a glimpse into Miller's Depression-era adolescence (with Edward Asner as Miller's father); journey into the McCarthy era and Miller's complicated relationships with director Elia Kazan (Hector Elizondo) and Marilyn Monroe; and, later, his marriage to Inge Morath (Jane Kaczmarek). Arthur Miller – A Life sheds rich and lasting light on the life and art of this profound man. Directed by renowned BBC radio drama producer Kate McAll.

Calling all those interested in joining the Edward Albee Society, a newly formed nonprofit and an international organization whose members will join in the exploration of Albee's life and works by means of historical and critical writing, artistic performances on stage, film, television, radio and recordings, by the amassing of historical documentation, and by publications and conference presentations devoted to Albee and his plays. The subjects of study shall include not only Albee and his works, but all aspects of the American and World Theatre he has affected by his own work in theatre as a playwright, director and producer. Furthermore the Albee Society will support efforts that affirm the notion of drama as literature, and encourage projects that support new dramatic work by new playwrights, as an extension of Edward Albee's own Playwrights Unit, which he founded in 1963 with his producing partners Richard Barr and Clinton Wilder. Annual membership dues are $30. (Dues and donations are tax deductible to the extent provided by law.) Your dues and donations will help us pay for our 501C3 application fee, designing and registering our website, and our online journal, The Albee Review, as well as other organizational costs. Members receive access to the annual

Albee Review

, which will include photos, interviews, reviews, and insightful and provocative articles about Albee's life and works. Members who provide us with their e-mail address will be kept up to date on Albee-related publications, performances, and events around the country. Please fill out the membership form and send it, along with a check made out to "The Edward Albee Society," to Dr. David A. Crespy, Department of Theatre, University of Missouri, 129 Fine Arts Building, Columbia, MO 65211.
Recent Books on Miller (2011--current) Archive 2005-2010
Stephen Marino,

Arthur Miller's

Death of a Salesman / The Crucible:

A Reader's Guide to Essential Criticism

will be published by Macmillan/Palgrave in Fall 2015.

Andrew Sofer.

Dark Matter: Invisibility in Drama, Theatre and Performance

. Ann Arbor: U of Michigan P, 2013, has a full chapter on Miller (chapter 5), concentrating on

The Archbishop's Ceiling

, mapping the changes in Miller's philosophy from Ibsenian morality (in

After the Fall

) to Foucaultian issues of power in the later play.

Kevin Riordan, "Salesman in Abu Dhabi: The Geopathology of Objects."

Modern Drama

57.3 (2014): 409-32. Interesting article that analyzes a production of

Salesman

in which certain characters are replaced by inanimate objects, such as Charlie by a rolling refrigerator door; The Woman, a table fan; and Happy a black punching bag on a movable frame!

Richard D. Meyer.

Making the Fall

. CreateSpace Independent Publishing Platform, 2013. With the permission of Kazan, Meyer spent a sabbatical recording what went on during the first year of the Lincoln Repertory Theater. Included are verbatim conversations between Miller, Kazan, and the cast of their first production:

After the Fall

. The book also includes never-before-published excerpts from Kazan's personal notes and letters.


Intertextuality in American Drama: Critical Essays on Eugene O'Neill, Susan Glaspell, Thonton Wilder, Arthur Miller and Other Playwrights

. Eds. Drew Eisenhauer and Brenda Murphy. North Carolina and London: MacFarland, 2013. Contains two new essays on Miller.

A Student Handbook to the Plays of Arthur Miller:

All My Sons, Death of a Salesman, The Crucible, A View from the Bridge, Broken Glass

. Ed. Enoch Brater. London: Methuen, Nov. 2013 This contains notes created for the title plays by an assortment of leading Miller scholars, but not the plays themselves.

Timebends: A Life

. Miller's wonderful 1978 autobiography was reissued by Grove Press in 2013 as both a paperback and in a Kindle edition.
Barry Paris, ed.

Stella Adler On America's Master Playwrights.

New York: Vintage, 2012. Contains two chapters on Miller:

Death of a Salesman

(325-337) and

After the Fall

(338-356).