MILLER EVENTS
Scroll down to view Calls for papers, Conferences and panels, Current productions,
and Special events, as well as links to archives for past events.
We would appreciate it if you could send us any current information for the following categories to make them as detailed as possible; include past, current and future events so that people can use this as an archive. Send information to webmaster
Sue Abbotson
. We try to keep only upcoming events on this page--but you can link in each section to archive pages for information on past conference papers, productions and events.
N.B. For information on the Arthur Miller Journal--including how to subscribe and content lists for
previously published isssues, go to the Journal website.

The Arthur Miller Theater at the University of Michigan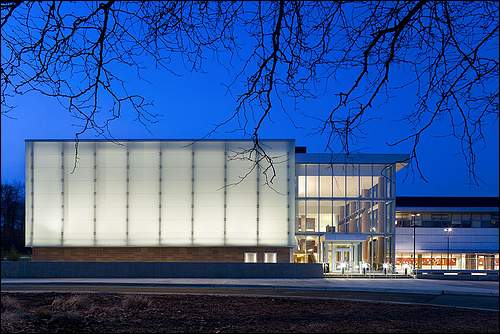 Calls For Papers:

The Arthur Miller Society is always looking for anyone who would like to organize Miller panels at conferences, such as ALA, SAMLA, NEMLA, CDC, American Studies, ASTR or ATHE--please contact our current President, Paula Langteau, with proposals/details.

Ongoing CFP:
Arthur Miller Journal
Looking for papers on any aspect of the life and work of Arthur Miller for the
Arthur Miller Journal
which is published Spring and Fall. Go to the
Journal
page for more detail regarding submissions, subscriptions, contact e-mails for the various editors, and for contents of past volumes. You can make a submission to the Journal of an essay, performance review, or book review, as well as offer material for the notes section--directly at this
website
. If a Miller play is being produced in your area (check the listings below)--please attend and upload your review through the above link (website).
Hungarian Journal of English and American Studies
published near the close of 2006 a special Arthur Miller Edition: Volume 11, Number 2 (2005): ISSN: 12 18-7364 that contains several new essays on Miller's work--see details in the archive link below for
Special Events/News/Releases 2007
regarding how to order yourself a copy. The Journal is meanwhile looking for further submissions: Manuscripts should conform to the latest edition of the MLA Handbook in all matters of style (parenthetical citations keyed to a works-cited list). Contributions on history should conform to the latest edition of the Chicago Manual of Style. All submissions should be sent together with a disk copy of the article in Word 95 for Windows. All correspondence should be addressed to the Editor, HJEAS, University of Debrecen, Pf. 73, Hungary 4010; e-mail:
abnagyzo@delfin.unideb.hu
JCDE: Journal of Contemporary Drama in English,

published by
De Gruyter (Berlin/Boston) http://www.degruyter.com/view/j/jcde
A bi-annual, peer-reviewed journal that focuses on contemporary Anglophone dramatic literature and theatreperformance. It renegotiates the understanding of contemporary aesthetics of drama and theatre by treating dramatic texts of the last fifty years, and welcomes essays on the work of Arthur Miller.
Essays should be no longer than 8,000 words (including notes and bibliography) and should be
formatted according to MLA style (7th edition, 2009.

ESSAY CONTRIBUTIONS should be sent to: Prof. Dr. Martin Middeke, Chair of English Literature, University of Augsburg, Universitaetsstraße 10, D-86159 Augsburg, Germany.

EMAIL: martin.middeke@phil.uni-augsburg.de
SUGGESTIONS FOR REVIEWS should be sent to: Prof. Dr. Christina Wald, Humboldt Universität zu Berlin, Philosophische Fakultät II, Institut für Anglistik und Amerikanistik, Unter den Linden 6, D-10099 Berlin, Germany.
EMAIL: christina.wald@hu-berlin.de


The

Journal of American Drama and Theatre

-- a fully online and peer-reviewed journal -- is currently seeking submissions for upcoming issues. If you are working on an article related to theatre and/or drama of the Americas, consider submitting it to JADT. Full submission guidelines can be found here, and the current issue (guest-edited by ATDS) can be viewed here. Details of the next ATDS guest-edited and themed issue will be available soon!
CFP and other scholarly opportunities with Deadlines: TBA






Below are photographs of Mr. Miller from the 9th International Arthur Miller Conference, taken by Dr. Jeffrey Mason, University of Oregon.






Conferences and Panels:

(Link to AMS conference archive) (Link to ALA archive)



Members, especially, please make every effort possible to attend any conference panels with
papers on Miller and support the continuation of

Arthur Miller

scholarship.

American Literature Association Conference

San Francisco, May 27-29, 2016

Tentative Schedule from Website: March 9, 2016

Friday, May 27: 3:40 – 5:00

Session 12-D Miller's Vision of Tragedy: Insights from Theory and Performance

Organized by the Arthur Miller Society

Chair: Peter L. Hays, University of California, Davis

1. "'There's a Story in That': Commodification of Language and Reification of Narratives in

Death of a

Salesman

,"
David Cosca, Cornell University 2. "A Real Shame/Man: Hubris, Humiliation, and Pathological Legacy in Miller's

Death of a Salesman

,"
L. Bailey McDaniel, Oakland University 3. "Lessons from the Bloody Rain: The Young Vic Production of

A View from the Bridge

and Miller's Tragic Form,"
Daniel Larner, Fairhaven College of Interdisciplinary Studies, Western Washington University


The Arthur Miller Centennial

October 16-18, 2015

Sponsored by the Arthur Miller Society at St. Francis College, Brooklyn, New York was a great success thanks to all those who attended. Congratulations to Stephen Marino and St. Francis College for hosting such a wonderful event. Cambridge University Press has commissioned a volume of essays from among the presentations given at the conference, and expect to see other papers printed in future editions of the

Arthur Miller Journal

.











Outside the William Inge Theatre they have




planted a tree for each past Honoree of the




William Inge Festival Achievement Award




who has passed on.




The tree they planted in Miller's




memory right outside the




William Inge Theatre in




Independence, Kansas.




Here is the plaque at the base of the tree.



Current Stage Productions (Link to Archive)
A useful place to check for upcoming productions of plays is the DPS website, where you can search by the playwright to see which plays have been licensed through them for production (both professional and non-professional). The listings below, however, contain more details and generally more up-to-date information.

If you are looking for a Miller expert to provide a lecture, keynote, seminar or talkback in conjunction with a production, please contact us and we will try and put you in touch with any scholars in your area.


FILM INFORMATION (21st century developments):

Filmed in Tehran and directed by Iranian director Asghar Farhadi, starring Shahab Hosseini, Taraneh Alidusti and Iraj Karimi,

The Salesman

is about an Iranian couple performing

Death of a Salesman

. This adaptation of

Salesman

, written by Asghar Farhadi, was feted at the 2016 Cannes Film Festival, where Farhadi won a prize for his screenplay. The film revolves around a teacher and his wife, who are attacked at their home in Tehran, and features a "play within a play," as

Death of a Salesman

is being performed in a theatre, and its scenes parallel and augment the film's narrative.

The new film that Rebecca Miller has written and directed,

Maggie's Plan

, is proving to be a big hit on the festival circuit. Starring Greta Gerwig, Ethan Hawke and Julianne MooreRelease date: 20 May 2016.
Signature Theatre's Off-Broadway revival of

Incident at Vichy

will be featured in the second season of

Theater Close-Up

on Thirteen (WNET New York) hosted by actress Blythe Danner. The production was filmed 16 Dec. 2015 and will be broadcast in spring 2016. It will be the fifth presentation of the second season, which launched back on 1 Oct. 2015. The broadcast will be made available online to the tri-state area only for a limited period. Check Thirteen's website for scheduling details.

The Misfits

will be re-released in UK cinemas from Friday 12 June, 2015.

From Thursday 26th March 2015 at 7pm, cinema audiences will have the chance to watch Mark Strong lead the cast in Ivo Van Hove's five-star Young Vic production of Arthur Miller's

A View from the Bridge

broadcast from the Wyndham's Theatre in London's West End as part of National Theatre Live. The National Theatre's innovative project, NT Live, broadcasts some of the best of theatre live from the stage to cinemas across the UK and around the world. More than 1500 screenings are to take place in over 40 countries with additional encore screenings to be announced. Details of all screenings can be found at http://ntlive.nationaltheatre.org.uk/
Lifetime is producing a four-hour miniseries based on J. Randy Taraborrelli's book,

Marilyn Monroe: The Untold Story

. No word yet on who will play Miller.
Captured live in High Definition by DigitalTheatre.com at The Old Vic, London during its 2014 season directed by Yael Farber, with Richard Armitage,

The Crucible

is to be screened in 350 cinemas in the U.K. and Ireland Dec. 4 and 7 only, with further worldwide screenings to follow. US venues seem to have fallen through, but keep checking at Cinemalive, and you can also order the production through DigitalTheatre.


Playing for Time

is released now on Blu-ray; it includes a booklet included with a new essay from film scholar Teri Ginsberg. Check out this review.

23 Oct. 2013, The Museum of Modern Art (MoMA) will be screening the East Coast premier of Stanley Kramer's newly restored 1951 film version of

Death of a Salesman

as part of To Save and Project: The 11th MoMA International Festival of Film Preservation at The Museum of Modern Art, 11 West 53rd Street (between 5th and 6th Avenues), New York, NY. Call 212-708-9400 or check the website. The World Premiere screening of was presented by the UCLA Film & Television Archive in the Billy Wilder Theater on August 9, 2013 as part of film series entitled, "Champion: The Stanley Kramer Centennial," honoring the late legendary filmmaker.

MGM has released

The Misfits

in Blu-Ray--a rare occurence for a black and white movie, however, the disc sadly contains little additional material.

All My Sons

with David Suchet and Zoe Wanamaker, is available from Digital Theatre as a downloadable production (or to stream) for £6.99 at their website,

Playing for Time

was finally released on DVD on 7th Sept. 2010. Check here for details.

An update on Anthony La Paglia's

A View From The Bridge

. The option rights to this will soon be expiring and La Paglia seems ready to give up on his plans to film his performance as Eddie Carbone, although his production team have not completely given up hope that the rights may be extended.

A film version of The Ride Down Mt. Morgan, directed by Nicole Kassell, starring Michael Douglas--though completed, has no plans for release.

A film version of The Man Who Had All the Luck, directed by Scott Ellis with screenplay by Rebecca Miller, has also been shelved.

Rebecca Miller's

The Private Lives of Pippa Lee

, about a woman in Connecticut heading for a nervous breakdown after her husband leaves her for a younger woman opened in 2009--several reports on its autobiographical aspects, with the Alan Arkin character (older man with three marriages under his belt) being somewhat based on Arthur Miller.

Charlie Kaufman's 2009 movie,

Synecdoche, New York

, contained as one of its central conceits, a production of

Death of a Salesman

, performed with a deliberately young cast.

The Sorcerer's Apprentice

(2010) with Nicholas Cage, features as a character, an evil witch named Abigail Williams, shown in Puritan dress.

The 2001 movie, Plain Jane, based on Miller's novella

Homely Girl, A Life

was released in Europe in 2001 under the title

Eden

,

but is not available in the US--the screenplay was not Miller's and there have been many changes. Reviews were poor--so a US release is unlikely.
Special Events/News/Releases for 2016-2017 (Link to Archive for past years)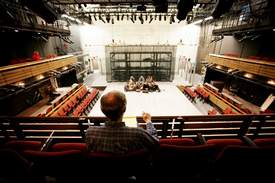 I
nside the Arthur Miller Theater at the University of Michigan
in which
they produced
All My Sons
in October 2015 to mark the Miller Centenary.
Temple Anshe Amunim, Pittsfield, MA will host a four-part Play Analysis series on Tuesdays in July, beginning July 5, from 10 to 11:30 a.m. The topic is "The Corrupting Influence of Materialism in Plays by Arthur Miller and David Mamet." This course will be taught by Dr. Barbara Waldinger of Hofstra University, Marymount Manhattan College, and Queens College. The cost for the four-session course is $40 for Temple members and $45 for non-members; or $15 for any individual session. For more information, contact the Temple Anshe Amunim office at 413-442-5910 or visit www.ansheamunim.org.

The Persian version

The Price

has recently been released by Afraz Publications in Tehran, translated by Jafar Mirzai and Maryam Hosseini.

Death of a Salesman, The Crucible

and

All My Sons

are also available in Persian

9 Tony nominations for Ivo Van Hove's 2 Miller revivals (winners were announced 12 June):


View from the Bridge

: Best Revival of a Play (

WON

); Ivo Van Hove Best director (

WON

); Mark Strong best actor; Jan Versweyveld best scenic design; Jan Versweyveld best lighting design

. The Crucible

: Best Revival of a Play; Sophie Okonedo best actress; Bill Camp best actor in a featured role; Jan Versweyveld best lighting design.


Death of a Streetcar Named Virginia Woolf: A Parody

, 27 April-31 July created by Second City veterans Tim Ryder and Tim Sniffen, and written by Sniffen for Writers Theatre, at the Gillian Theatre, 325 Tudor Court, Glencoe, IL. Play combines

Death of a Salesman, A Streetcar Named Desire, Glass Menagerie, Our Town

, and

Who's Afraid of Virginia Woolf?

Directed by Stuart Carden and Michael Halberstam, with Marc Grapey (Willy Loman), Jennifer Engstrom, John Hoogenakker, Michael Perez, Sean Fortunato and Karen Janes Woditsch. Set design by Linda Buchanan. Call (847) 242-6000 or check the website.

Idaho band a.k.a. Belle and wild horse group Wild Love Preserve have collaborated on a very special project to benefit the preservation of Idaho's wild horses with the band's new single, Mustangs, apparently inspired by

The Misfits.




Kingdom City

4-14 Feb. by Sheri Wilner by University of Illinois Theatre Department, in Krannert Center's Studio Theatre, 500 S. Goodwin Ave., Urbana, IL. Directed by J.W. Morrissette, with Ford Bowers, Jessica Kadish, and Jordan Gleaves. Built around an attempted production of Miller's The Crucible, Wilner gives an articulate voice to both sides of a controversy that surrounds the staging of the play in an ultra-conservative high school in the Midwest. Call 333-6280 or check the website.

New York Times

article on "Arthur Miller's Brooklyn" by Helene Stapinskijan from 22, 2016.

Joan Copeland in a rare reading of her brother's short story "The Performance." The private industry reading will take place at Manhattan Theatre Club's Creative Center on Monday, February 1 at 7PM. "The Performance" is part of a collection of short works from Miller's

Presence: Stories

(2008).

The Arthur Miller Foundation will be celebrating Arthur Miller's 100th Birthday with a star-studded, one-night-only performance of Miller's seminal works directed by Gregory Mosher. Originally scheduled for 16 Nov. 2015, this event will now take place on 25 Jan. 2016. It will take place on the stage of Broadway's Lyceum Theatre, where Miller's drama

A View From the Bridge

is currently being revived. Emmy winner and Tony nominee Alec Baldwin will join Pulitzer-winning playwrights Sam Shepard and Tony Kushner, and performers Bradley Cooper, Laurence Fishburne, LaTanya Richardson Jackson, Ellen Barkin, Ayad Akhtar, McKinley Belcher, Ray Fisher, Greta Gerwig, Jake Gyllenhaal, Katori Hall, Peter Sarsgaard and John Turturro for a special evening of Arthur Miller readings Jan. 25, 2016, to mark the latter playwright's centennial, according to Variety. The celebrities are scheduled to read excerpts from Miller's autobiography

Timebends

, along with speeches from his plays

Death of a Salesman

and

All My Sons

, as well as unpublished works. Proceeds will go to the Arthur Miller Foundation for Theater and Film Education, "which aims to provide mentorship, training and support for new theater teachers and increase the number of New York City public schools that have access to theater education."

Recent Books on Miller (2011--current) Archive 2005-2010
Coming out in November, 2016,

Collected Essays: Arthur Miller

(Penguin, 2016), edited by Susan C. W. Abbotson, in which selected essays have been grouped into subject areas that include general discussions of the theater (including tragedy), specific plays, and ones relating to specific socio-political concerns at home and abroad.

Joshua Polster's

Stages of Engagement: US Theatre and Performance 1898-1949

(Routledge, 2016) contains extensive discussions of

The Crucible

and

Death of a Salesman

.

Dorothy Chansky's

Kitchen Sink Realisms: Domestic Labor, Dining, and Drama in American Theatre

(University of Iowa Press, 2015). As part of their Studies in Theatre History and Culture series. Includes discussion of

Death of a Salesman

.

A new Centennial edition of

Arthur Miller's Collected Plays

edited by Lynn Nottage, from Penguin, October 2015. Contains 18 major full-length plays from

The Man Who Had All the Luck

to

Resurrection Blues

. Paperback. Penguin have also reissued most of Miller's plays in single volumes with newly designed covers.

Arthur Miller features in Peter Dreier's

The 100 Greatest Americans of the 20th Century: A Social Justice Hall of Fame

(Nation Books, 2012). In honor of the centennary,

Huffington Post

printed his commentary on Miller (while sympathetic to Miller, not all of the details given are entirely accurate).

Matthew Roudané has edited

The Collected Essays of Arthur Miller

London: Bloomsbury Methuen, 2015 (an amalgamation of all of the essays from

Theater Essays

and

Echoes Down the Corridor

organized chronologically with a new introduction).
The third volume of the Library of America series edited by Tony Kushner:

Arthur Miller: Collected Plays 1987-2004

: (Library of America #261) from April 2015: from

Danger: Memory

(1987) to

Finishing the Picture

(2004). It includes

The Ride Down Mt. Morgan, The Last Yankee, Broken Glass, Mr. Peters' Connections

, and

Resurrection Blues

. Also

The Golden Years

, several shorter one-act plays and never-before-published early works and radio plays; and a selection of Miller's prose reflections on his art, including: "On Screenwriting and Language" and "About Theatre Language." Hardback. You can now also buy the three volume set.

Stephen Marino,

Arthur Miller's

Death of a Salesman / The Crucible:

A Reader's Guide to Essential Criticism

will be published by Macmillan/Palgrave in Fall 2015.

Andrew Sofer.

Dark Matter: Invisibility in Drama, Theatre and Performance

. Ann Arbor: U of Michigan P, 2013, has a full chapter on Miller (chapter 5), concentrating on

The Archbishop's Ceiling

, mapping the changes in Miller's philosophy from Ibsenian morality (in

After the Fall

) to Foucaultian issues of power in the later play.

Kevin Riordan, "Salesman in Abu Dhabi: The Geopathology of Objects."

Modern Drama

57.3 (2014): 409-32. Interesting article that analyzes a production of

Salesman

in which certain characters are replaced by inanimate objects, such as Charlie by a rolling refrigerator door; The Woman, a table fan; and Happy a black punching bag on a movable frame!

Richard D. Meyer.

Making the Fall

. CreateSpace Independent Publishing Platform, 2013. With the permission of Kazan, Meyer spent a sabbatical recording what went on during the first year of the Lincoln Repertory Theater. Included are verbatim conversations between Miller, Kazan, and the cast of their first production:

After the Fall

. The book also includes never-before-published excerpts from Kazan's personal notes and letters.


Intertextuality in American Drama: Critical Essays on Eugene O'Neill, Susan Glaspell, Thonton Wilder, Arthur Miller and Other Playwrights

. Eds. Drew Eisenhauer and Brenda Murphy. North Carolina and London: MacFarland, 2013. Contains two new essays on Miller.

A Student Handbook to the Plays of Arthur Miller:

All My Sons, Death of a Salesman, The Crucible, A View from the Bridge, Broken Glass

. Ed. Enoch Brater. London: Methuen, Nov. 2013 This contains notes created for the title plays by an assortment of leading Miller scholars, but not the plays themselves.

Timebends: A Life

. Miller's wonderful 1978 autobiography was reissued by Grove Press in 2013 as both a paperback and in a Kindle edition.
Barry Paris, ed.

Stella Adler On America's Master Playwrights.

New York: Vintage, 2012. Contains two chapters on Miller:

Death of a Salesman

(325-337) and

After the Fall

(338-356).