Location
"Where is the name of God are you going?" everyone in New Orleans kept asking Amanda.
"To Fayetteville, Arkansas," she relied. "My Paris and my Rome."
Ellen Gilchrist, The Annunciation
At the foothills of the scenic Ozark Mountains, Fayetteville, home of the University of Arkansas,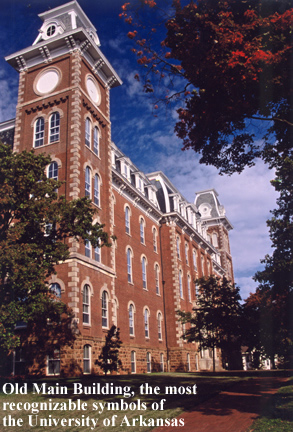 enjoys a thriving economy and a vivacious atmosphere. Fayetteville was named one of "America's Most Livable Cities" in 2004 and 2005 and was claimed by Money Magazine as one of the "Best Places to Live in America". Its popularity is further shown as it was ranked as the nation's #1 in the Best Performing Cities Report by "Milken Institute" in 2003, and also featured in "Lifestyle Magazine", "Southern Living" and "The Best Towns in America" - a where-to-go guide for a better life.

Fayetteville is served by the Northwest Arkansas Regional Airport (XNA). XNA receives direct flights daily from 16 cities in the US. Check http://www.nwara.com for current information about airlines and cities served. Ifarriving by air, look for "VC-NST Conference" signs upon arrival at XNA. The University of Arkansas Campus is 23 miles from the airport, a 35 minute trip by Express Shuttle. Express Shuttle will work with the VC-NST organizing committees and provide a convenient ride for the conference. Rental car services are also available at the airport. If you plan to rent a car, you can also check fights to/from Tulsa, Oklahoma (TUL). TUL (http://www.tulsaairports.com/) is about 110 miles away from Fayetteville, and the drive is a little under 2 hours.

The University of Arkansas, the flagship University of the State of Arkansas, is a nationally competitive student-centered research university, serving Arkansas and the world. It is noted for its strong architecture, agriculture and business programs. For more information, please take a slide tour of the campus.